World News in Brief: August 25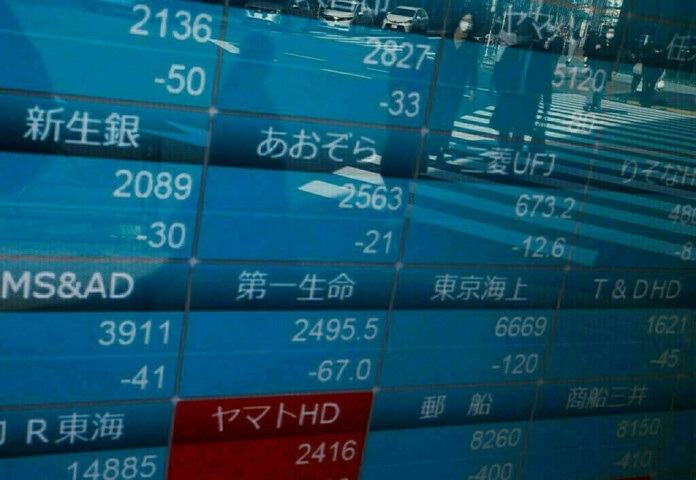 Asian share markets were broadly positive while the dollar was slightly weaker on Thursday, with investors nervously awaiting the US Federal Reserve's annual Jackson Hole conference for clues on how sharp future interest rate hikes might be.   
The weather bureau of Laos has warned people across the country to be alert to the possibility of landslides, flooding, strong winds and rain from tropical storm Maon.
* China will adopt follow-up policies on top of the policy package for stabilizing the economy as part of intensified efforts to consolidate the foundation of economic recovery and growth, and send taskforces to localities to supervise and assist work on this front to promote policy implementation at a faster pace, according to the decision made at the State Council's Executive Meeting chaired by Premier Li Keqiang on Wednesday.
* Japan will start preparations to hold 'two-plus-two' talks between its foreign and defence ministers and their Indian counterparts as soon as early September, the Nikkei reported on Thursday.
* The United States on Wednesday announced an additional tranche of security assistance to Ukraine worth nearly 3 billion USD, the largest one-time weapons aid package to Kiev that comes as the Russia-Ukraine conflict reaches the half-year mark.
* Russian President Vladimir Putin signed a decree on Thursday to increase the size of Russia's armed forces from 1.9 to 2.04 million, the RIA Novosti news agency reported.
* Polish Prime Minister Mateusz Morawiecki said on Thursday he would visit Paris on Monday to discuss the situation in Ukraine, defence cooperation and energy issues with French President Emmanuel Macron.
* Italy will update its gas emergency plan next week, a government source said on Thursday, adding Rome will not resort to rationing since it has reduced its dependence on Russian imports.
* The U.N. nuclear watchdog is "very, very close" to being able to go to the Russian-held Zaporizhzhia nuclear power plant in Ukraine, Europe's largest, its chief Rafael Grossi told France 24 TV.
* Jordan's Prime Minister Bisher Al-Khasawneh and his Palestinian counterpart Mohammed Ishtaye on Wednesday inaugurated the Ramah Power Transmission Plant in the Jordan Valley, which will double Jordan's electricity supply to Palestinians from 40 megawatts to 80 megawatts.
* Mexican President Andres Manuel Lopez Obrador on Wednesday said he backed the US decision to end its controversial "Remain in Mexico" policy, which forced asylum seekers of all nationalities to wait in Mexico while their cases were being processed in the United States.
* The Iranian Foreign Ministry spokesman said on Wednesday the country has received, through the European Union, the US government's response to Tehran's views about the resolution of the outstanding issues in the talks on the revival of the 2015 nuclear deal.
* Israeli Prime Minister Yair Lapid said on Wednesday that Israel is against the nuclear agreement being negotiated between Iran and the world powers in Vienna.
* Russia's Gazprom GAZP.MM on Thursday said no turbines used on the Nord Stream 1 gas pipeline were undergoing maintenance in Canada, a day after a Canadian minister was quoted as saying five turbines were there.
* The Iranian oil minister said on Wednesday that the country has finalized talks with Russia on gas purchase and swap, according to the Oil Ministry's news service Shana.
* Malaysia's leading index (LI) rose 5.3 percent year on year to 111.7 points in June, signaling confidence in further growth in the coming months, official data showed Thursday.
* The Philippines will use over 11 percent of the proposed national budget for 2023 to repay its debts, the Department of Finance said on Thursday.
* Kuwait said on Wednesday that it will increase oil production to 2.811 million barrels per day to ensure safe and stable supplies amid rising global demand.
* The Intergovernmental Authority on Development, a bloc of eight East African countries, on Wednesday evening called on warring parties in northern Ethiopia to adhere to an immediate cessation of hostilities.
* The United Nations is helping Pakistan and Afghanistan deal with recent heavy flooding that has caused heavy casualties and material damage, said a spokesman on Wednesday.
* Saudi Arabia will organize the second edition of the Global AI Summit in September, the Saudi Press Agency reported on Tuesday.
* In renewed Ethiopia fighting, Tigray forces on Wednesday looted 570,000 liters of fuel from the United Nations for aid distribution trucks, further undermining humanitarian work, a UN spokesman said.
* Almost four years after the start of trial operations, the world's first passenger train network powered by hydrogen was launched in the German federal state of Lower Saxony on Wednesday.
* The number of people facing acute food insecurity worldwide has more than doubled to 345 million since 2019 due to the COVID-19 pandemic, conflict and climate change, the World Food Programme said on Wednesday.
* Forest fires in Russia continued to spread and have consumed nearly 110,000 hectares (1,100 square km) of land up to Thursday, TASS news agency reported.
* Facing an unprecedented drought, Portugal's government recommended 43 municipalities temporarily increase water prices for their biggest consumers and suspend street-cleaning and watering in public parks and gardens.
* China reported 1,759 new coronavirus cases for Aug. 24, of which 390 were symptomatic and 1,369 were asymptomatic, the National Health Commission said on Thursday.
* German Health Minister Karl Lauterbach said on Wednesday he expects a wave of COVID-19 infections this autumn but ruled out further lockdowns or school closures.
* British car production rose for a third straight month in July, 8.6% higher than a weak comparative last year, when car makers were struggling with acute shortages of chips and COVID-related absences, the Society of Motor Manufacturers and Traders said on Thursday.
* Fiji, an island nation with a population of around 900,000, has witnessed an increase of estimated new HIV/AIDS infections by 129 percent over the last decade from 2010 to 2021, said a newly released report.
* The Public Health Agency of Canada (PHAC) confirmed 1,206 cases of monkeypox including 32 hospitalisations in the country as of Wednesday.
Xinhua/Reuters/VNA
TAG: