World News in Brief: July 29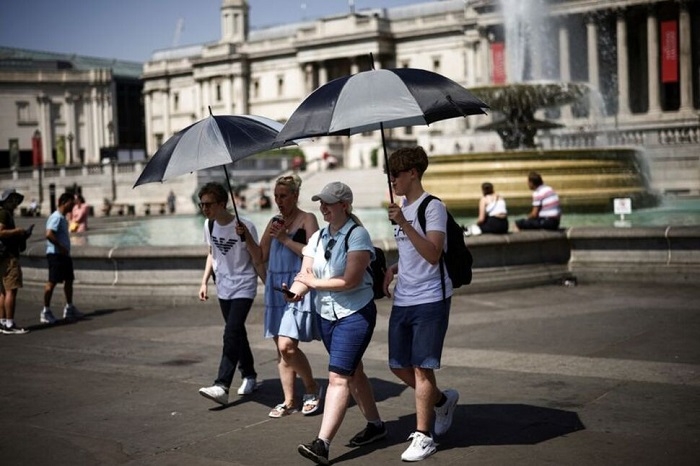 The heatwave which scorched Britain last week was made at least 10 times more likely because of climate change, scientists reported Thursday.   
Party General Secrectary and President of China Xi Jinping said on Thursday that Marxism has been showing new vitality in the 21st century, calling on all Marxist political parties to make the theory more relevant to the national conditions and the times.
* The poverty rate for Cambodia has dropped to 17.8 percent in 2020, from nearly 40 percent in 2009, a senior official said here on Friday.
* The Philippines has reported its first case of the monkeypox virus, detected in a citizen who returned from abroad earlier this month, a health ministry official said on Friday.
* Singapore's Ministry of Manpower said on Friday that the country's labor market continued recovery in the second quarter of 2022.
* Indonesia is estimated to face drops in fish supplies as 2.2 million fishers cannot go fishing because of rising fuel prices, an official said Thursday.
* Saudi Arabia's Energy Minister Prince Abdulaziz bin Salman met Russian Deputy Prime Minister Alexander Novak on Friday in Riyadh, the Saudi energy ministry said on Twitter. The two discussed the latest developments in the work of the joint Saudi-Russian committee and discussed opportunities for cooperation between their countries, the ministry added.
* The Turkish foreign minister said on Thursday that the Russian-Ukraine grain corridor deal could boost trust between the two sides if implemented properly.
* French President Emmanuel Macron was hosting Saudi Crown Prince Mohammed bin Salman on Thursday as part of increased Western efforts to court the major oil-producing state amid the conflict in Ukraine and faltering talks to revive a nuclear deal with Iran.
* Polish Prime Minister Mateusz Morawiecki said on Thursday that a possible decision on a compulsory reduction in gas consumption in the European Union must be made unanimously, not by a qualified majority vote.
* Mexican President Andres Manuel Lopez Obrador said on Thursday there would be no rupture in the United States–Mexico–Canada Agreement (USMCA) over an energy policy dispute, even as he said he planned to write to his U.S. counterpart over the matter.
* The Irish government on Thursday agreed targets to limit carbon emissions in key sectors of the economy after the leaders of coalition partners the Green Party, Fianna Fail and Fine Gael compromised on a 25% cut for the agricultural sector.
* Algeria, Niger and Nigeria signed on Thursday a memorandum of understanding (MoU) for the construction of a gas pipeline across the Sahara Desert that will supply Europe with additional gas, said the Algerian energy minister.
* Australian energy prices have soared to their highest level amid "an unparalleled period."
* The World Bank does not plan to offer new financing to Sri Lanka, which is battling its worst economic crisis in decades, until the Indian Ocean nation has an adequate macroeconomic policy framework in place, the lender said on Thursday.
* Zimbabwe on Thursday revised down its growth forecast for 2022 from the initial 5.5 percent to 4.6 percent, reflecting the impact of the global environment as well as the domestic circumstances.
* Mainland China reported 564 new coronavirus cases for July 28, of which 109 were symptomatic and 455 were asymptomatic, the National Health Commission said on Friday.
* India's daily COVID-19 caseload Friday remained above the 20,000-mark for the second straight day, officials said. According to federal health ministry data released on Friday morning, 20,409 new cases of COVID-19 were reported during the past 24 hours, taking the total tally to 43,979,730 in the country.
* Indonesia on Friday commenced the fourth COVID-19 vaccine dose program particularly for healthcare workers amid concerns over new Omicron sub-variants.
* Malaysia reported 3,926 new COVID-19 infections, as of midnight Thursday, bringing the national total to 4,668,139, according to the health ministry.
* Japan is encouraging regional authorities to take their own counter-measures against the spread of a new coronavirus variant that has sent cases surging to record levels.
* Russia reported 11,515 new daily cases on Thursday, authorities said, the highest such figure since April 13.
* Australia has reported its highest COVID-19 daily death toll in recent months as the country continues to battle against the wave of Omicron sub-variant infections in winter.
* Peru extended a state of emergency on Thursday over the COVID-19 pandemic amid a fourth wave. The decision extends emergency conditions for another 28 days as of Aug. 1.
* Compared with the earlier Omicron BA.2 subvariant, currently dominant Omicron BA.5 is linked with higher odds of causing a second SARS-COV-2 infection regardless of vaccination status, a study from Portugal suggests.
* At least 357 people were killed and over 400 were injured as heavy monsoon rains continued to batter Pakistan for more than five weeks, the National Disaster Management Authority (NDMA) said Thursday.
* Brazilian authorities rescued 337 people working as slave laborers in a joint operation since July 4, the federal Public Prosecutor's Office announced on Thursday.
Xinhua/Reuters/VNA
TAG: