The US and Europe reeling in the heat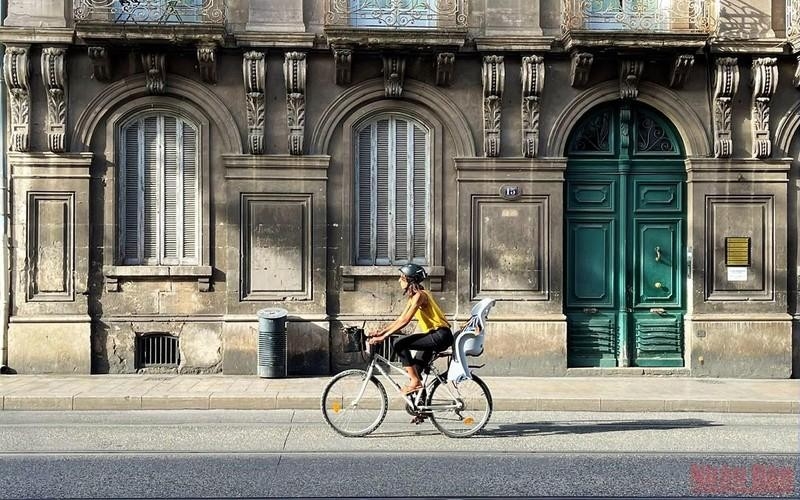 France is on red alert for a record heat wave since 2003. (Photo: MINH DUY)   
NDO - Both Europe and the US have experienced a peak heat wave, with high temperatures, leading to wildfires in many places. The record hot weather during summer once again reminds the world of urgent and drastic action needed against climate change.
High temperatures and dry weather fueled severe wildfires in the US. The Oak fire broke out recently, destroying 5,780 ha of land in the state of California, equivalent to more than 50% of the area of ​​Paris. Wildfires have destroyed 2.75 million ha of land in California over the past two years.
Meanwhile, in Europe, Greek firefighters are struggling to contain forest fires on the island of Lesbos, as well as new fires that broke out in the western Peloponnese and northern Greece. The intense heat wave that began on July 23 is forecast to last for 10 days with temperatures reaching 42C in some areas.
Wildfires are also occurring in several other European countries like France, Spain and Portugal, where the ​​forest land recently burned is larger than the area burned during the entire 2021. It is estimated that about 517,881 ha of forest in these countries have been burned.
The current scorching heat wave in Europe has killed more than 1,700 people in the Iberian Peninsula, including Spain and Portugal. Italy had to issue red warnings due to intense heat in 16 cities, while firefighters struggled to control forest fires that broke out in many areas across the country.
The city of Milan, in northern Italy, is forecast to experience the highest temperature in the country up to 40C. For three consecutive months (May, June and July), Italy has witnessed temperatures rise at least 2 to 3C higher than average and this trend will continue until early August.
Europe's Copernicus Atmosphere Monitoring Service warned that the heat is polluting the ozone layer so much that it is harmful to humans. Scientists have detected very high surface ozone pollution levels in Western and Southern Europe, especially on the Iberian Peninsula and parts of northern Italy. Earlier, in January 2022, researchers also estimated that persistently high levels of ozone pollution in Asia cost China, Japan, and the Republic of Korea about 63 billion USD a year due to the loss of rice, wheat and corn crops.
Climate change causes heat waves to increase in both intensity and frequency. According to the Intergovernmental Panel on Climate Change (IPCC), this situation is happening on most continents. Greenhouse gas emissions from human activities have increased the earth's temperature by about 1.2C since pre-industrial times. This means that temperatures can rise higher when extreme heat occurs.
According to climate scientist Sonia Seneviratne from the Institute for Atmospheric and Climate Science of ETH Zurich (Switzerland), extreme heat events, which would only happen once every 10 years without human impact on climate, now occurs three times more frequently on continents. Temperatures will only stop rising if people stop emitting greenhouse gases.
Since 2004, more than 400 studies have been conducted to determine exactly how climate change affects heat waves. The general conclusion is that both the frequency and the extent of record heat will increase if people do not act against climate change.
The World Health Organisation (WHO) Regional Office for Europe called for joint action against climate change, especially promoting the implementation of the Paris Agreement on climate change. Countries have agreed to reduce global warming to 1.5-2C, but current policies are not effective enough to meet this goal. Failure to stop climate change will make extreme heat even more dangerous.
THAI THANH
TAG: