World News in Brief: July 2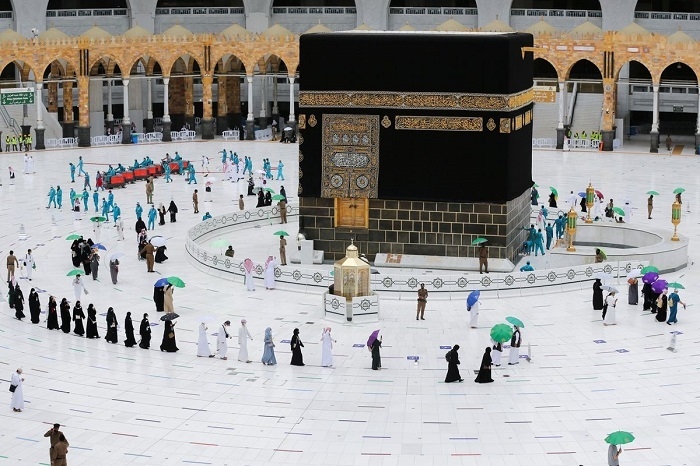 Thousands of pilgrims started arriving in the holy city of Mecca in Saudi Arabia on Friday, among some one million Muslims expected to attend the 2022 haj pilgrimage season after two years of major disruption caused by the pandemic.   
Indonesia recorded a sharp rise in foreign visitor arrivals in May from a year earlier as travel continued to recover after the easing of restrictions, data from its statistics agency showed.
* Russian President Vladimir Putin discussed the Ukrainian crisis, the global food market and bilateral economic ties with Indian Prime Minister Narendra Modi over the phone on Friday.
* French President Emmanuel Macron received on Friday Australian Prime Minister Anthony Albanese to discuss the future ties between the two countries after the submarine row.
* Ukrainian President Volodymyr Zelensky met with visiting Norwegian Prime Minister Jonas Gahr Store on Friday to discuss further support for Kiev, the presidential press service said.
* Ukraine's bid to join the European Union (EU) is "within reach" but requires "hard work, determination and above all unity of purpose," European Commission President Ursula von der Leyen said on Friday.
* Lebanese President Michel Aoun on Saturday called on Arab leaders to unite in order to tackle the various challenges now facing the Arab world.
* China's rail cargo volume, a key indicator of economic activities, rose 5.5 percent year on year in the first half of 2022, said the China State Railway Group Co., Ltd. (China Railway) on Saturday.
* The German government on Friday approved the national budget for 2023, with projected revenues and expenditures of around 445 billion euros (463 billion USD), 10 percent less than in 2022.
* Prices in Italy were 8 percent higher in June than a year earlier, the country's National Statistics Institute (ISTAT) reported Friday, marking the highest one-month increase in prices in more than three decades.
* Energy imports to Finland surged by 93 percent to 4.1 billion euros (4.28 billion USD) in the first quarter on a year-on-year basis, showed preliminary data from Statistics Finland Friday.
* A delegation from the International Monetary Fund will visit Tunisia on Monday to start negotiations over a loan programme, a central bank official told Reuters on Friday.
* Rescuers in India's northeastern state of Manipur on Friday recovered eight more bodies from the mud after a massive landslide, with the number of confirmed deaths in the disaster rising to 16, according to officials. The landslide hit Noney district early Thursday, around 50 km north of Imphal, the capital of Manipur.
* The number of inmates who died after a fire broke out on Tuesday during a prison riot in the Colombian town of Tulua rose to 53, local health authorities said Friday.
* Several dozen Romanian and Bulgarian firefighters took up their posts in Greece on Saturday, the first members of a European force being deployed to the country to provide backup in case of major wildfires during the summer.
* The Chinese mainland on Friday reported 38 locally-transmitted confirmed COVID-19 cases, 34 of which were in Anhui Province, the National Health Commission said Saturday.
* Singapore reported 7,952 new cases of COVID-19 on Saturday, bringing the total tally to 1,461,107.
* India reported 17,092 new COVID-19 cases during the past 24 hours, taking the total tally to 43,486,326, showed the data released by the country's federal health ministry on Saturday.
* Malaysia reported 2,773 new COVID-19 infections as of midnight Friday, bringing the national total to 4,568,828, according to the health ministry.
* The Republic of Korea reported 10,715 new COVID-19 cases as of midnight Friday compared to 24 hours ago, raising the total number of infections to 18,379,552, the health authorities said Saturday.
* Italy's COVID-19 transmission rate has increased for the fourth consecutive week, according to a weekly government report released Friday.
* At least five people were killed and 49 injured by a magnitude 6.1 earthquake in southern Iran early on Saturday, state media reported, with the area also hit soon after by two strong quakes of up to 6.3 magnitude.
* Coronavirus vaccines tweaked to include the Omicron variant strain can improve protection when used as a booster, the European Medicines Agency and other global health regulators said.
* The US government has ordered an additional 2.5 million doses of Bavarian Nordic's BAVA.CO vaccine for use against monkeypox outbreaks, the US Department of Health and Human Services said on Friday.
Xinhua/Reuters/VNA
TAG: