World News in Brief: June 2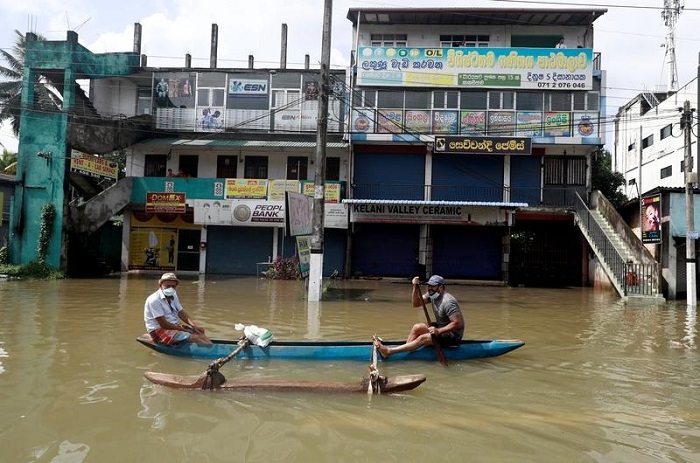 Sri Lanka's Disaster Management Center said that one person was killed with over 12,000 others affected by heavy rains and gale-force winds in many parts of the country by Thursday morning. (Representative Image/Photo: Reuters)   
The Republic of Korea's ruling People Power Party won a sweeping victory in local elections, election watchdog data showed Thursday. It came less than a month after the RoK President Yoon Suk-yeol took office on May 10.
* Chinese Premier Li Keqiang Wednesday urged efforts to speed up the implementation of a package of policy measures to stabilize the economy.
* The Slovenian parliament on Wednesday confirmed the center-left government of Prime Minister Robert Golob by 53 votes against 28. The new 18-member government takes power immediately, replacing the center-right cabinet of the outgoing prime minister Janez Jansa.
* India has sent a team of foreign ministry officials to Afghanistan's capital of Kabul for talks with senior members of the ruling Taliban, the ministry said on Thursday, the first such meeting since the chaotic US withdrawal last year.
* The administration of President Joe Biden on Wednesday revoked a series of restrictions on flights to Cuba imposed by his predecessor, including ending a prohibition on US airline flights to Cuban airports other than Havana.
* Denmark has voted to join the European Union's defence pact and scrap its 30-year-old opt-out from the bloc's common security and defence policies.
* Russia said on Wednesday that it did not rule out a meeting between President Putin and Ukrainian President Zelenskiy, but that any such talks needed to be prepared in advance.
* Ukraine's 2022 wheat harvest is likely to drop to 19.2 million tonnes from a record 33 million tonnes in 2021, Ukrainian grain traders' union UGA said.
* The governments of Ukraine and Poland on Wednesday signed a string of bilateral documents in the fields of defense, energy and regional development, the Ukrainian government press service reported.
* The Netherlands and Germany will jointly drill for a new gas field in the North Sea, the Dutch Ministry of Economic Affairs and Climate announced on Wednesday.
* The Biden administration is in talks with Spain and Canada about taking more Western Hemisphere refugees for resettlement, people familiar with the matter said on Wednesday, signaling possible commitments that could be announced at next week's Summit of the Americas.
* Dutch Defense Minister Kajsa Ollongren on Wednesday unveiled an extra defense budget of billions of USD, calling it "the largest investment" in the country's armed forces since the end of the Cold War.
* US President Joe Biden will have wide-ranging talks with Brazilian President Jair Bolsonaro on the sidelines of the US-hosted summit of the Americas in Los Angeles next week, a senior White House official said on Wednesday.
* The Indian government's sugar exports ban came into effect on Wednesday, officials said. The ban will be in place until the end of October.
* Sri Lanka has relaxed import restrictions imposed on 369 items in March and April this year, the Ministry of Finance said on Wednesday in a press release.
* Turkey and Pakistan on Wednesday pledged to strengthen cooperation with a "strategic perspective" on both bilateral and international levels.
* Palestinian Prime Minister Mohammed Ishtaye on Wednesday called on the international community to move from condemnation to imposing sanctions on Israel in light of "daily" aggression against Palestinians.
* The United Nations on Wednesday welcomed the first commercial flight from Yemen's Sanaa airport to Cairo earlier in the day, a UN spokesman said.
* A man armed with a rifle and a handgun killed four people inside a medical building in Tulsa, Oklahoma on Wednesday before fatally shooting himself, police said, in the latest of a series of mass shootings to rattle the United States.
* Mainland China reported 129 new coronavirus cases for June 1, of which 37 were symptomatic and 92 asymptomatic, the National Health Commission said on Thursday.
* India's health ministry reported 3,712 new coronavirus infections for the past twenty four hours on Thursday, the highest in nearly a month, driven up by a record number cases recorded in the financial capital, Mumbai.
* Some 60.2 million doses of COVID-19 vaccines had been administered in Myanmar as of Tuesday, official data showed on Wednesday.
* Almost 10 times as many tourists visited Spain in April compared to the same month last year, spending close to the amount that foreign visitors did before COVID-19, National Statistics Institute data showed.
* COVID-19 cases in the Americas increased 10.4% last week from the previous one, but countries must also pay attention to a rise in other respiratory viruses in the region, the Pan American Health Organization (PAHO) said on Wednesday.
* Most European Union countries have boosted their renewable plans since 2020, putting them on course to cut fossil fuel use this decade as the energy and COVID-19 crises have spurred, not derailed their green transition, researchers said on Thursday.
* Canada on Wednesday authorized a single booster shot of Pfizer PFE.N and partner BioNTech's BNTX.O COVID-19 vaccine for 16- and 17-year-olds.
Xinhua/Reuters/VNA
TAG: