World News in Brief: May 9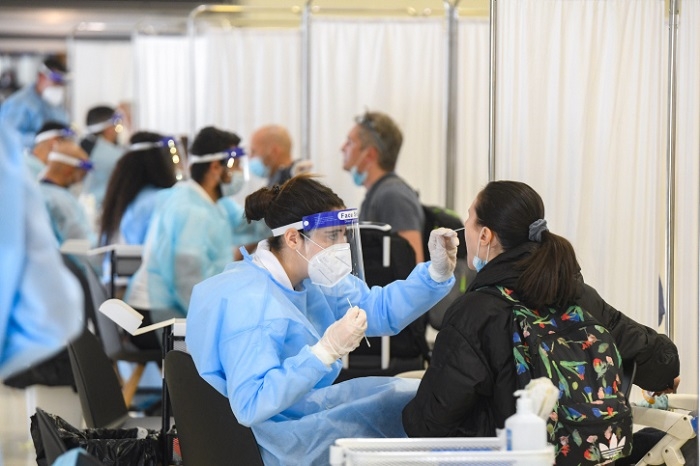 Israel said it was ending mandatory COVID-19 testing for arrivals at Tel Aviv's Ben Gurion airport, but foreigners would still have to test negative overseas before boarding a flight to the country.   
Filipinos began voting Monday morning to elect their next president and some 18,000 other officials of all levels of government. A total of 37,211 polling centers across the country opened at 6 a.m. local time (2200 GMT Sunday) for the 65.7 million eligible voters and will close at 7 p.m. local time (1100 GMT).
* China's President Xi Jinping told German Chancellor Olaf Scholz on Monday that all efforts must be made to avoid the Ukraine conflict turning into an "unmanageable situation", Chinese state radio reported.
* Sri Lankan Prime Minister Mahinda Rajapaksa stepped down on Monday as violent protests broke out in the capital between his supporters and anti-government people.
* Canadian Prime Minister Justin Trudeau met Ukrainian President Volodymyr Zelensky in Kiev on Sunday, announcing more military aid to Ukraine and more sanctions against Russia.
* Ukrainian President Volodymyr Zelensky met in Kiev Sunday with Croatian Prime Minister Andrej Plenkovic to discuss defense and energy cooperation and Ukraine's European integration, the Ukrainian presidential press service reported.
* Ukrainian President Volodymyr Zelensky and visiting President of the German parliament Baerbel Bas on Sunday discussed further defense assistance to Ukraine, the presidential press service reported.
* Foreign Minister of the Afghan caretaker government Mawlawi Amir Khan Muttaqi has discussed economic issues and the security situation with EU special envoy on Afghanistan, the state-run news agency Bakhtar reported Monday.
* Iranian Foreign Minister Hossein Amir Abdollahian said in Tehran on Sunday that diplomacy is the only way to settle conflicts anywhere in the world, including in Ukraine, according to the state TV.
* Japan's services sector activity expanded for the first time in four months in April, as consumer sentiment recovered after the government lifted coronavirus curbs following a decline in domestic Omicron infections.
* COVID-19 restrictions imposed earlier in the year, which have now been lifted, led to a strong pick-up in Indonesia's economic activities, Margo Yuwono, head of Indonesia's statistics bureau, told a news conference.
* Pakistani Prime Minister Shahbaz Sharif has imposed a ban on the export of sugar to stabilize prices and control hoarding of the commodity in the country, the Prime Minister's Office said on Monday.
* Egypt expects spending to rise by 15% and its deficit by 14.5% in the fiscal year that begins on July 1 as it faces fallout from the Ukraine crisis and continued pain from the coronavirus pandemic, the finance minister told parliament on Monday.
* China has recorded a high coastal sea level over the past ten years, reaching a high point in 2021, according to a report by the Ministry of Natural Resources. Over the past year sea level has been 84-mm higher than between 1993 to 2011, according to the recent report on China's sea level.
Xinhua/Reuters/VNA
TAG: