Warning from nature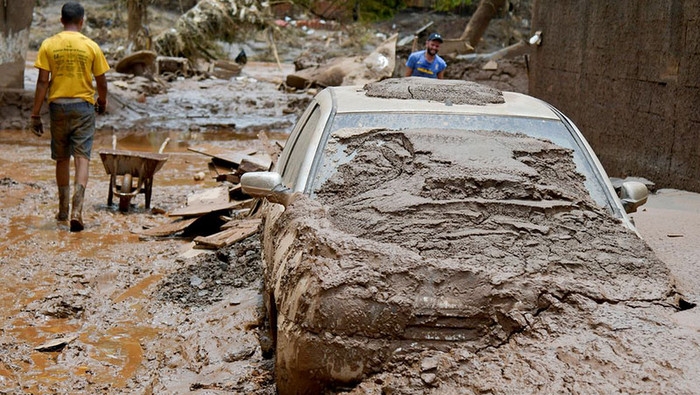 Residents clean the streets after floods hit the area in Raposos, in Minas Gerais state, Brazil , on January 13, 2022. (Photo: Reuters)   
NDO - The United Nations (UN) recently predicted that the world will face around 560 natural disasters a year by 2030. Combating climate change is more urgent than ever and needs the joint efforts and consensus of all countries around the world.
Extreme weather events, which have been occurring with increasing frequency, have become a constant threat to humans. In 2021, Europe experienced a variety of extreme weather events, from an unusually hot summer to devastating wildfires and floods.
Specifically, the continent witnessed a "flaming" summer withtemperatures of 1 degree celsius higher than the average temperature in the past 30 years. In particular, Italy's Sicily region experienced the hottest day in its history, with a temperature of up to 48.8C. The hot weather in the Mediterranean during also sparked serious wildfires, burning more than 800,000 hectares of land in Greece, Turkey and Italy.
While the COVID-19 pandemic has been sweeping the globe,climate change and extreme weather phenomena have made the countries' economic losses even more serious. Statistics from the UN show that natural disasters around the world have "blown away" 170 billion USD per year over the past ten years. The Asia-Pacific region has suffered the greatest economic losses because ofthe frequency of natural disasters.
In the Philippines, millions of people have been struggling to recover their lives after typhoon Rai hit the country in December 2021, killing more than 300 people, displacing hundreds of thousands and causing damage of about 500 million USD. The UN estimated that disasters caused by drought, extreme heat and floods could push an additional 100 million people into poverty by 2030.
In a recent report, the UN Office for Disaster Risk Reduction (UNDRR) pointed to the reality that governments have underestimated the true impact of natural disasters on human lives and livelihoods.
Also according to the UNDRR, one of the reasons for the sharp rise in disasters globally is people's misconceptions about the threats from nature. This has led to inappropriate decisions on financial and development policies, increasing risks and pushing people into a "vicious cycle" of risk from natural disasters.
Deputy UN Secretary-General Amina J. Mohammed affirmed that humanity is putting itself on "a spiral of self-destruction" by ignoring the risks of climate change. Mother Nature has been sending urgent messages to humanity, through the COVID-19 pandemic and the current severe climate crisis.
If countries and governments fail to promptly and properly assess the risks towards an appropriate response to the urgency of the current climate situation, the consequences will certainly be more severe.
Le An
Translated by NDO
TAG: