World News in Brief: March 11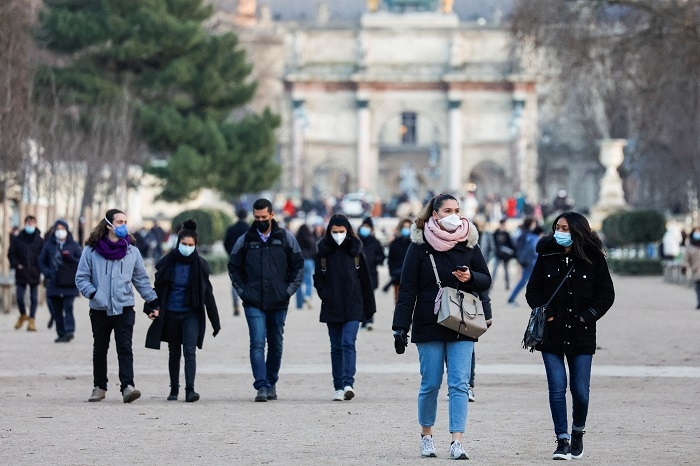 France's national health agency reported 74,818 new COVID-19 cases in the past 24 hours on Thursday, a sharp increase compared to previous days.   
Indian Prime Minister Narendra Modi got a shot in the arm when his Bharatiya Janata Party (BJP) won four states -- Uttar Pradesh, Uttarakhand, Goa and Manipur, in the election results that came in till late Thursday night.
* Chinese Premier Li Keqiang said on Friday he is confident of hitting this year's economic growth target, despite headwinds including the war in Ukraine, pledging to provide more policy support during a politically sensitive year.
* Malaysia's Johor state will on Saturday hold the first elections since the country lowered its voting age to 18, with 750,000 new ballots added to regional polls seen as a litmus test for a general election that could be called this year.
* Chinese Premier Li Keqiang said on Friday the Ukraine situation was "disconcerting" and that it is important to support Russia and Ukraine in ceasefire talks.
* Japanese Prime Minister Kishida Fumio and the Republic of Korean president-elect Yoon Suk-yeol said they had agreed on Friday to ramp up three-way ties with the United States in responding to the Democratic People's Republic of Korea's evolving military threat.
* Chinese President Xi Jinping said Republic of Korea is a close neighbour and important partner in a congratulatory letter to the RoK's President-elect Yoon Suk-yeol, Yonhap news agency reported on Friday.
* The World Health Organization (WHO) has advised Ukraine to destroy high-threat pathogens stored in the country's labs to prevent "any potential spills," the UN agency said on Thursday.
* The International Monetary Fund (IMF) will likely downgrade its global growth forecast next month due to spillover effects from the Ukraine crisis, IMF Managing Director Kristalina Georgieva said Thursday.
* The United Nations Security Council (UNSC) will convene on Friday to discuss the United States' alleged military biological research in Ukraine at Russia's request.
* US President Joe Biden on Thursday designated Qatar as a major non-NATO ally of the United States, fulfilling the promise that he had made to Qatar earlier this year, the White House said.
* European Union's foreign policy chief Josep Borrell said Friday that a pause is needed in talks on reviving the 2015 Iran nuclear deal, citing "external factors."
* Hungary's government restricted eligibility for subsidised fuel, a government official said on Thursday, after a jump in demand led to shortages at some filling stations.
* Russian, Ukrainian and Belarussian weapons makers will not take part in Malaysia's biennial arms show Defence Services Asia (DSA) this month amid the war in Ukraine, the fair's organiser said on Friday.
* Malaysia's industrial production in January rose 4.3% from a year earlier, below forecast, government data showed on Friday.
* Asia passed the grim milestone of 1 million coronavirus-linked deaths on Friday, a Reuters tally showed, as a spike in Omicron variant infections spreads across the region after starting in nations such as Japan and the Republic of Korea.
* The Chinese mainland on Thursday reported 397 locally transmitted COVID-19 cases, the National Health Commission said Friday.
* India's COVID-19 tally rose to 42,984,261 on Friday, as 4,194 new cases were registered during the past 24 hours across the country, showed the federal health ministry's latest data.
* Brazil recorded 56,635 new coronavirus cases and 588 COVID-19 deaths in the last 24 hours, the Health Ministry said on Thursday.
* White House press secretary Jen Psaki said on Thursday the country still needs additional funding to combat the COVID-19 pandemic in the wake of Congress scrapping the administration's 15.6 billion USD funding request in a budget bill that passed the House on Wednesday.
* Australia's national cabinet will meet on Friday against a backdrop of concerns about the spread of the new sub-variant of the Omicron strain, while eastern states battle to clear tonnes of debris after devastating floods.
* Japan is considering offering a fourth coronavirus vaccine shot later this year, a newspaper reported on Friday, while a government spokesman said a decision would be made based on the severity of the pandemic.
* The Philippines approved the emergency use of Paxlovid, Pfizer's COVID-19 drug, the country's food and drug agency said on Friday.
* Indian vaccine maker Bharat Biotech said the Russia-Ukraine conflict had not impacted the company's supply chains so far.
* Japan's Fujifilm Holdings Corp said it was halting enrolment in a Phase III trial of its antiviral pill Avigan for the treatment of COVID-19.
* Germany reported a record number of infections as the country prepares to lift most remaining curbs.
* Africa's top public health agency has agreed a memorandum of understanding with Pfizer PFE.N to bring supplies of the pharmaceutical firm's Paxlovid antiviral COVID-19 pills to the continent, its director said.
Xinhua/Reuters/VNA
TAG: