World News in Brief: February 17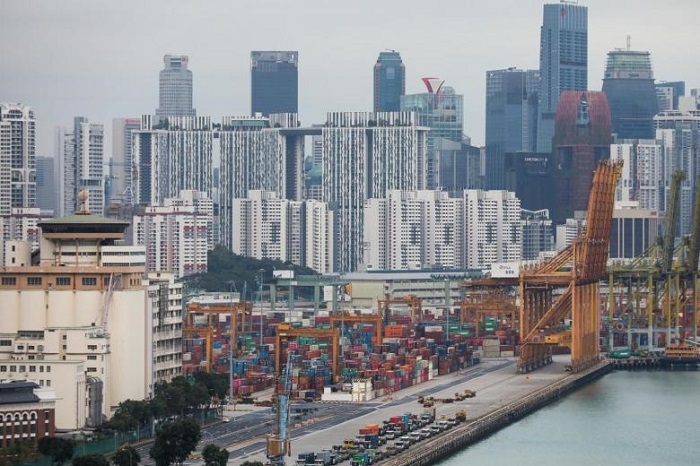 Singapore maintained its forecast for the economy to expand 3-5% this year as the city-state's recovery from the pandemic slump continues, although officials flagged downside risks to global growth and rising inflationary pressures.   
Finance leaders of the world's top 20 economies will debate the fallout from geopolitical tensions, global inflation and tighter monetary policy at a two-day meeting kicking off on Thursday. But COVID-19 cases overshadow the gathering with many ministers either attending online or skipping the meeting altogether.
* Italian Foreign Minister Luigi Di Maio said on Thursday that his Russian counterpart, Sergei Lavrov, had assured him Moscow wanted to find a diplomatic solution to the Ukraine crisis.
* Russia considers it impossible to resume work in its joint council with NATO, Russian Foreign Minister Sergei Lavrov said on Thursday. Russia said last year it would halt the activities of its diplomatic mission to the Western military alliance after NATO expelled eight Russians saying they were spies.
* Russia and Belarus will end their joint military drills on Feb. 20 as previously planned, Russian Foreign Minister Sergei Lavrov said on Thursday, addressing Western concerns that Russian troops may stay in Belarus for a longer time.
* European Union leaders meeting over the crisis in Ukraine on Thursday will not discuss specific new sanctions on Russia as the matter is "divisive", an EU official said on Thursday.
* US Vice President Kamala Harris will meet world leaders including Ukrainian President Volodymyr Zelenskiy in Munich this week, her highest-profile foreign trip yet, as the Biden administration tries to de-escalation in the Ukraine-Russia crisis.
* Belarus is considering buying several Russian S-400 surface-to-air missile systems to place them near the capital Minsk, state news agency Belta quoted President Alexander Lukashenko as saying on Thursday.
* France's military withdrawal from Mali will take four to six months, during which time there will be fewer operations against Islamist militants in the Sahel, President Emmanuel Macron said on Thursday.
* Iran's supreme leader said on Thursday that it will further develop peaceful nuclear capacity to preserve independence, amid negotiations with world powers to revive a 2015 nuclear pact.
* Japan will ease border controls imposed to counter the pandemic, Prime Minister Kishida Fumio said on Thursday, as the number of coronavirus infections have shown signs of declining, meaning Japan needed to start preparing for a new phase.* Top US infectious disease expert Dr. Anthony Fauci said it is time for the United States to start inching back towards normality, despite remaining risks from COVID-19.
* The unemployment rate in Australia stayed at 4.2%, matching the lowest reading since 2008 when it bottomed out at 4.0%. The impact of the Omicron wave was felt most in hours worked which slid 8.8% as employees stayed home sick or were forced to isolate.
* Israel's economy grew at its fastest pace in 21 years in 2021 as consumer spending, exports and investment rebounded with double-digit gains following a pandemic-stifled 2020, raising the spectre of the central bank raising interest rates soon.
* Norway's mainland economy grew last year by 4.2%, its quickest pace since 2007 as the country rebounded from a pandemic-driven slump in activity, data showed.
* Israel's economy minister will travel to Morocco next week to sign an economics and trade deal, as the countries look to broaden cooperation since they normalised ties in late 2020.
* Efforts to strengthen global health security will only succeed if the role of the World Health Organization (WHO) is enhanced, the agency's head said on Thursday, as its biggest donor, Washington, proposed a new global pandemic prevention fund.
* BioNTech has developed a vaccine factory made from shipping containers that it plans to ship to Africa as assembly kits to ease what the WHO has described as huge disparities in COVID-19 vaccine access.
* An Omicron-specific booster could be ready by August, the CEO of US biotech firm Moderna told Reuters, but the firm is still gathering clinical data to determine whether that vaccine would offer better protection than a new dose of the existing jab.
* Israel on Thursday dropped a "Green Pass" policy requiring proof of vaccination, recovery from COVID-19 or a negative test to enter some public venues, further rolling back restrictions as a wave of infections recedes.
* Pakistan's military has stepped up operations along the Afghan border in recent weeks after a spate of militant attacks that has dashed any hope the frontier might see more peace and stability after the end of the war in Afghanistan.
* Ghana's president Nana Akufo-Addo on Thursday said it was important a U.N. peacekeeping force continue to operate in Mali even after French forces pull out of the country and re-deployed elsewhere in the Sahel.
* The death toll from heavy rains in the Brazilian city of Petropolis, located in a mountainous region of the state of Rio de Janeiro, has risen to 104 as of Thursday morning, according to the state's fire department.
* Several Sydney beaches, including the iconic Bondi and Bronte, were shut down on Thursday after a swimmer was killed in a shark attack, the first such fatality at the city's beaches in nearly 60 years.
Reuters
TAG: