World News in Brief: January 19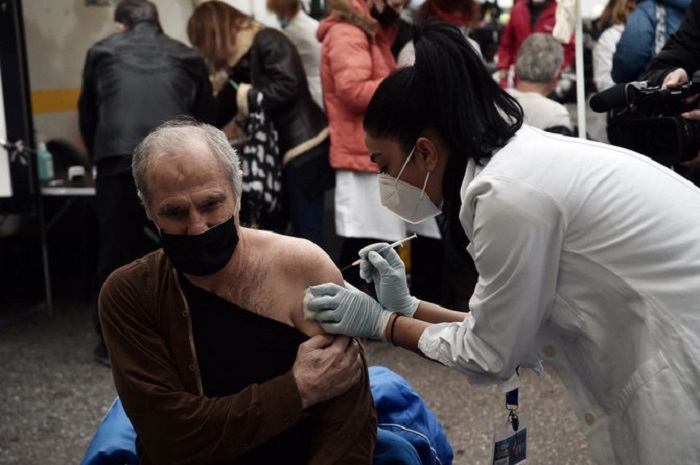 Greece has begun imposing recurring fines on those over the age of 60 who are unvaccinated against COVID-19 to try to boost inoculation in the most vulnerable age group even as infection rates from the fast-spreading Omicron variant are slowing. (File photo: AFP)   
Party General Secretary and President of China Xi Jinping said China is willing to provide support to help Tonga rebuild after a massive volcanic eruption, the official Xinhua news agency reported on Wednesday.
* Russian Deputy Foreign Minister Sergei Ryabkov on Wednesday called on the West to stop supplying Ukraine with weapons and described the situation around European security as "critical", the Interfax news agency reported.
* The European Union must draw up proposals in the coming weeks for a new security deal that it would then negotiate with Russia, French President Emmanuel Macron said on Wednesday, calling for a "frank dialogue" with Moscow.
* Turkish President Tayyip Erdogan will visit Ukraine "within a few weeks", his spokesman was quoted as saying by state media on Wednesday, adding Turkey was in contact with it and Russia on resolving mounting tensions.
* The European Union and Britain must find a "path of trust" in a post-Brexit era, French President Emmanuel Macron told EU lawmakers on Wednesday.
* Ukraine's President Volodymyr Zelenskiy spoke to NATO secretary general Jens Stoltenberg on Wednesday and exchanged information and views on the diplomatic efforts needed for stability in Europe.
* The US special envoy for Yemen will visit the Gulf this week to try and reinvigorate the peace process, the State Department said on Wednesday, after a spate of attacks in the war between Yemen's Iran-aligned Houthi group and the Saudi-led coalition.
* Six new Rafale fighter jets flew low over the Acropolis in central Athens on Wednesday, the first planes purchased under a defence deal with France that has further stirred tensions with Greece's historic rival and NATO partner Turkey.
* The United Arab Emirates is committed to support OPEC+ in achieving balance in the oil market, the state news agency WAM quoted Energy Minister Suhail al-Mazrouei as saying on Wednesday.
* The European Union must forge a new alliance with African countries and France will organise a summit for that purpose next month, French President Emmanuel Macron told EU lawmakers on Wednesday.
* Jordan will next week sign a deal with Lebanon and Syria to supply Lebanon with electricity under a US backed regional plan to help the country ease acute power shortages, the energy minister said on Wednesday.
* Afghanistan's acting prime minister, Mullah Hasan Akhund, on Wednesday called for international governments to officially recognise the country's Taliban administration, saying at a news conference in Kabul that all conditions had been met.
* The undersea telecommunications cable connecting Tonga to the rest of the world that was damaged by a volcano eruption will take at least a month to fix, its owner said on Wednesday, with the delay likely hampering disaster recovery efforts.
* The Philippines confirmed the first domestic deaths caused by the Omicron variant.
* India reported new infections at an eight-month high and a government scientist warned it will take weeks before data on hospitalisations and deaths will show how severe the latest wave will be.
* Japan widened COVID-19 curbs to the capital Tokyo and a dozen regions covering half the population as the Omicron variant drove record new infections.
* British Prime Minister Boris Johnson is set to end most COVID-19 measures introduced to curb the spread of the Omicron variant in England as he looks to live with the virus and fully reopen the economy after an apparent peak in cases, even as countries around the world reported record new infections.
* Portuguese voters with COVID-19 or those in isolation due to exposure to the rampant virus will be allowed to leave home to cast their ballots in a snap election on Jan. 30, the government said on Wednesday.
* Germany reported 112,323 new cases, a fresh single-day record as the health minister said the peak had not been reached and compulsory vaccination should be introduced by May.
* The Czech government will consider making vaccinations mandatory for workers in key professions and people over the age of 60 after the daily tally of new cases hit a record high.
* Poland could have over 50,000 daily cases next week if current trends continue, the health minister said as the country's daily cases jumped to 30,586.
* Hungary's daily tally of new infections jumped to a record 14,890 but the number of patients treated in hospital has remained at a relatively low level.
* The US government will make 400 million non-surgical N95 masks from its strategic national stockpile available for free to the public starting next week, marking the Biden administration's latest effort to help curb the pandemic.
* Asian and European shares fell, US and European bond yields hit multi-year highs, and oil prices climbed as investors braced for tighter monetary policy to combat troubling levels of inflation.
* Oil supply will soon overtake demand as some producers are set to pump at or above all-time highs, the International Energy Agency said, while demand holds up despite the spread of the Omicron variant.
* Global health charities the Bill & Melinda Gates Foundation and Wellcome Trust each pledged 150 million USD to the Coalition for Epidemic Preparedness Innovations to fund its COVID-19 pandemic response and help put it on better footing for future major health crises.
* Canadian province of British Columbia will allow gyms to open from Thursday, but other restrictions will stay in place until Feb. 16.
* Slovenia and Croatia on Wednesday reported record high numbers of new COVID-19 cases of 12,285 and 10,427 respectively, with media cautioning that the real numbers were probably higher as laboratories could not process all tests fast enough.
* Kenya's tourism earnings are forecast to climb to 1.5 billion USD in 2022, which is higher than the earnings seen in 2019 before the pandemic.
* COVID-19 vaccines made using mRNA technology do not cause pregnancy complications for expectant mothers and their babies, the EU drug regulator said.
* The chairman of the Gavi vaccine alliance, Jose Manuel Barroso, said on Wednesday that an additional 5.2 billion USD is needed to continue to deliver vaccines at scale.
Reuters
TAG: