Cambodia remembers Vietnamese volunteer troops on 43rd anniversary of victory over Khmer Rouge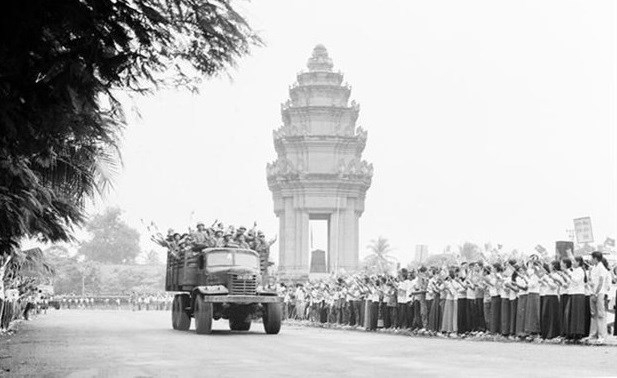 Cambodian people bid farewell to Vietnamese volunteer soldiers in Phnom Penh. (Photo: VNA)   
NDO/VNA – Cambodia always remember the Cambodia United Front for National Salvation (KUFNS) soldiers and Vietnamese volunteer troops who shed their blood and sacrificed their lives to topple the Khmer Rouge genocidal regime and prevent it from rising again, Prime Minister Samdech Techo Hun Sen said on January 7.
Celebrating the anniversary of the Victory Day (January 7, 1979 – 2022), the Cambodian leader said this day 43 years ago marks the great victory of the Cambodian people over the Pol Pot genocidal, closing down a dark page and opening up a new one - that of independence, freedom, democracy and social progress.
January 7 has been taken as the second birthday of Cambodians, noted the PM who is also President of the Cambodia People's Party (CPP), adding that without the Victory Day, Cambodians would not have had everything like they are having today.
Khmer Times on the same day reported that 43 years ago, Vietnamese volunteer soldiers, together with Cambodian resistance fighters launched a general campaign to overthrow the brutal Khmer Rouge regime, paving the way for peace in the war-torn country.
The day is marked every year to celebrate the victory over the genocidal regime in which an estimated 1.7 million people died of execution, starvation, forced labour and diseases, the Cambodian news outlet said.
Due to the COVID-19 outbreak, the CPP celebrates the victory day in small, modest ceremonies across the country, it said.
Cambodian leaders, including PM Samdech Techo Hun Sen and National Assembly President Samdech Heng Samrin, sent greeting messages on the occasion through their Facebook pages, which highlighted that Cambodia has regained its prestige on the international arena and been actively contributing to building peace and sustainable development in the region and the world, according to the Cambodia news agency AKP.
TAG: