World News in Brief: December 30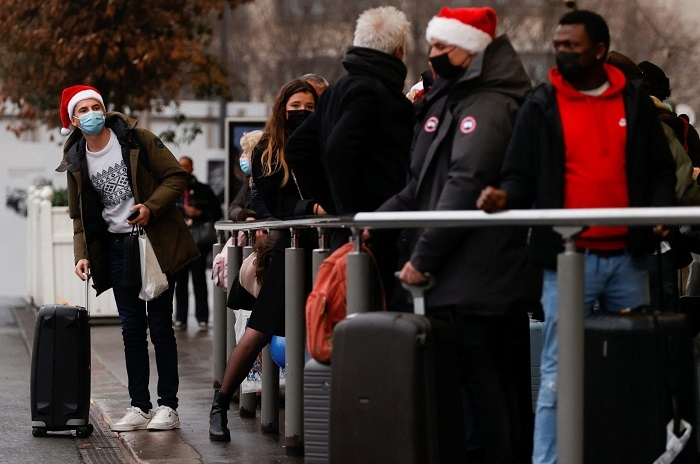 Wearing masks on the streets of Paris will be mandatory starting from Friday, local authorities said on Wednesday, as the number of COVID-19 infections soared.   
An earthquake of magnitude 7.2 struck Kepulauan Barat Daya, Indonesia on Thursday, the European Mediterranean Seismological Centre (EMSC) said.
* Russian President Vladimir Putin plans to hold a phone talk "late Thursday evening" with US President Joe Biden, a Kremlin spokesman Dmitry Peskov told Reuters.
* The new Dutch government is expected to be installed on Jan. 10, almost 10 months after the last election, said a statement released by Prime Minister Mark Rutte's office on Thursday.
* Iraq's new parliament will convene on Jan. 9, according to a decree issued on Thursday by President Barham Salih, preparing the way for lawmakers to put a new government in place.
* Russian President Vladimir Putin said on Wednesday the Nord Stream 2 undersea gas pipeline would help to calm a surge in European gas prices and was ready to start exports now a second stretch of the pipeline has been filled.
* Top US and Russian officials for Iran have met in Vienna, a Russian envoy said on Wednesday, and delegates on both sides said Moscow and Washington were coordinating in a bid to salvage the 2015 Iran nuclear deal.
* The Chinese city of Xian reported on Thursday another 155 local cases, taking the total number to the highest seen in any Chinese city this year, as infections keep spreading eight days into a lockdown.
* Cuba will give booster shots to its entire population in January, according to a report in state-run media, in a bid to keep the highly contagious Omicron variant of the coronavirus at bay.
* Russia has now confirmed 103 cases of the Omicron variant of COVID-19, Anna Popova, the head of state consumer watchdog Rospotrebnadzor, said in an interview on state television on Thursday.
* US cases reached a record high, but Centers for Disease Control and Prevention Director Rochelle Walensky said deaths and hospitalisations are "comparatively" low.
* Italy scrapped self-isolation rules for those coming into contact with someone testing positive providing they have had a booster shot, have recently recovered or been vaccinated.
* France is seeing a "tsunami" of infections, with 208,000 cases reported over the past 24 hours, a new national and European record, Health Minister Olivier Veran told lawmakers.
* Britain pledged 105 million pounds in emergency aid to help vulnerable nations, particularly in Africa, cope with the Omicron variant.
* Spain on Wednesday reduced the isolation period for people who have tested positive for COVID-19 to seven days from 10, the health ministry said, even as new infections hit record highs.
* The Belgian government reversed course on Wednesday by allowing theatres to reopen after a court suspended their closure ordered a week ago to try to stem the surge in infections from the Omicron coronavirus variant.
* The Italian government on Wednesday said it is planning to relax isolation rules for those who came into close contact with COVID-19 sufferers, a statement said.
* Argentina reached a daily record of new cases on Wednesday with 42,032 people testing positive, surpassing the previous all-time high registered in May.
* Mexico authorised the Cuban-made COVID-19 vaccine Abdala for emergency use.
* Turkey began administering its domestically developed COVID-19 vaccine, Turkovac, at hospitals across the country on Thursday, amid a rapid surge in infections due to the Omicron variant.
* Argentina reached a daily record of new coronavirus on Wednesday with 42,032 people testing positive, according to the government, surpassing the previous all-time high of 41,080 cases registered in May.
* China has issued the first 85.5 billion yuan (13.4 billion USD) batch of low-cost loans to financial institutions to promote green projects and corporate efforts to cut carbon emissions, the central bank said on Thursday.
* Saudi King Salman said on Wednesday that Saudi Arabia was concerned about Iran's lack of cooperation with the international community on its nuclear and ballistic missile programmes.
* US Secretary of State Antony Blinken on Wednesday named Rina Amiri, a former US government adviser who criticized the chaotic withdrawal from Afghanistan, as a special envoy for Afghan women, girls and human rights.
* A key part of the immune system's second-line defense, its T cells, are highly effective at recognising and attacking the Omicron variant, thereby preventing most infections from progressing to critical illness, a new study shows.
* Asian shares flatlined on a slow Thursday as the spread of Omicron clouded what is the last trading day of the year for many exchanges, while oil was close to finishing 2021 with gains of more than 50%.
* Iraq's average oil export rate for January will be 3.3 million barrels per day (bpd) and the country will commit to the Organization of Petroleum Exporting Countries' (OPEC) gradual increase of 400,000 bpd each month, its oil minister, Ihsan Abdul Jabbar, told reporters on Thursday.
* Iran has used a satellite launch rocket to send three research devices into space, a defence ministry spokesman said on Thursday, without clarifying if it reached orbit.
Reuters
TAG: