Italy, ASEAN eye stronger trade ties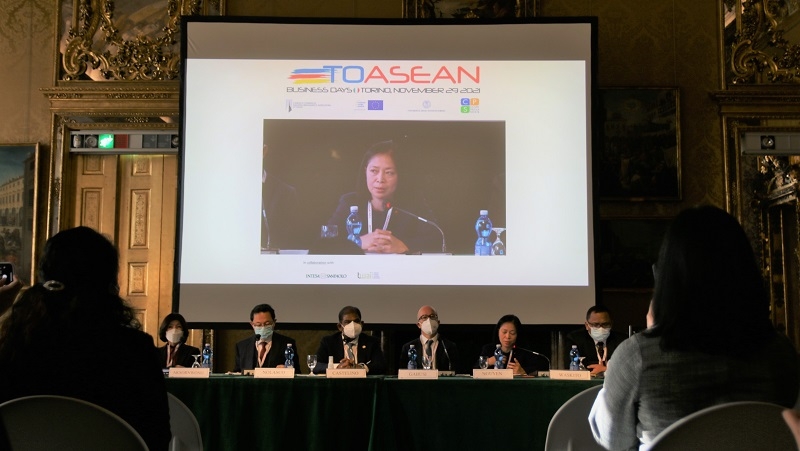 At the forum (Photo: VNA)   
NDO/VNA - A business forum themed "To ASEAN Business Days" took place in Torino city in the northern Piedmont region of Italy on November 29-30, discussing solutions to expand trade ties between the European nation and ASEAN member nations.
Addressing the event, Vietnamese Ambassador to Italy Nguyen Thi Bich Hue highly valued efforts by Italy and ASEAN member countries in coordinating in implementing the development partnership, and supporting each other in the fight against COVID-19, stressing that the two sides should fully tap potential for stepping up their cooperation.
Regarding the Vietnam-Italy relations, the diplomat said despite the impacts of the health crisis, the strategic partnership between the two countries still maintains positive development, with two-way trade in the first three quarters of 2021 posting a year-on-year surge of 22 percent.
Besides large enterprises, Italian small and medium ones are increasingly interested in investing and doing business in Vietnam, she said.
According to Ambassador Hue, Vietnam has joined 16 free trade agreements (FTAs), including the European Union (EU) – Vietnam FTA. The Vietnamese Government is giving priority to promoting important policies on innovation and sustainable development, which will bring opportunities for businesses in the Piedmont region in particular and Italy in general.
President of the Torino Chamber of Commerce Dario Gallina gave a positive assessment of the recovery prospects in the ASEAN region, and called on the business community in Piedmont to effectively tap the potential for cooperation with and export to ASEAN in the coming time.
Reports at the forum showed that trade between ASEAN countries with Italy hit about 15.7 billion EUR (nearly 17.8 billion USD) in 2020. of which, exports from the Piedmont region to ASEAN reached 513.2 million EUR. Notably, Vietnam is the largest trading partner of Piedmont in ASEAN with two-way trade totalling 262.5 million EUR last year.
At a seminar in the Piedmont region's southwest province of Cuneo held on November 30 in the framework of the forum, Vietnamese Trade Counsellor in Italy Nguyen Duc Thanh briefed participants on the potential for Vietnam's dynamic development, and called on Italian legislators and businesses to urge the Italian Parliament to soon ratify the EU-Vietnam Investment Protection Agreement (EVIPA) in order to create more favourable conditions for the European country's investments in Vietnam.
TAG: