World News in Brief: November 30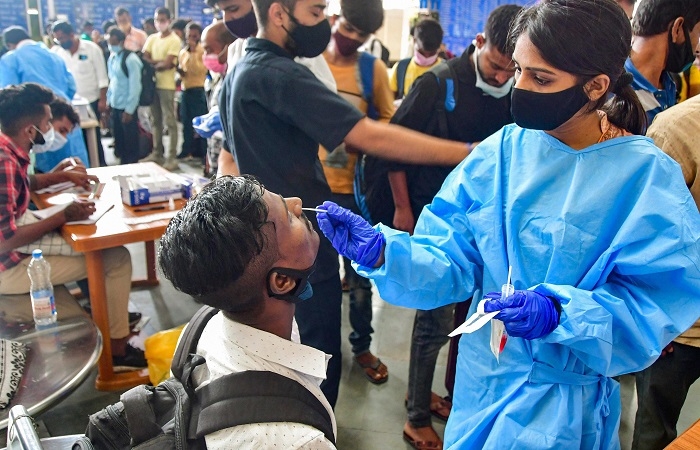 India's health ministry said on Tuesday states should ramp up COVID-19 testing as the world battles the new coronavirus variant Omicron, while some cities delayed the reopening of schools as a precautionary measure.   
The head of the World Health Organization (WHO) voiced concern on Tuesday that some countries were introducing blanket measures against the Omicron coronavirus variant that may not be necessary and penalised African nations unfairly.
* India stands ready to "expeditiously" send more vaccine to Africa to help fight the Omicron variant, New Delhi said late on Monday after China pledged 1 billion doses to the continent.
* President Vladimir Putin said on Tuesday that Russia would be forced to act if its "red lines" on Ukraine were crossed by NATO, saying Moscow would view the deployment of certain offensive missile capabilities on Ukrainian soil as a trigger.
* Russia is not preparing any aggressive plans against Ukraine, the Interfax news agency quoted Nikolay Patrushev, the secretary of Russia's Security Council, as saying on Tuesday.
* Belarus will try to solve the migrants problem by the end of 2021, Russia's RIA news agency quoted Belarusian leader Alexander Lukashenko as saying on Tuesday.
* The World Trade Organization should be able to wrap up negotiations on fishing subsidies and a response to the COVID-19 pandemic early in 2022 even after postponing its ministerial meeting this week, its director-general said on Tuesday.
* Sudanese security forces deployed tear gas on tens of thousands of protesters gathering in central Khartoum on Tuesday to oppose military rule following last month's coup.
* The US CDC said everyone aged 18 years and older should get a booster shot either six months after their initial Pfizer or Moderna vaccine doses or two months after their Johnson & Johnson shot.
* The EU drug regulator could approve COVID-19 vaccines that have been adapted to target the new variant within three to four months if needed, the agency's chief said as she said existing shots would continue to provide protection.
* South Africa's Aspen Pharmacare signed a non-binding agreement with subsidiary firms of Johnson & Johnson as part of its negotiations for a licensing deal to package, market and sell the latter's vaccine in Africa.
* Becton Dickinson and Co said it was confident that its COVID-19 tests would be able to detect the new coronavirus variant Omicron.
* Merck & Co Inc's experimental COVID-19 drug molnupiravir should have similar activity against any new coronavirus variant, a company executive said on Tuesday.
* Regeneron Pharmaceuticals Inc said its COVID-19 antibody cocktail, and similar drugs, could be less effective against the Omicron variant.
* There was a fall in world share markets and scramble to safer currencies and bonds on Tuesday after the CEO of drugmaker Moderna warned that vaccines are unlikely to be as effective against the Omicron variant.
* The Spanish government has approved a 1.47 billion EURO (1.67 billion USD) plan to invest in health technology projects using European Union COVID recovery fund, Science Minister Diana Morant said on Tuesday.
* Poland will cut VAT on heating as part of a package of measures to lower inflation, the prime minister said on Tuesday, after a flash estimate from the statistics office showed price growth surging to a fresh two-decade high.
* Forty-two cases of the COVID-19 Omicron variant have been confirmed in 10 European Union countries, the head of the EU's public health agency said.
* Two more cases of the Omicron variant have been detected in Ottawa, bringing Canada's total number of cases to five, Ottawa Public Health said late on Monday.
* The Omicron variant was detected in the Netherlands before two flights arrived from South Africa last week carrying the virus, Dutch health officials said.
* The United Arab Emirates has approved Russia's Sputnik Light vaccine as a universal booster shot, Russian sovereign wealth fund RDIF said.
* Ecuador will impose entry curbs on travellers flying from or via a number of African countries and will request vaccine certificates from those arriving from other countries.
Reuters
TAG: