World News in Brief: November 19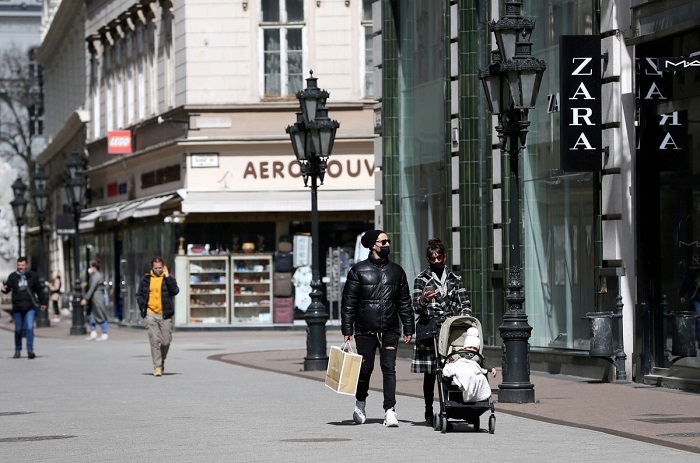 Hungary reported 11,289 new COVID-19 cases on Friday, its highest daily tally since the start of the pandemic, the government said, as infections rise across Europe.(Representative Image/Photo: Reuters)   
Japan's government on Friday unveiled a fresh stimulus package with spending worth 55.7 trillion yen (487 billion USD) that it said would boost gross domestic product (GDP) by around 5.6%.
* The Philippines has approved a plan to allow entry soon to foreign tourists vaccinated against COVID-19, its tourism ministry said, following moves by other Southeast Asian countries to relax travel curbs.
* Singapore is hosting top executives of big global companies this week at a host of conferences, marking its gradual return to normalcy.
* Russian President Vladimir Putin and his Belarusian counterpart Alexander Lukashenko held another phone call about the migrant crisis on Belarus' border with Poland and stressed the importance of cooperation between Minsk and the European Union, the Kremlin said on Friday.
* France's foreign minister warned Iran on Friday not to come to the next round of talks on reviving the 2015 nuclear deal with a "sham" negotiating stance, a day after Paris urged the board of the U.N. atomic watchdog to send Iran a tough message.
* NATO is ready to further support allies affected by the Belarus migrant crisis, Secretary-General Jens Stoltenberg said on Friday, calling the situation on the border with Poland, Lithuania and Latvia deeply concerning.
* The Kremlin on Friday said President Vladimir Putin's call for security guarantees from the West was a response to provocative actions by NATO including the arming of Ukraine.
* The US Federal Reserve will raise interest rates late next year, earlier than expected just a month ago, in a landmark shift from the emergency measures it took to backstop its economy during the pandemic, according to a Reuters poll.
* European Central Bank President Christine Lagarde said on Friday that inflation in the euro zone will fade so the ECB should not tighten policy as it could choke off the recovery, and hinted at continued bond purchases next year.
* Russia on Friday reported 1,254 coronavirus-related deaths in the last 24 hours, a record daily high that follows a surge in cases. The government coronavirus task force also reported 37,156 nationwide infections, including 3,371 in Moscow, down from a peak of 41,335 recorded on Nov. 6.
* France does not need to follow those European countries imposing COVID-19 lockdowns on unvaccinated people, because of the success of its health pass in curbing the virus' spread, President Emmanuel Macron said.
* Germany's coronavirus situation is so grave that a lockdown, including people who have been vaccinated, cannot be ruled out, the health minister said on Friday, as Austria said it would go back into full lockdown from Monday.
* The Spanish beach resort of Benidorm, famous for its vibrant nightlife and especially popular with British partygoers, has opened a COVID-19 vaccination centre for tourists as cases surge along with arrival numbers.
* Canada will announce as expected on Friday it is authorizing the use of Pfizer's COVID-19 vaccine for children aged 5 to 11, a government source said.
* US's Florida banned schools and businesses from requiring vaccination against COVID-19 and set the stage for a possible withdrawal from the federal agency aimed at protecting workplace safety.
* Britain's health ministry on Friday said it would add booster shots to the COVID-19 pass for outbound international travel, though it added they would not be added to the domestic pass at this time.
* Germany is in negotiations with Pfizer about possibly buying its experimental antiviral pill to treat COVID-19, and is also talking to other companies that are developing promising medicines, Health Minister Jens Spahn said on Friday.
* Iran called on Friday for the depoliticisation of the U.N. nuclear watchdog, after France had urged the organisation to "send a strong message to Tehran" over disputed nuclear activities and a lack of cooperation.
* Lebanon's Prime Minister Najib Mikati said on Friday he will call for a cabinet meeting soon after more than a month of political paralysis. The cabinet has not met since Oct. 12, amid a row over the probe into last year's deadly Beirut port blast.
* Malawi police on Friday fired teargas to quell an anti-government protest over alleged corruption and economic mismanagement by President Lazarus Chakwera's administration.
Reuters
TAG: