Vietnam calls for comprehensive political solution to situation in Afghanistan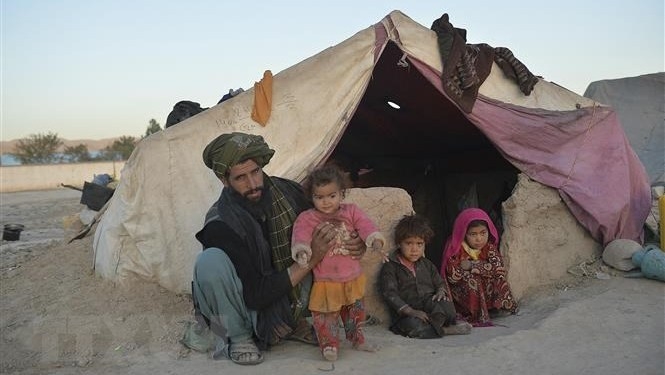 People at a refugee camp in Afghanistan (Photo: AFP/VNA)   
NDO/VNA - Counsellor Phan Ho The Nam, political coordinator of the Vietnam Permanent Mission to the UN, has highlighted the importance of dialogue to seek a comprehensive political solution to the situation in Afghanistan.
Addressing a debate of the UN Security Council on humanitarian crisis in Afghanistan on November 17, the Vietnamese diplomat showed his concern about difficulties the Afghan people are facing, especially increasingly serious food insecurity.
He emphasised the need to ensure stability, safety and benefit of the Afghan people, while calling on parties to comply with obligations under international humanitarian law in all circumstances, and ensure the maintenance of essential infrastructure and services for the Afghan people.
Deborah Lyons, Special Representative for Afghanistan of the UN Secretary-General informed about the difficult situation facing the Afghan people due to the heavy impact of the socio-economic crisis, and instabilities caused by terrorist organisations.
The international community needs to be most concerned in maintaining support for people of Afghanistan in the context that up to 23 million people are being in crisis or experiencing emergency levels of food, Lyons said.
She called on stakeholders in Afghanistan to ensure rights of the people, especially promoting participation of women in socio-political fields, and girls' right to education.
The UN Assistance Mission in Afghanistan (UNAMA) is working to provide support in the country with a focus on humanitarian coordination.
Delegates said that a comprehensive political solution to the situation in Afghanistan should be inclusive. They also emphasised the importance of women's participation in this process.
They also acknowledged UNAMA's efforts in supporting the Afghan people in recent times.
TAG: