World News in Brief: November 11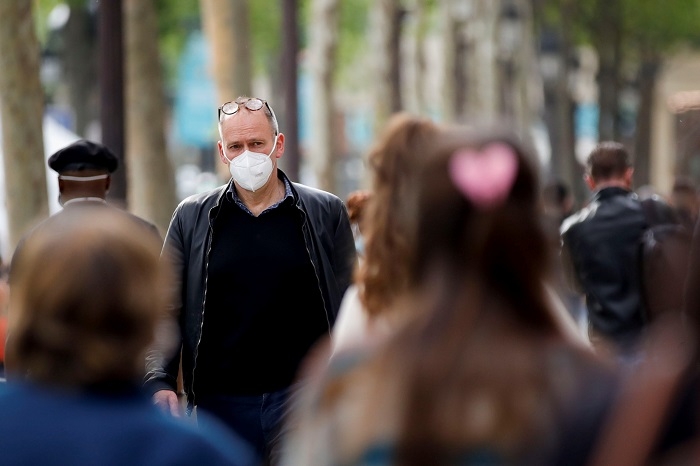 France is at the beginning of a fifth wave of the epidemic, Health Minister Olivier Veran said. (Image for Illustration/Photo: Reuters)   
Japan's new foreign minister, Hayashi Yoshimasa, said on Thursday it was important to build constructive and stable ties with China, while asking for responsible behaviour from its giant neighbour.
* The Czech government agreed to resign on Thursday following an election, Prime Minister Andrej Babis said, pledging his outgoing government will continue efforts to tame the resurgent COVID-19 pandemic.
* US President Joe Biden and European Commission head Ursula von der Leyen met on Wednesday and discussed issues related to Ukraine, Northern Ireland and Belarus, the White House said.
* Malaysia will reopen its borders to international visitors by Jan. 1 at the latest, a government advisory council said on Thursday, as the country seeks to revive its ailing tourism sector.
* Heavy rains across southern India and Sri Lanka have killed at least 41 people, authorities said on Thursday, with weather forecasters expecting the downpours to ease in the next few days as stricken communities pumped out the deluge.
* Inflation fears pressured Asian stocks and buoyed the dollar on Thursday after data overnight showed US consumer prices surged at the fastest pace since 1990 last month, boosting the case for faster Federal Reserve policy tightening.
* China reported 62 new confirmed coronavirus cases for Nov. 10 compared with 54 a day earlier, its health authority said on Thursday. There were no new deaths, leaving the death toll unchanged at 4,636. As of Nov. 10, mainland China had 98,001 confirmed coronavirus cases.
* Russia's deaths hit a record in the previous 24 hours, two days after most of its regions emerged from a week-long workplace shutdown.
* More than 900,000 US children aged 5 to 11 are expected to have received their first COVID-19 shot by the end of Wednesday, the White House said, as the government ramped up vaccinations of younger children.
* Thailand said it will set aside up to 500,000 doses of vaccines for foreign workers.
* People aged under 30 in Germany should only receive the Biontech/Pfizer vaccine as it causes fewer heart inflammations in younger people than the Moderna shot, an advisory committee said.
* Brazil has had 12,273 new cases of the novel coronavirus reported in the past 24 hours, and 280 deaths from COVID-19, the health ministry said on Wednesday.
* Mexico reported 264 new confirmed deaths from COVID-19 on Wednesday, bringing the country's official death toll from the pandemic to 290,374, according to health ministry data.
* The Americas is facing an impending crisis in routine vaccinations because of the COVID-19 pandemic, the Pan American Health Organization said, and vaccinations against the coronavirus are behind where they should be.
* Political leaders in Ontario, Canada have suspended a plan to lift restrictions on the number of people who can congregate in restaurants, bars and other settings, saying a cautious approach was needed with a rise in COVID-19 infections.
* Germany reported a record 50,196 new cases of coronavirus on Thursday, the fourth day in a row it has posted a fresh daily high, as a fourth wave of COVID-19 infections sweeps the country.
* Israel's pandemic advisory board backed administering Pfizer's and BioNTech's vaccine to children age 5-11, as a fourth wave of infections subsides nationwide.
* Bahrain will cancel working with its coronavirus travel red list from Nov. 14.
* Republic of Korea demonstrated a system for controlling urban air mobility vehicles (UAM) on Thursday, which it hopes will serve as taxis between major airports and downtown Seoul as soon as 2025, cutting travel time by two-thirds.
* New Zealand house prices rose in October as an easing in COVID-19 restrictions boosted buyers' confidence, the Real Estate Institute of New Zealand said on Thursday.
* NASA and private rocket company SpaceX launched four astronauts into orbit late on Wednesday, sending a veteran spacewalker, two younger crewmates chosen for future lunar missions and a German materials scientist on their way to the International Space Station.
* The Saudi-led coalition fighting the Iran-aligned Houthis in Yemen said on Wednesday its troops were redeploying in line with its strategy to support Yemeni forces, but were not withdrawing.
Reuters
TAG: