Laos preparing for reopening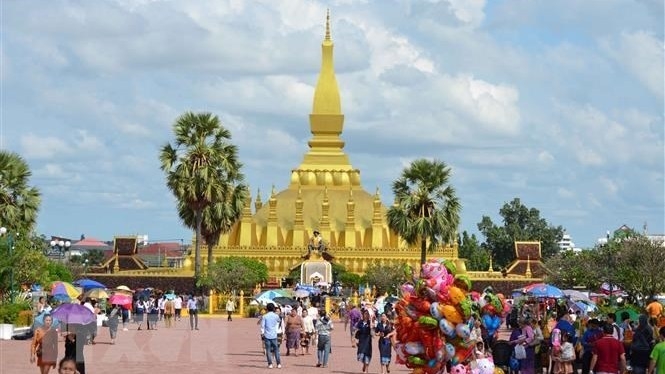 A tourist site in Vientiane, Laos (Photo: VNA)   
NDO/VNA - Despite increases in the number of new COVID-19 infections, the Lao Government is planning to reopen the country, and calling on people to get adapted to the new situation.
Addressing the Lao National Assembly's second session on November 2, Lao Prime Minister Phankham Viphavanh told members that Laos needs to set out a strategic plan on comprehensive preparations to open up the country, including the start of services on the China-Laos railway.
He outlined the socio-economic development plan for 2022, which seeks to address the country's financial and economic difficulties.
The Lao government expects to vaccinate at least 70 percent of the adult population by the end of 2021 -- a figure that exceeds the original target of 50 percent.
So far, more than 3.28 million people have received a first dose of COVID-19 vaccine, accounting for 44.78 percent of the total, while more than 2.8 million people or 38.38 percent are now fully vaccinated.
Lao Deputy Prime Minister Sonexay Siphandone on November 1 said that the government will continue with a tourism programme in 2022 to invite Lao and foreign tourists who have got two COVID-19 vaccine shots, especially from China and the Republic of Korea, to explore the country.
It is hoped that the programme Lao Thiao Lao (Lao Visit Laos) will attract at least 1.9 million domestic visitors and more than 1 million foreign visitors in 2022.
The Lao Health Minister announced on November 2 that the country had recorded 873 new cases and three fatalities over the past 24 hours.
TAG: