World News in Brief: October 31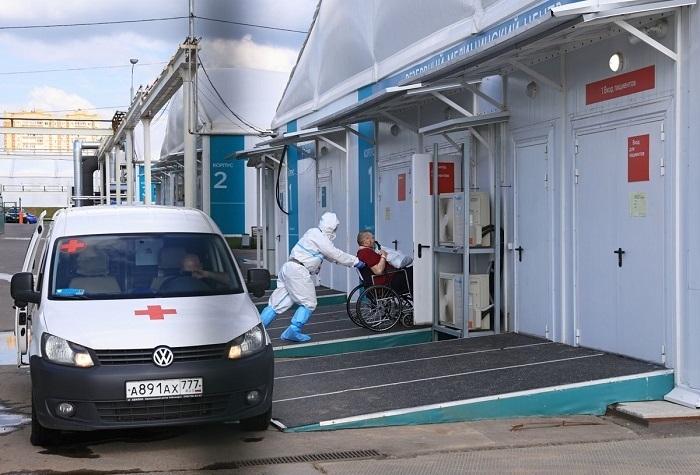 Russia on Sunday reported 40,993 new COVID-19 infections, its highest single-day case tally since the start of the pandemic. The country's coronavirus task force also reported 1,158 coronavirus-related deaths in the past 24 hours.   
United Nations Secretary General Antonio Guterres said on Sunday a summit of the world's top 20 economies had disappointed him, but hadn't crushed his hopes.
G20 leaders earlier on Sunday agreed on a final statement that urged "meaningful and effective" action to limit global warming but offered few concrete commitments or details on how they would reach goals to limit harmful carbon emissions.
* Turkish President Tayyip Erdogan and US President Joe Biden agreed on Sunday to form a joint mechanism to improve strained ties, Turkish media said, after talks a Turkish official said were held in a "very positive" atmosphere.
* US Secretary of State Antony Blinken said on Sunday that the United States was "absolutely in lock step" with Britain, Germany and France on getting Iran back into a nuclear deal, but added it was unclear if Tehran was willing to rejoin the talks in a "meaningful way."
* Iran's foreign minister said on Sunday that if the United States was serious about rejoining Tehran's 2015 nuclear deal with world powers, President Joe Biden could just issue an "executive order", the state-owned Iran newspaper reported.
* German Chancellor Angela Merkel said on Saturday that she and other leaders were concerned about Iran's uranium enrichment and called for a return to the negotiating table for a nuclear deal.
* Britain and France clashed again over a post-Brexit fishing row on Sunday, with London calling on Paris to withdraw its threats and rejecting assertions there had been any agreement to try to cool an argument that could ultimately hurt trade.
* Quarantine-free travel from New Zealand to Australia will resume from Monday, Australia's tourism minister said on Sunday, as the country readies itself for a partial reopening of its international borders for the first time since March 2020.
* The Centers for Disease Control and Prevention (CDC) said on Saturday that unvaccinated foreign nationals under the age of 18 traveling to the United States by air do not have to self-quarantine upon arrival.
* Brazil recorded 232 new COVID-19 deaths and 10,693 coronavirus cases in the last 24 hours, the Health Ministry said on Saturday. More than 607,000 people have now died from the virus in Brazil, the data show, the world's second highest official tally after the United States.
* Mexico's health ministry said it had on Saturday received nearly 6 million AstraZeneca vaccine doses against COVID-19 as pressure grows on the government to widen its vaccination roll-out to include children.
* American Airlines said on Saturday it has canceled more than 1,400 flights over the weekend due to staff shortages and unfavorable weather.
* French health authorities reported 7,360 daily new COVID-19 infections on Saturday, the first time the tally has topped 7,000 since Sept 21.
* A hardline Pakistani Islamist group called off a protest march to the capital Islamabad on Sunday after reaching a deal with the government, ending two weeks of clashes that left at least seven policemen dead and scores injured on both sides.
* Taliban's reclusive supreme leader, Haibatullah Akhundzada, made a rare public appearance in the southern city of Kandahar, Taliban sources said on Sunday, belying widespread rumours of his death.
* Oman expressed regret over worsening relations between some Arab countries and Lebanon, calling on all parties to exercise restraint and avoid escalation, the foreign ministry said in a statement on Saturday.
* The United Nations Libya mission said on Saturday that the country's parliament should amend its election law to hold both presidential and parliamentary elections on Dec. 24 as originally envisioned in a peace plan.
* A Turkish-flagged cargo ship carrying 382 mostly Afghan migrants docked safely at a Greek island's port early on Sunday, two days after losing power in the Aegean Sea and sending out a distress signal.
* Security forces shot dead three people during nationwide protests in Sudan on Saturday, a doctors committee said, as hundreds of thousands of people demanded the restoration of a civilian-led government after a military coup.
* Unidentified armed men killed five police officers in an attack on a police station in northern Burkina Faso in the early hours of Sunday, a government source and three security sources said.
* Seven Malian soldiers were killed on Saturday in two separate attacks on patrols in the centre-west of the country, the army said, the latest bloodshed to indicate violence is shifting southward into previously peaceful areas.
* At least person was killed and 15 were injured when a pipeline exploded in the central Mexican state of Puebla, President Andres Manuel Lopez Obrador said on Sunday.
Reuters
TAG: