Last chance to avoid catastrophic consequences of climate change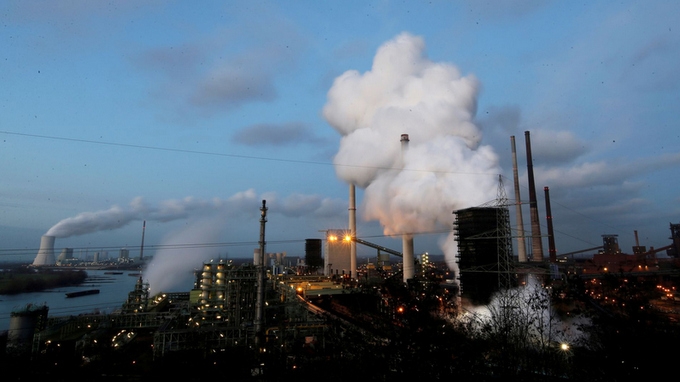 Emissions from a steel mill. (Photo: Reuters)   
NDO – On the eve of the 26th United States Climate Change Conference of the Parties (COP26), the UN warned of the risk of deviation from the target if advantage is not taken of the opportunity to control the increase in the earth's temperature.
Serious consequences have been becoming increasingly apparent as countries are planning on producing more than twice the amount of fossil fuels than the level necessary to limit global warming of 1.5 degrees Celsius.
Under the Paris Agreement on climate change signed in 2015, countries committed to limiting global warming to 1.5 – 2 degrees Celsius through cutting emissions. However, according to the UN Environment Programme (UNEP), the governments' fossil fuel production plans are "dangerously out of sync" with the above target. Under the announced plans, the countries' fossil fuel production in this decade is expected to reach 110% of the level suitable to keep the degree of warming to 1.5 degrees Celsius.
The Lancet Countdown, the largest annual study of the impacts of climate change on human health, announced on October 21, featured alarming numbers. Populations of 134 countries are now at greater threat from wildfires than at any time previously. Two billion people around the world face the risk of food insecurity. Infectious diseases such as dengue, cholera and malaria, have broken out on a larger scale in recent decades. Notably, nearly 75% of the countries participating in the survey said they are not able to implement the overall strategy on climate and health.
Despite agreeing on the goal of limiting the increase in global temperature, countries are still struggling to find a way to take action. The emission reduction target is expected to be a central issue at the G20 Summit, countries which are responsible for around 80 % of global greenhouse gas emissions, which takes place on October 30-31 in Italy. However, so far, the G20 has not agreed on a view on gradually reducing coal use. At least four G20 heads of state are not expected to attend the summit in person in Rome, including the Russian and Chinese presidents. Russia is the world's largest energy producer, while China is the largest emitter of greenhouse gases.
UN Secretary-General Antonio Guterres emphasised that there is still time to avoid a failure at the COP26 climate conference; however, the time is running out as there is just over one week to go before the biggest international climate event since the Climate Change Conference in Paris in 2015. The head of the largest cooperation organisation in the world called on the countries to seize "the last best chance' to avoid the worst consequences of climate change.
Truong Xuan
Translated by NDO
TAG: