World News in Brief: October 16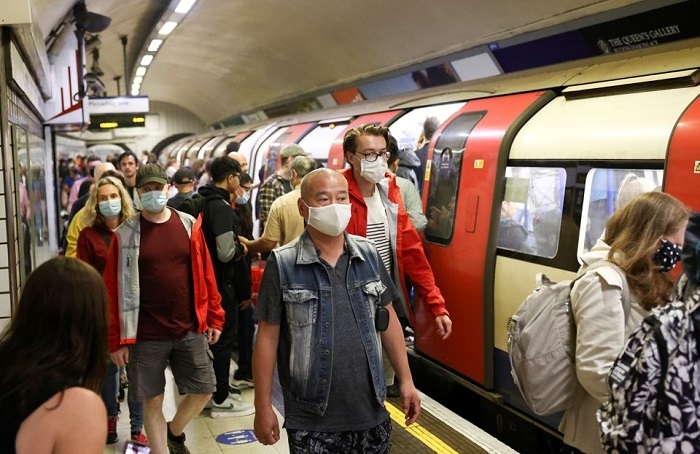 The prevalence of COVID-19 infections in England increased to around 1 in 60 people in the week ending Oct. 9, Britain's Office for National Statistics said on Friday, reaching its highest level since January.   
NASA is set on Saturday to launch a first-of-its kind mission, dubbed Lucy, to study Jupiter's Trojan asteroids, two large clusters of space rocks that scientists believe are remnants of primordial material that formed the solar system's outer planets.
* China on Saturday launched a rocket carrying three astronauts - two men and one woman - to the core module of a future space station where they will live and work for six months, the longest orbit for Chinese astronauts.
* The US Centers for Disease Control and Prevention (CDC) said late on Friday that it will accept mixed-dose coronavirus vaccines from international travelers, a boost to travelers from Canada and other places.
* The Philippines started vaccinating young people aged 12-17 against the coronavirus on Friday, hoping it will enable schools to safely reopen even as the country battles one of Asia's worst COVID-19 outbreaks.
* British lawmaker David Amess was stabbed to death in an Essex church on Friday by an assailant who lunged at him as he met voters, in what police said was a terrorist attack.
* Czech Prime Minister Andrej Babis on Friday promised a smooth handover of power to a bloc of opposition parties that won last weekend's election, giving up the option of forming a government himself.
* Central African Republic President Faustin-Archange Touadera on Friday declared a unilateral cessation of fighting against armed groups, saying he hoped it would lead to peaceful dialogue.
* US stocks rose on Friday as Goldman Sachs was the latest big bank to report strong results and better-than-expected retail sales eased worries about demand.
* Oil prices settled at a three-year high above US$85 a barrel on Friday, boosted by forecasts of a supply deficit in the next few months as the easing of coronavirus-related travel restrictions spurs demand.
* An earthquake of magnitude 4.8 struck Indonesia's Bali island on Saturday morning, killing at least three people, Indonesia's search and rescue agency said.
* A Russian firm said on Friday it had begun trials of the Betuvax-CoV-2 vaccine against COVID-19, the second vaccine of its kind produced by a private Russian company, TASS news agency reported.
* France saw the biggest spike in new coronavirus infections since the end of July on the last day of free testing for unvaccinated people, health ministry data showed.
* Italy reported 42 coronavirus-related deaths on Friday, up from 40 the previous day, the health ministry said, while the daily tally of new infections fell to 2,732 from 2,668.
* Britain recorded 145 more deaths from COVID-19 on Friday, taking the total number of fatalities within 28 days of a positive test to 138,379, official figures showed.
* Healthcare systems across Canada are still very fragile from efforts needed to fight COVID-19, even as signs suggest a fourth wave is starting to recede, a top medical official said on Friday.
* Pfizer Inc and German partner BioNTech SE said on Friday that they had submitted data supporting the use of their COVID-19 vaccine in children aged between five and less than 12 years to the European Medicines Agency.
* New Zealand vaccinated at least 2.5% of its people on Saturday as the government tries to accelerate inoculations and live with COVID-19, preliminary health ministry data showed.
* The Pentagon has offered unspecified condolence payments to the family of 10 civilians who were killed in a botched US drone attack in Afghanistan in August during the final days before American troops withdrew from the country.
* Iran is not ready to return to talks with world powers over its nuclear programme yet and its new negotiating team wants to first meet with the EU in Brussels in the next few weeks, a senior EU official said on Friday.
* Argentine senior officials met with private investors in New York on Friday, touting a much sought-after economic "roadmap" for the embattled country and playing up the chances of a positive deal with the International Monetary Fund.
* Sudan's Prime Minister Abdallah Hamdok on Friday unveiled a road map to end what he described as the country's "worst and most dangerous" political crisis in its two-year transition.
Reuters
TAG: