World power market heats up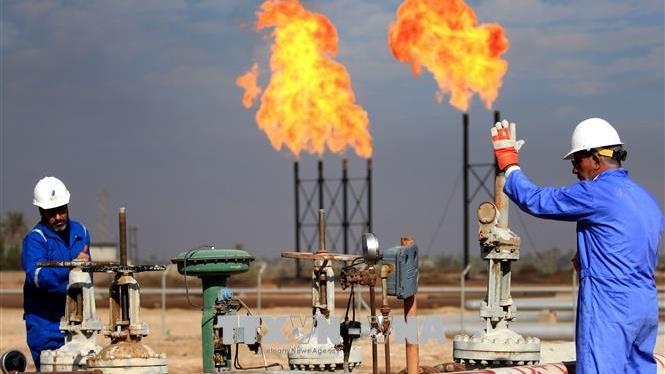 Workers at a natural gas facility, near southern port of Basra, Iraq. (Photo: AFP/VNA)   
NDO – Global oil prices have hit a new record high, making the world face a serious energy crisis due to supply shortages.
European countries have been seeking common approaches to cope with rising energy prices as the upcoming winter threatens to "heat up" the energy market due to the soaring demand for heating.
The world energy market fell into tension as oil and gas prices have risen sharply due to the tight supplies in many regions, notably in Europe and Asia. Brent crude in London market (Britain) advanced to settle at US$84.38 per barrel, the highest level in the past three years; meanwhile, US West Texas Intermediate (WTI) crude jumped up to the highest level in the past seven years at US$81.72 per barrel.
The global oil supply was tightened following the decision made by the Organisation of the Petroleum Exporting Countries and allies (OPEC+) to an incremental increase of up to 400,000 barrels per day (bpd). The electricity prices in the European Union (EU) countries have doubled since the beginning of the year and the natural gas prices have increased by nearly 800%, raising concerns that the rising prices could destabilise the regional economy.
The benchmark coal price in Asia increased by 110% this year due to the soaring demand in China and India, the world's two largest coal-importing economies.
The risk of an energy crisis has been increasingly serious in Europe, which is facing the risk of heating-fuel shortages during the upcoming winter as gas reserves have fallen at an alarming rate of 30% since March. The gas crisis has caused many hardships for businesses that use a lot of energy. In East Asia, the natural gas price has also risen by 85% since the beginning of September to US$204 per barrel. Although this price is still much lower in the US, a net exporter of natural gas, this is the highest rate in the past 13 years. The price of natural gas in the US has increased by 47% since August.
While the power market is hot due to the "supply thirst", the assurance of energy security is considered a major concern for the coming months. The European Commission (EC) is expected to announce a series of temporary measures, particularly looking at encouraging countries to reduce energy taxes and redistribute the profits from rising prices to the poor. However, the energy crisis is also a "warning bell" that the world is too dependent on fossil fuels and a challenging transition to green energy is ahead.
Dan Anh
Translated by NDO
TAG: