Indonesia sees steep decrease in new infections thanks to immunisation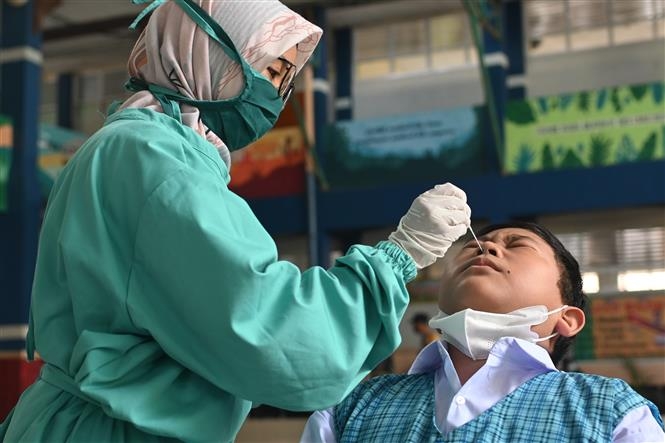 A medical worker takes a swab sample from a student for nucleic acid test in Makassar, South Sulawesi, Indonesia. (Photo: THX/VNA)   
NDO/VNA - Indonesian Health Minister Budi Gunadi Sadikin said the number of domestic COVID-19 cases decreased as people had acquired immunity to the virus naturally or through vaccination.
Speaking at a press conference on the Youtube channel of the Presidential Palace, Minister Budi emphasised thanks to herd immunity, the number of COVID-19 cases in Indonesia has decreased sharply. In order to conduct specific research, the Indonesian Ministry of Health will collect samples from 21,880 people in 100 districts and cities across the country.
The ministry will cooperate with the Faculty of Public Health under the University of Indonesia and the World Health Organization (WHO) to conduct a series of tests in every six months. According to Budi, the survey results are expected to be completed by mid-December to provide a panorama of the immunity or antibody status of all people in 34 provinces and cities nationwide. This will also serve as the basis for future policies.
TAG: