World News in Brief: September 26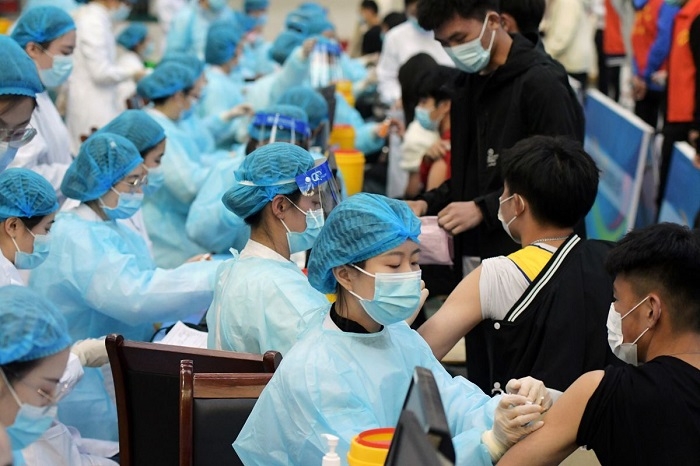 China administered about 3.2 million doses of COVID-19 vaccines on Sept. 25, bringing the total number of doses administered to 2.198 billion, data from the National Health Commission showed on Sunday.    
Romanian Prime Minister Florin Citu won the leadership election of his ruling Liberal Party on Saturday, further reducing the chances of reuniting the centrist coalition government which collapsed earlier this month.
* Iceland's ruling left-right coalition looks set to strengthen its majority after a general election held on Saturday despite Prime Minister Katrin Jakobsdottir losing ground, state broadcaster RUV said on Sunday based on preliminary results.
* The Democratic People's Republic of Korea (DPRK) is willing to consider another summit with the Republic of Korea (ROK) if mutual respect between the neighbours can be assured, state news agency KCNA said on Saturday, citing Kim Yo Jong, the sister of the DPRK's leader Kim Jong Un.
The ROK welcomed the prospect on Sunday, with the Unification Ministry saying it expected to swiftly engage in talks with Pyongyang, while urging the need to restore a hotline link between the two.
* Mainland China reported 29 new COVID-19 cases on Sept. 25, down from 38 a day earlier, the country's national health authority said on Sunday. The total number of confirmed COVID-19 cases in mainland China has now reached 96,015, while the death toll is unchanged at 4,636.
* Brazil registered 15,688 new cases of coronavirus and 537 new covid-19 deaths, the Health Ministry said on Saturday. The COVID-19 death toll in the country is 594,200 people.
* Mexico's Health Ministry on Saturday reported 9,697 new confirmed cases of COVID-19 in the country and 596 additional deaths, bringing the total number of official infections since the pandemic began to 3,628,812 and the death toll to 275,299.
* British transport minister Grant Shapps called on Britons to behave normally when buying petrol on Sunday, saying there was no shortage of fuel and the government was stepping in to ease a shortage of drivers bringing it to petrol stations.
* Australia's Victoria state reported 779 new COVID-19 infections and two deaths on Sunday, off the previous day's record high as the country's prime minister presses state leaders to be ready to reopen once they meet vaccination targets.
* Italy reported 50 coronavirus-related deaths on Saturday, compared to 52 the day before, the health ministry said, and the daily tally of new infections fell to 3,525 from 3,797.
* Britain reported 31,348 new COVID-19 cases on Saturday and 122 more deaths within 28 days of a positive test, official data showed. The figures compared to 35,623 new cases and 180 deaths reported on Friday.
* Israeli Prime Minister Naftali Bennett will meet ministers from Bahrain and the United Arab Emirates on Sunday, his first meetings with Gulf leaders since taking office in June.
* Mali has asked a private Russian military company to help it fight against insurgents, Russian foreign minister Sergei Lavrov said on Saturday at the United Nations.
* Volcanic explosions spewed red hot lava high into the air on La Palma on Saturday as a new emission vent opened, forcing the small Spanish island to close its airport and causing long queues for boats off the island.
* A deep depression over India's Bay of Bengal is likely to intensify into a cyclonic storm that is expected to make landfall on Sunday, the state-run India Meteorological Department (IMD) said on Saturday.
* At least three people died on Saturday after an Amtrak passenger train derailed in the north central Montana, the United States, an official at a local sheriff's office said.
Reuters
TAG: