Malaysia's parliament resumes meeting after nine-month hiatus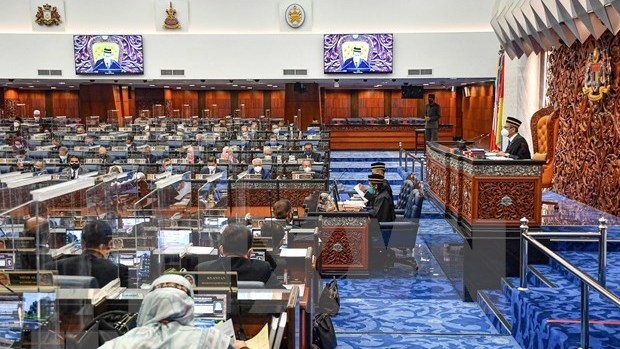 Illustrative image (Photo: AFP/VNA)   
NDO/VNA - Malaysian King Al-Sultan Abdullah Ri'ayatuddin Al-Mustafa Billah Shah opened the 4th session of the 14th National Assembly on September 13, which is the first session of the government headed by Prime Minister Ismail Sabri Yaakob and also the first meeting since December 17, 2020.
It is worth noting that the meeting's agenda did not include a vote of confidence in the new Prime Minister Ismail Sabri Yaakob.
In his opening remarks, the Malaysian king highly appreciated the role played by Prime Minister Ismail and the cabinet in the fight against COVID-19, and welcomed the government's commitment to promoting economic growth. He said he is confident that the new government will achieve its goals within the first 100 days of operation.
In order to minimise the risk of COVID-19 infection during the session of the National Assembly, Speaker of the House Azhar Azizan Harun said that epidemic prevention equipment has been installed in all main halls of the National Assembly building. All 1,801 parliamentarians and staff members were tested for COVID-19 on September 10 and 11, with 26 testing positive.
The session will last for 17 days, until October 12. The most recent session of the 14th National Assembly took place on December 17, 2020. Earlier this year, the National Coalition (PN) government made a proposal to declare a state of emergency to combat COVID-19 and was approved by the King, under which the law making bodies of the country and its states suspended their operations.
TAG: