World News in Brief: August 22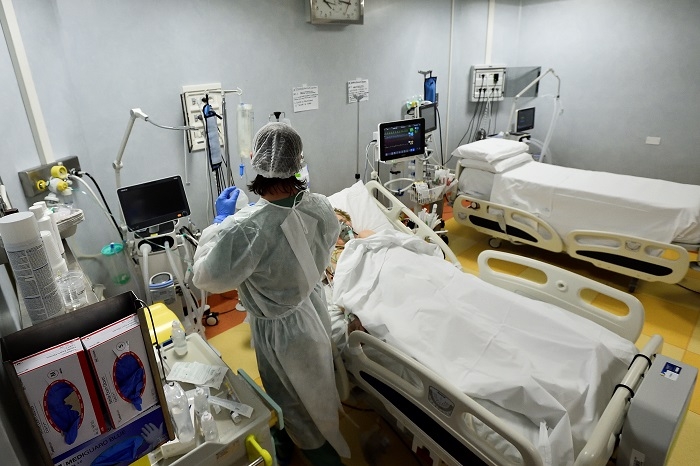 Italy reported 45 coronavirus-related deaths on Saturday against 49 the day before, the health ministry said, while the daily tally of new infections rose to 7,470 from 7,224. (Representative Image/Photo: Reuters)   
Russia reported 20,564 new coronavirus cases on Sunday, including 1,661 in Moscow and 1,481 in St. Petersburg, which took the national tally to 6,747,087.
* Brazil recorded 28,388 new confirmed cases of the coronavirus in the past 24 hours, along with 698 deaths from COVID-19, the Health Ministry said on Saturday.
* New Zealand recorded 21 new cases of COVID-19 on Sunday, as the current community outbreak of the highly transmissible Delta variant continues to grow, bringing infections associated with the outbreak to 72, health officials said.
* Thousands demonstrated across France for a sixth consecutive weekend on Saturday against a COVID-19 health pass required for daily activities, highlighting a simmering political risk for President Emmanuel Macron.
* Mexico's health ministry reported 20,307 new cases of COVID-19 and 847 more deaths on Saturday, bringing the total number of confirmed cases in the country since the pandemic began to 3,217,415 and the death toll to 252,927.
* Britain recorded 32,058 new cases of COVID-19, government data showed on Saturday, and reported a further 104 deaths within 28 days of a positive test. The data compared with 37,314 new cases reported on Friday and 114 deaths.
* The Lebanese government said on Sunday that it was raising gasoline prices by 66% in a partial reduction of fuel subsidies as it seeks to ease crippling shortages that have brought the country to a standstill.
* Russia's President Vladimir Putin and Turkey's Tayyip Erdogan discussed the situation in Afghanistan during a phone call and agreed to strengthen bilateral coordination on Afghan issues, the Kremlin said in a statement on Saturday.
* The United States has evacuated 2,500 Americans from Kabul over the past week, senior US officials said on Saturday, adding that Washington is fighting against "time and space" to evacuate people from Afghanistan.
* Seven people were killed on Saturday in crowds near Kabul airport where people have been gathering to try to flee Afghanistan after the Taliban took control, according to Britain's Ministry of Defence.
* Around 100 migrants have been rescued just off the coast of Calais in northern France while trying to cross the English Channel, said the local French maritime body on Saturday, without specifying from where those migrants had come.
* Israeli aircraft struck Hamas sites in Gaza late on Saturday, the military said, in an escalation of hostilities after earlier cross-border gunfire seriously injured an Israeli soldier and wounded 41 Palestinians, including two critically.
* A magnitude 6.9 earthquake struck the South Sandwich Islands region, the US Geological Survey said early on Sunday. The quake had a depth of 10 km (six miles), USGS said. The US Tsunami Warning System said there was no tsunami warning after the earthquake.
* Tensions in Haiti were rising on Saturday over a lack of aid to remote areas hardest hit by last week's devastating earthquake that killed more than 2,000 people in the impoverished Caribbean country.
* Hurricane Henri headed toward southern New England and Long Island on Sunday, threatening the region with high winds, a storm surge and drenching rainfall. More than 42 million people in the region were under a hurricane or tropical storm warning on Saturday, the US National Hurricane Center (NHC) said.
* Armed gunmen kidnapped at least 75 people from a village in northwest Nigeria, residents said on Saturday, the latest in a slew of abductions that have plagued the West African country's west.
Reuters
TAG: