True Fairy Tales of Vietnamese Children Got Adopted By Superstars
Ever since being adopted by international superstars, famous actors and actresses, the fate of these Vietnamese kids have been changed dramatically, living a luxurious and happy life, and are loved unconditionally by their adoptive parents.
Child adoption is not something new, but it has gone viral lately when many actors and actresses from Korea, America, France took in Vietnamese children who had been abandoned by their biological parents, and gave them a life that they deserve. These are the list of those lucky kids, who have been growned up, and are famous on social media.
Pax Thien – The adopted child of Angelina Jolie and Brad Pitt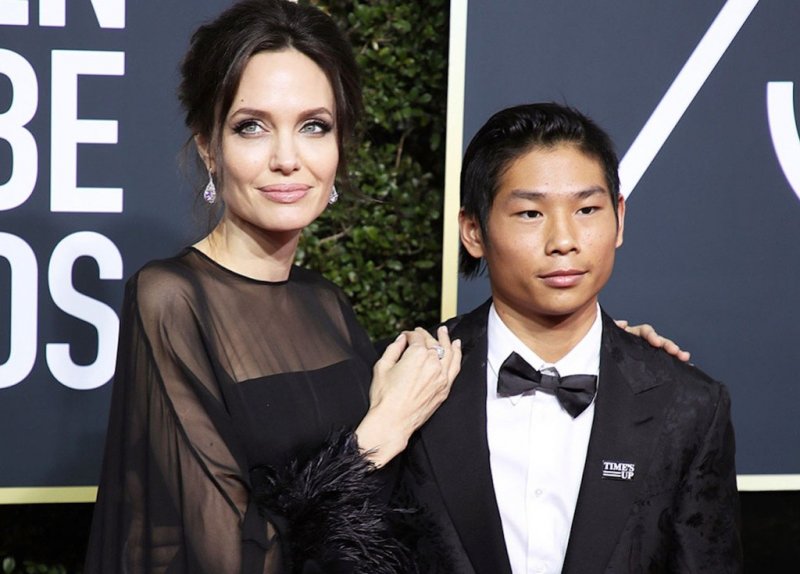 Photo: Shutterstock
Pax Thien Jolie-Pitt is a photographer and the third adopted child of Hollywood actors, Angelina Jolie and Brad Pitt. Pax Thien was first adopted by Jolie in 2007, and was later adopted by Pitt in 2008. He made his film debut in 2014, when he played a minor role in the Robert Stromberg-directed dark fantasy film 'Maleficent.' He then voiced a character named Yoo in the 2016 animated film 'Kung Fu Panda 3.' Pax Thien interested in photography during his early teens. His Instagram page has an array of pictures that depict his photography skills.
Born Pham Quang Sang in Vietnam, he lived there until he was three and a half when he was adopted by the Jolie-Pitt family. He and his siblings appeared alongside their parents in a 2015 issue of Vogue. His siblings Maddox and Zahara were also adopted, however his younger siblings Shiloh, Knox, and Vivienne are biological descendants of his parents.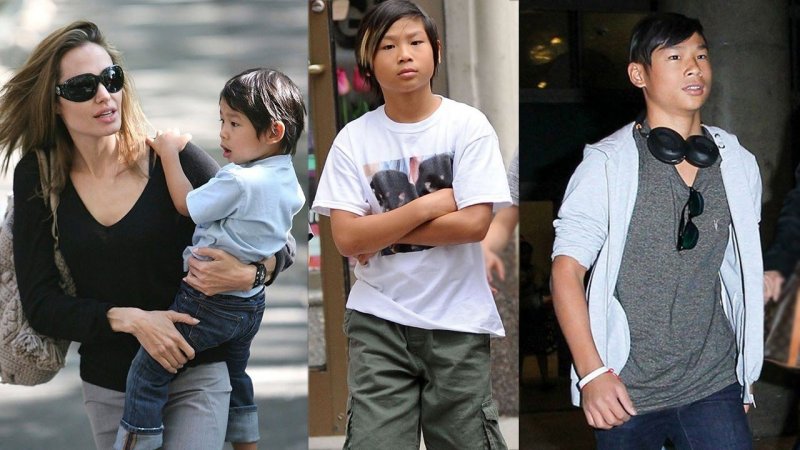 Photo: Pinterest
In 2017, Pax was presented with an opportunity to work as a still photographer on the sets of 'First They Killed My Father,' which was directed by Angelina Jolie. In addition to being screened at the 'Toronto International Film Festival' and at the 'Telluride Film Festival,' the film was also honored at the 'Hollywood Film Awards.' In 2018, Pax Thien attended the 75th 'Golden Globe Awards' and walked down the red carpet along with his mother.
Jade Hallyday and Joy Hallyday – Adopted by famous French singer Johnny Hallyday
Jade Hallyday was born on August 3, 2004 (age 17) in Vietnam. She is a celebrity family member. The parents of Jade Hallyday are Johnny Hallyday, Laeticia Hallyday. She has three siblings, David, Laura, and Joy. Her sister Joy was also adopted.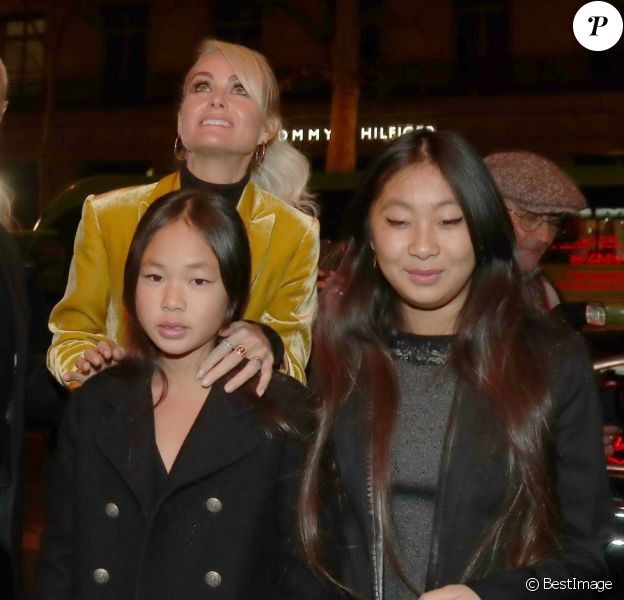 Photo: Best Image
Hallyday is living with perhaps the most extravagant family in France. Her siblings are David, Laura Smith, and Joy Hallyday. According to a few websites, her total assets is around $1.5 Million.
In 2008, the Hallyday welcomed another adoptive child into their family and named her Joy. Baptized a few months later, her godfather is Jean-Claude Darmon and her godmother is Helene Darroze.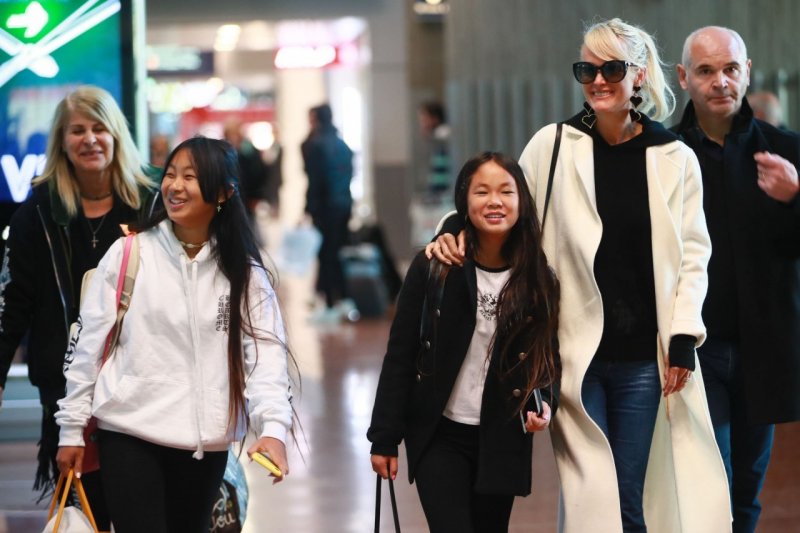 Photo: Getty Images
Joy, like her older sister Jade, lives with her parents between France and the United States. She attends the French High School in Los Angeles.
The two sisters grew up surrounded by the unconditional love of their parents, and one of Johnny's melodies, "Mon in addition to lover Noël," is a dedicated to his lovely daughters.
Thom – The adopted daughter of Korean star Kim Sung Ryung
"Kim Tan's mother" Kim Sung Ryung has a special relationship with Vietnamese fans. Even though she is the mother of two kids, Kim Sung Ryung still sponsored for a Vietnamese adopted daughter, who is called Thom and lived in Nam Dinh, Vietnam. Kim Sung Ryung did this because she wanted to "give this child a dream" and then the female artist became Thom's second family.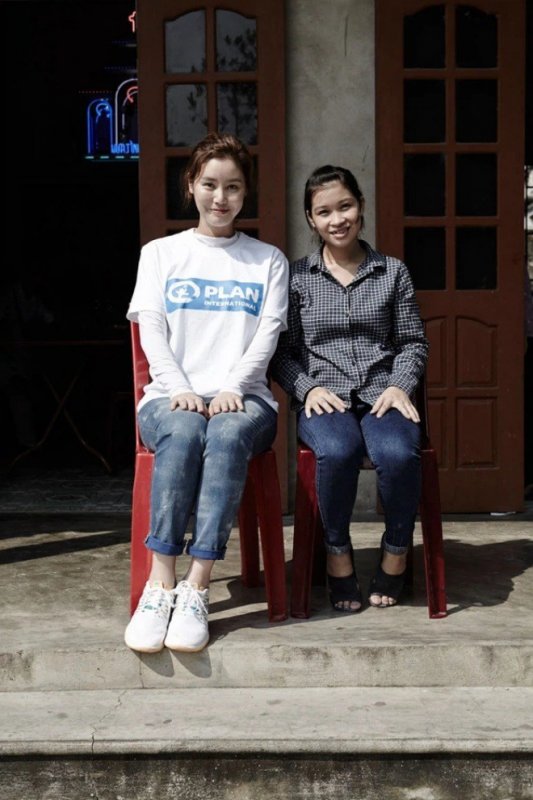 Kim Sung Ryung with her adopted daughter named Thom.
In October 2015, Kim Sung Ryung visited Yen Tho, Nam Dinh Province within the Plan Korea program. At this time, she came and met Thom, the one that she adopted as a daughter and has sponsored for during the last 10 years. The kind heart of this former Miss Korea has inspired many people to give their hands to unfortunate people.
Sharing fate with her adopted daughter, Kim Sung Ryung wrote: "My name is Kim Sung Ryung, 48 years old. I am an actress. I have a daughter who was born with all my heart. Her name is Thom. My daughter's hometown is an isolated village 78km from Hanoi. A small village appeared after a winding road.
The first time I met Thom was 10 years ago. I recognized Thom among the children. When I looked at her, I bursted into tears without knowing why. Thom family was very poor. She lives with her grandmother and three younger brothers in a house with no electricity. Thom said her parents went to work all the way to Saigon to earn money to support the family. Feeding 5 mouths at home is very difficult.
I thought: "I want to give that little child a dream". And I decided to become Thom's second family. The day I left, I promised Thom: "I'll be back to see you in 10 years. Never give up hope and do your best to live a good life."
"Last month I went back to Vietnam because of the promise I made to my daughter 10 years ago. I was wondering," Will she miss me? "Thom is 19 this year, already a grownup young lady. She recognized me immediately when I choked in tears: "Sorry for being a little late", she replied: "I'm so grateful you came back to see me". I hugged Thom and cried happily … "
" "
Charlotte Pho
TAG: