World News in Brief: August 15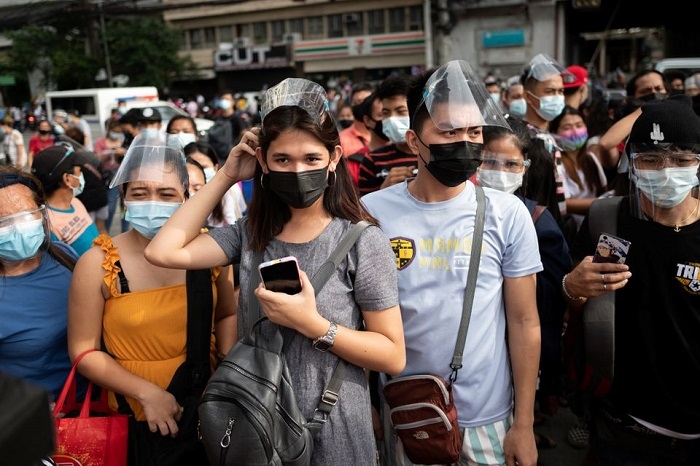 The Philippines recorded 14,749 new coronavirus cases on Sunday, its second-largest daily increase, bringing the Southeast Asian country's total confirmed infections to 1.74 million. (Photo: Reuters)   
Taliban insurgents entered Afghanistan's capital Kabul on Sunday, an interior ministry official said, as the United States evacuated diplomats from its embassy by helicopter. The senior official told Reuters the Taliban were coming in "from all sides" but gave no further details.
* Pakistan has closed the Torkham crossing with neighbouring Afghanistan with the Afghan side of the border now under Taliban control, Pakistan Interior Minister Sheikh Rashid Ahmad said on Sunday.
* Uzbekistan has detained 84 Afghan military servicemen who crossed the border on Saturday, the Tashkent government said on Sunday, adding that another group of soldiers had amassed near a border checkpoint on the Afghan side.
* Malaysia's Prime Minister Muhyiddin Yassin will resign on Monday, news portal MalaysiaKini reported, after he lost his majority due to infighting in the ruling coalition.
* Japanese Prime Minister Suga Yoshihide on Sunday pledged Japan would not wage war again, making the vow at the 76th anniversary of the end of World War Two and renewing a promise made by his predecessor, Shinzo Abe, in recent years.
* The Republic of Korean President Moon Jae-in said on Sunday that his government remained open to dialogue with Japan to step up cooperation while seeking to resolve historical rows that had long frayed bilateral ties.
* Austria plans to hold an aid conference at the end of this month or in early September to support Afghanistan's central Asian neighbours, government officials were quoted on Sunday as saying.
* The crisis in Afghanistan and the actions of Belarus demonstrate the need for a fast overhaul of the European Union's migration and asylum rules, EU Commissioner Margaritis Schinas said on Sunday.
* Albania has accepted a US request to temporarily take in Afghan refugees seeking visas to enter the United States, Prime Minister Edi Rama said on Sunday, as Taliban forces entered the Afghan capital Kabul.
* The British parliament will be recalled from its summer recess next week to discuss the situation in Afghanistan, a source at Prime Minister Boris Johnson's Downing Street office said on Sunday, as Taliban insurgents entered Kabul.
* The Republic of Korea and the United States will begin their annual joint military drills on Monday, the ROK's military said on Sunday, amid the Democratic People's Republic of Korea's warnings of a diplomatic and security crisis.
* At least 28 people were killed and 79 injured when a fuel tank exploded in northern Lebanon early on Sunday, the health ministry said.
* China administered about 9.46 million doses of COVID-19 vaccines on Aug. 14, bringing the total number of doses administered to 1.854 billion, data from the National Health Commission showed on Sunday.
* India reported 36,083 new coronavirus infections in the last 24 hours, a government statement said on Sunday. Daily COVID-19 deaths in the country rose by 493, health ministry data showed.
* Russia reported 21,624 new COVID-19 cases on Sunday, including 1,954 in Moscow, taking the official national tally since the pandemic began to 6,600,836.
* The Philippines' health ministry said on Sunday it has detected the first case of COVID-19's Lambda variant in the country, and reminded the public to strictly observe minimum public health standards.
* Japan's Tokyo reported 4,295 new COVID-19 cases on Sunday, the metropolitan government said.
* Brazil registered 926 COVID-19 deaths on Saturday and 31,142 additional cases, according to data released by the nation's Health Ministry. The South American country has now registered a total of 568,788 coronavirus deaths and 20,350,142 total confirmed cases.
* Mexico recorded 23,642 more confirmed coronavirus cases and an additional 753 deaths on Saturday, according to health ministry data, bringing the total confirmed number of cases to 3,091,971 and the overall death toll to 248,167.
* Australia has purchased about 1 million doses of Pfizer Inc's COVID-19 vaccine from Poland to add to its inoculation efforts in Sydney and its home state, which on Saturday entered a snap lockdown amid record new infections.
* Flash floods that have swept through towns in the Turkish Black Sea region have killed 58 people, authorities said on Sunday, in the second natural disaster to strike Turkey this month.
* Torrential rains lashed much of Japan on Sunday, submerging roads and buildings in the western part of the country, while three people were feared dead after a landslide in central Nagano prefecture.
* Ivory Coast has declared a first case of the Ebola hemorrhagic virus in 25 years, the health minister and the World Health Organization (WHO) said separately on Saturday.
Reuters
TAG: