World News in Brief: August 11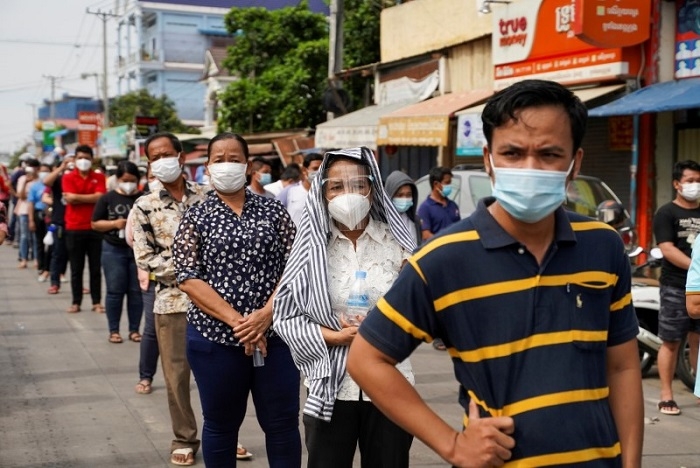 Cambodia has administered at least one coronavirus vaccine dose to half of its population, among the highest rates in Asia, official data showed on Wednesday, with vaccine diplomacy playing a key part in its success. (Representative image/ File photo: Reuters)   
The World Health Organization (WHO) said a clinical trial in 52 countries would study three anti-inflammatory drugs as potential treatments for COVID-19 patients.
* The rapid global spread of COVID-19 has forced countries to lock down economies or restrict domestic and international travel, with Melbourne extending its lockdown by a week and New Zealand placing limits on travel from Indonesia and Fiji.
* Russia reported 799 coronavirus-related deaths on Wednesday, an all-time high it has reached four times over the past month after a surge in cases that authorities blamed on the infectious Delta variant.
* Vaccination centres across the Philippine capital Manila are trying to speed up inoculation rates, including by staying open 24 hours, to help combat a sharp rise in COVID-19 infections linked to the spread of the highly contagious Delta variant.
* Two coronavirus vaccines administered using a nasal spray being developed in Thailand are due to start human trials by the end of this year, after promising results in trials involving mice, a government official said.
* The Philippine Food and Drug Administration (FDA) said it has approved the emergency use of the Hayat-Vax vaccine manufactured in the United Arab Emirates (UAE).
* China administered about 13 million doses of COVID-19 vaccines on Aug. 10, bringing the total number of doses administered to 1.808 billion, data from the National Health Commission showed on Wednesday.
* India reported on Wednesday 38,353 new COVID-19 cases in the last 24 hours, the government said in a statement. The south Asian nation's tally of infections crossed 32 million, the second-highest worldwide after the United States.
* The US Senate on Wednesday passed a US$3.5 trillion budget plan that would help address climate change and launch several new domestic social programs, as Democrats united behind the effort.
* Russia's Sputnik V vaccine against COVID-19 is around 83% effective against the Delta variant of coronavirus, lower than previously thought, Health Minister Mikhail Murashko said on Wednesday.
* The Republic of Korea reported more than 2,200 new daily COVID-19 cases, a record since the pandemic began last January, Health Minister Kwon Deok-cheol said on Wednesday, as the country grapples with its most severe coronavirus outbreak.
* Germany's vaccination drive has slowed and those people who have not taken up the opportunity to have shots will have to take tests to take a full part in public life, Chancellor Angela Merkel said.
* Britain on Tuesday reported its highest daily COVID-19 death toll since March.
* US President Joe Biden on Wednesday will meet with the chief executives of United Airlines, Kaiser Permanente and others as part of a COVID-19 meeting aimed at finding ways to boost US vaccination rates, the Wall Street Journal reported.
* President Emmanuel Macron said that France's overseas territories, in particular the Caribbean islands of Martinique and Guadeloupe, were being hit hard by the epidemic.
* Iran's supreme leader said the pandemic was the country's "number-one problem" and must urgently be curbed, and called for greater efforts to import and produce vaccines.
* Italy's government has urged regions to prioritise COVID-19 vaccinations for those aged between 12 and 18, in an effort to extend the campaign before schools and sports activities restart across the country.
* Ukraine has extended a state of emergency that allows regional authorities to impose COVID-19 restrictions for a further month until Oct. 1 to tackle a surge in infections from the rapidly spreading Delta variant, the prime minister said on Wednesday.
* Switzerland is in a good position to achieve its target of achieving net zero in greenhouse gas emissions by 2050, the government said on Wednesday, rejecting a campaign that wants to ban fossil fuels.
* Wildfires tearing through forested areas of northern Algeria have killed at least 65 people, state television reported on Wednesday, as some of the most destructive blazes in the country's history continued to rage.
* Europe's biggest tech conference - the Web Summit - will return as an in-person event in Lisbon this November, organisers confirmed to Reuters on Wednesday, after the event was held online last year due to the coronavirus pandemic.
* US consumer prices increases slowed in July even as they remained at a 13-year high on an annual basis, but there were tentative signs inflation has peaked as supply-chain disruptions work their way through the economy.
* Risks to Israel's financial system have diminished to near pre-pandemic levels, the country's central bank said.
* Floods caused by unusually heavy rainfall struck Turkey's northern coast on Wednesday, tearing down a bridge and leaving villages without power, after some of the biggest wildfires in the country's history ravaged its southwest.
* German Foreign Minister Heiko Maas on Wednesday urged Iran to return to the Vienna negotiations on reviving a nuclear deal as soon as possible.
* The European Union is not in a position to deal with a repeat of the migration crisis in 2015 and must try to keep people from fleeing the growing conflict in Afghanistan, Greek Migration Minister Notis Mitarachi said on Wednesday.
* Turkey is for now still intent on running and guarding Kabul airport after other foreign troops withdraw from Afghanistan, but is monitoring the situation after rapid advances by Taliban forces, two Turkish officials said.
* Israeli Foreign Minister Yair Lapid began meetings with Moroccan officials in Rabat on Wednesday in the first visit by Israel's top diplomat to the kingdom since 2003, after the countries upgraded relations in a US-brokered deal.
Reuters
TAG: