Vietnam voices concern about situations in Lebanon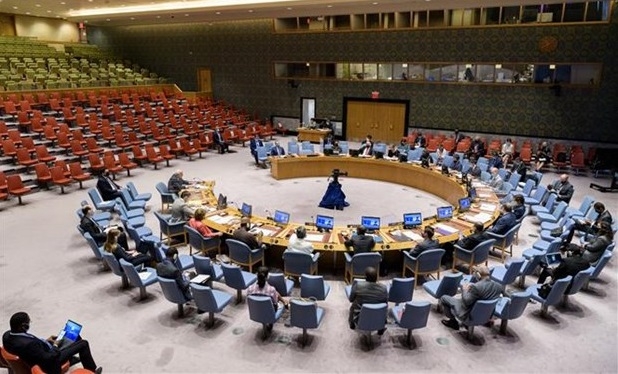 A meeting of the UNSC in New York (Photo: Xinhua/VNA)   
NDO/VNA – Ambassador Dang Dinh Quy, Permanent Representative of Vietnam to the UN, voiced his concern about recent tensions along the Blue Line in Lebanon and relevant sides' violations to resolution 1701, at a meeting of the UN Security Council (UNSC) on August 10 which discussed the situation in Lebanon and the operation of the UN Interim Force in Lebanon (UNIFIL).
The Vietnamese ambassador warned that conflict may occur anytime if there are no effective interventions.
He believed that the socio-economic crisis in Lebanon has weakened the response capacity of the Lebanese armed forces and posed the risks of instability. Therefore, the country's top priorities at present should be the prompt establishment of its government and crisis settlement.
Vietnam welcomes efforts of the international community to help Lebanon cope with the crisis and maintain regional security, Quy affirmed. He called on all sides to exercise restraint and refrain from taking actions that complicate the situations, comply with resolution 1701 of the UNSC, respect UNIFIL's freedom of movement, and create optimal conditions for the force's full and timely access to relevant locations.
Regarding the role of UNIFIL, the Vietnamese diplomat spoke highly of efforts by the force in maintaining regional stability and appreciated troop contributors to UNIFIL for continuing with their commitment, especially amid current tensions.
Vietnam is in favour of the extension of UNIFIL activities in the coming time and calls for measures to ensure safety for peacekeeping personnel, he added.
At the meeting, Assistant Secretary-General Alexandre Zouev updated the participants on the current situations in Lebanon and recent tensions at the border regions of Israel and Lebanon, and informed tasks carried out by UNIFIL in an effort to fulfil assigned tasks stated in related resolutions of the UNSC.
UNIFIL was created by the UNSC in 1978. The mandate had been adjusted twice in 1982 and 2006.
TAG: