Chinese mainland reports 55 new locally transmitted COVID-19 cases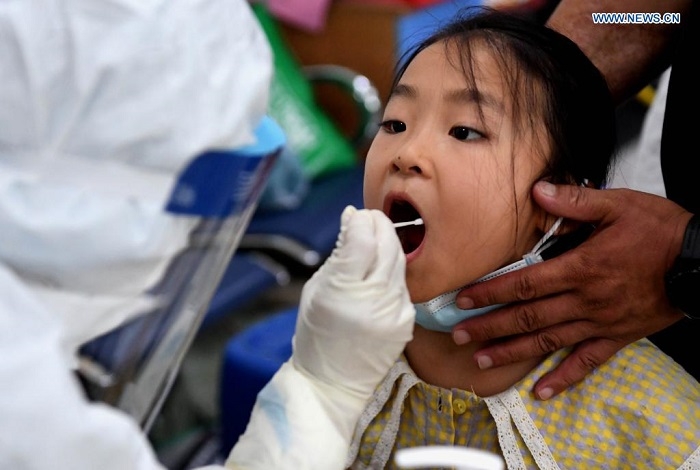 A medical worker takes a swab sample from a child for COVID-19 nucleic acid testing in Erqi District of Zhengzhou, central China's Henan Province, Aug. 1, 2021. (Photo: Xinhua)   
The Chinese mainland on Sunday reported 55 new locally transmitted COVID-19 cases, the National Health Commission said in its daily report on Monday.
Of the locally transmitted cases, 40 were reported in Jiangsu, seven in Hunan, two each in Beijing and Hubei, and one each in Shandong, Henan, Hainan and Yunnan, according to the commission.
Also reported were 43 new imported cases, of which 16 were reported in Yunnan, four each in Beijing and Fujian, three each in Inner Mongolia, Jiangsu and Shaanxi, and two each in Shanghai, Shandong, Henan, Guangdong and Sichuan.
No new suspected cases or deaths related to COVID-19 were reported in the day, the commission added.
* More than 1.65 billion doses of COVID-19 vaccines had been administered in China by Saturday, the National Health Commission said Sunday.
Xinhua
TAG: