World News in Brief: August 1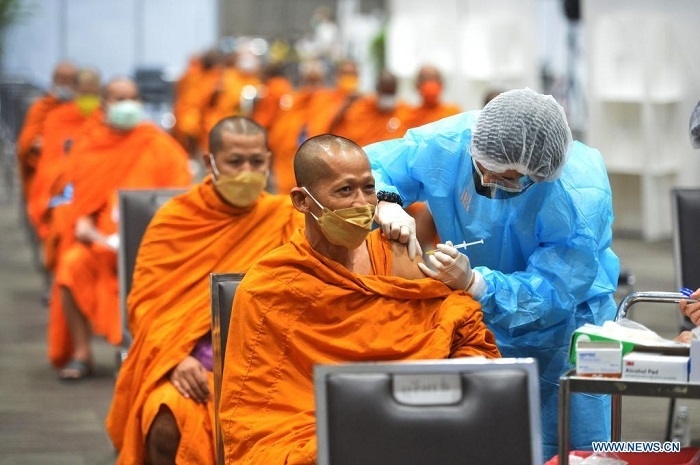 A Thai Buddhist receives a dose of the COVID-19 vaccine in Bangkok, Thailand, on July 31, 2021. Thailand's daily COVID-19 cases and deaths both set records again on Saturday, as the country fights its worst surge in infections driven by the highly contagious Delta variant. (Photo: Xinhua)   
Cambodia logged 671 new COVID-19 infections including 265 imported cases on Sunday, pushing the national total caseload to 77,914, the health ministry said, adding that 23 new fatalities were reported, taking the overall death toll to 1,420.
* Newly reported COVID-19 cases in Tokyo came in at 3,058 on Sunday, the metropolitan government announced, as infection spreads in the Olympic host city.
* The United States registered over 100,000 daily COVID-19 cases on Friday, the highest record since early February this year.
* India's COVID-19 tally rose to 31,655,824 on Sunday as 41,831 new cases were registered during the past 24 hours across the country, showed the federal health ministry's latest data. As many as 541 deaths were recorded since Saturday morning, taking the death toll to 424,351.
* The number of COVID-19 cases in Indonesia rose by 37,284 within one day to 3,409,658, with the death toll adding by 1,808 to 94,119 on Saturday.
* China's National Meteorological Center on Sunday renewed its blue weather alert for heavy rainfalls and severe convection in parts of the country.
* New Zealand's Prime Minister Jacinda Ardern issued a sombre state apology on Sunday to the Pacific community for racially targeted immigration raids in the 1970s that resulted in deportations and prosecutions.
* Syrian President Bashar al Assad has tasked Prime Minister Hussein Arnous with forming a new government following an election in May that extended Assad's two-decade-old presidency.
* Republic of Korea's export hit a record monthly high last month thanks to the global demand recovery from the COVID-19 pandemic, a government report showed Sunday. The outbound shipment spiked 29.6 percent from a year earlier to US$55.44 billion in July, according to the Ministry of Trade, Industry and Energy.
* Mexico's economy rebounded 19.7 percent year on year in the second quarter of 2021, buoyed by good performance across all sectors, according to preliminary figures released Friday by the National Institute of Statistics and Geography (Inegi).
* A Su-35S fighter suffered an engine failure in the Khabarovsk Territory in Russia's Far East, while the pilot ejected safely, the Russian Defense Ministry said Saturday.
* Iran was not involved in an attack on an Israeli-managed petroleum product tanker off the coast of Oman, the Iranian Foreign ministry spokesman said on Sunday, referring to an incident last week that killed two and which Israel blamed on the Islamic Republic.
* Taliban fighters struck Kandahar airport in southern Afghanistan with at least three rockets overnight, the insurgent group's spokesman said on Sunday, adding that the aim was to thwart air strikes conducted by Afghan government forces.
* Australia's east coast states of New South Wales and Queensland faced an escalating battle against the COVID-19 Delta variant on Sunday, with millions under strict lockdown and authorities urging more testing and vaccinations to rein in the outbreaks.
* The number of confirmed coronavirus cases in Germany increased by 2,097 to 3,771,262, data from the Robert Koch Institute (RKI) for infectious diseases showed on Sunday. The reported death toll rose by 1 to 91,659, the tally showed.
* Mexico on Saturday recorded 18,809 new confirmed coronavirus cases and 450 fatalities, according to the health ministry, bringing the total figures to 2,848,252 infections and 240,906 deaths.
* Morocco's economy shrank by 6.3 percent in 2020 amid the COVID-19 pandemic and a bad agricultural harvest, the central bank said Saturday.
* The number of confirmed COVID-19 cases in Africa reached 6,678,949 as of Saturday afternoon, the Africa Centers for Disease Control and Prevention (Africa CDC) said.
* The Iranian health ministry reported on Saturday 19,846 new COVID-19 cases, raising the country's total infections to 3,871,008.
Xinhua,Reuters
TAG: