Vietnam welcomes efforts by UN centre for preventive diplomacy in Central Asia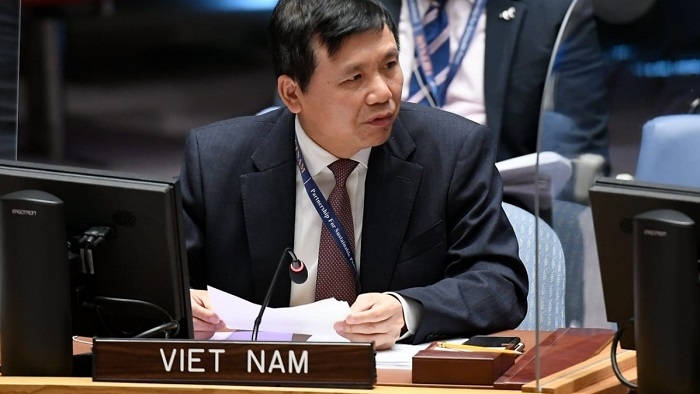 Ambassador Dang Dinh Quy, head of Vietnam's Permanent Mission to the United Nations.   
NDO/VNA – Ambassador Dang Dinh Quy, head of Vietnam's Permanent Mission to the United Nations, has appreciated efforts made by the UN Regional Centre for Preventive Diplomacy for Central Asia (UNRCCA) and its special representative Natalia Gherman to promote preventive diplomacy in Central Asia, thus contributing to peace, stability and development in the region.
Addressing the UN Security Council's meeting on UNRCCA activities on July 26, Quy spoke highly of the centre's activities in supporting the political process in Kyrgyzstan, promoting dialogue on border issues involving Kyrgyzstan and Tajikistan as well as assisting the building of a joint agreement between Central Asian countries on trans-boundary water management.
He expressed his hope that UNRCCA will continue to play an important role in supporting Central Asian countries in responding to the COVID-19 pandemic, climate change, combating terrorism and trans-national crimes, managing trans-boundary water resources, strengthening regional cooperation, and promoting the participation of youths and women in preventive diplomacy.
The Vietnamese representative also shared his concern about the negative impact of the Afghan situation on Central Asian countries and wished that the international community, UNRCCA and the United Nations Assistance Mission in Afghanistan (UNAMA) continue working closely to mitigate this impact, thus contributing to regional stability.
UNRCCA is a special political mission of the United Nations established in 2007 in Ashgabat, Turkmenistan upon the initiative of the five Central Asian states. Its role is to identify and address existing and potential threats to regional stability. In addition, the centre facilitates partnerships between the governments of Central Asia in cooperation with regional and international organisations. The UN Security Council convenes a meeting on the centre's activities every six months.
TAG: