World News in Brief: July 25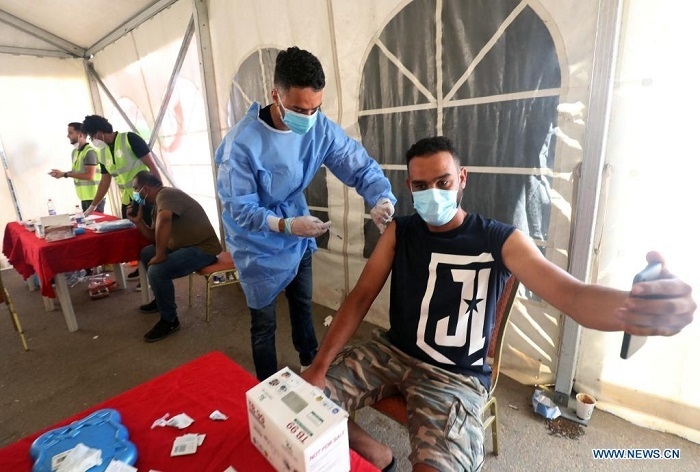 A medical worker administers a dose of the COVID-19 vaccine to a recipient at a temporary vaccination center in Tripoli, Libya, on July 24, 2021. Libya's Health Ministry on Saturday announced launching an "exceptional" vaccination campaign against the COVID-19 pandemic. (Photo: Xinhua)   
Chinese commercial hub Shanghai and neighbouring coastal regions cancelled all flights, slowed or suspended subway trains and shuttered businesses as Typhoon In-fa made landfall on Sunday.
* US Defense Secretary Lloyd Austin said on Saturday that the Afghan security forces' first job was to make sure they could slow the Taliban's momentum before attempting to retake territory, as Afghan forces plan to consolidate forces around strategically important parts of the country.
* Russian Defence Minister Sergei Shoigu and his Tajik counterpart Sherali Mirzo on Saturday discussed joint measures to counter threats from the Taliban in the Tajik-Afghan border area, the TASS news agency reported.
* Two Turkish soldiers were killed and two were wounded in an attack on their armoured vehicle in northern Syria, and Turkish forces immediately launched retaliatory fire, Turkey's defence ministry said on Saturday.
* Over 1.53 billion doses of COVID-19 vaccines have been administered in China as of Saturday, the National Health Commission said Sunday.
* India reported 39,742 new COVID-19 cases in the last 24 hours, a government statement said on Sunday. The COVID-19 death toll rose by 535 deaths in the last 24 hours, with the total reaching 420,551, health ministry data showed.
* Brazil on Saturday reported 1,108 new deaths from COVID-19, the health ministry said, bringing the total fatalities to 549,448. Cases rose by 38,091 to 19,670,534.
* Cambodia on Sunday reported 819 new COVID-19 infections including 423 imported cases, raising the national total caseload to 72,923, the Ministry of Health (MoH) said in a statement.
* Singapore's health ministry reported 127 new locally transmitted COVID-19 cases on Saturday, slightly lower than the 130 cases reported the previous day.
* The number of COVID-19 infections rose to 264,527 in Myanmar after 5,657 new cases were reported in the past 24 hours, according to a release from the Ministry of Health and Sports on Saturday. With 297 new deaths, the overall death toll was recorded at 6,756 on Saturday, the release said.
* Britain reported 31,795 further cases of COVID-19 and 86 deaths within 28 days of a positive test as of Saturday, according to official data https://coronavirus.data.gov.uk.
* Australia's most populous state of New South Wales on Sunday saw a slight drop in the daily increase of local COVID-19 cases with two new deaths recorded.
* The number of confirmed coronavirus cases in Germany increased by 1,387 to 3,755,898, data from the Robert Koch Institute (RKI) for infectious diseases showed on Sunday. The reported death toll rose by 4 to 91,524, the tally showed.
* Mexico's health ministry on Saturday recorded 15,823 new confirmed coronavirus cases and 362 fatalities, bringing the total number of confirmed cases to 2,741,983 and the reported death toll to 238,316.
* Italy reported five coronavirus-related deaths on Saturday against 17 the day before, the health ministry said, while the daily tally of new infections was almost unchanged at 5,140 from 5,143 on Friday.
* The Spanish government confirmed on Saturday that travelers from Argentina, Colombia, Bolivia and Namibia will have to spend 10 days in quarantine following their arrival in Spain.
* Turkey's new coronavirus cases jumped to 12,381 on Saturday, the highest level since mid-May and nearly triple the low that was hit in early July, according to health ministry data, which also showed 58 people died due to COVID-19.
* Tunisia recorded 317 coronavirus-related deaths in the last 24 hours, a daily record since the start of the pandemic, the health ministry said on Saturday.
* Jordan will lower the age bar for getting the COVID-19 vaccine to 12 as of July 25. Jordan's Health Minister Feras Al Hawari said that the vaccination will be optional to those aged between 12 and 18 based on their parents' approval, the state-owned Al Mamlaka TV reported on Saturday.
* Greece has experienced intense heatwaves in recent years, which were far less common in preceding centuries, prompting scientists here to call for immediate and decisive action to tackle the unfolding climate crisis.
Xinhua,Reuters
TAG: