World News in Brief: July 10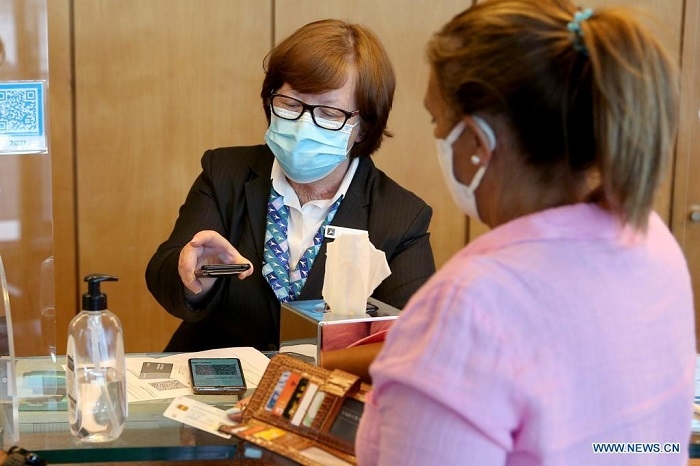 A receptionist checks a customer's COVID certificate during check-in at a hotel in Sesimbra, Portugal, on July 9, 2021. As of Friday, Portugal mandates the use of the European Union's Digital COVID Certificate or proof of a negative coronavirus test by customers at all the country's hotels and other holiday accommodation as per the decision of the Council of Ministers. (Photo: Xinhua)   
The benefits of mRNA vaccines outweigh the very small risk they might cause heart inflammation, an advisory panel of the World Health Organization said.
* Having escaped the worst when the pandemic erupted last year, Southeast Asia is now suffering dramatic rises in deaths and cases, while vaccination shortfalls and highly contagious variants derail containment efforts.
* An earthquake in Tajikistan killed five people, the Tajik emergency situations committee said on Saturday, with the epicentre of the quake 165 kilometres northeast of the capital city of Dushanbe.
* COVID-19 is probably only a forerunner of increasingly dangerous pandemics in the future and governments need to find US$75 billion over the next 5 years to prepare for them, a panel of experts told finance ministers of the Group of 20 rich countries.
* US President Joe Biden will host a meeting with German Chancellor Angela Merkel next Thursday to affirm "deep and enduring" ties between the NATO allies while also tackling some areas of disagreement, the White House said on Friday.
* Haiti has requested the United Nations send troops to help secure the country, in particular key infrastructure, after the assassination of President Jovenel Moise, according to a letter from the prime minister's office to the UN offices in Haiti reviewed by Reuters.
* The Chinese mainland on Friday reported 26 new confirmed COVID-19 cases, of which 19 were imported and seven were locally transmitted, the National Health Commission said in its daily report on Saturday.
* Cuba's drug regulator granted emergency approval of the Abdala vaccine, which is already being deployed on the Caribbean island nation.
* The US Centers for Disease Control and Prevention updated its guidance for US schools reopening in the fall, recommending masking indoors for everyone who is not fully vaccinated and three feet of distance within classrooms.
* Indian government Friday said the second wave of the ongoing COVID-19 pandemic was not yet over and at the crucial juncture while the cases were mostly going down, the strict adherence to protocol was the need of the hour.
* Indonesia is planning to inject the third doses of COVID-19 vaccine to healthcare workers across the country next week, a minister said.
* Japan issued evacuation requests to more than 120,000 residents in some southern prefectures due to heavy rain on Saturday, NHK reported, just days after deadly landslides struck the seaside city of Atami southwest of Tokyo.
* Australia's most populous state, New South Wales, reported on Saturday its biggest daily rise in locally acquired cases of COVID-19 so far this year, as total infections in the latest outbreak approached 500.
* Republic of Korea had its highest-ever number of new daily COVID-19 infections of 1,378 in the last 24 hours, the Korea Disease Control and Prevention Agency said on Saturday.
* The European Union has delivered enough coronavirus vaccine doses to member states to reach a target to fully vaccinate at least 70% of adults in the bloc, European Commission chief Ursula von der Leyen said in a statement on Saturday.
* The Dutch government reimposed curbs on nightclubs, music festivals and restaurants.
* France's health regulator recommended that vaccinations should be made compulsory without delay for all health workers.
* Spain's Canary Islands and its Mediterranean region of Valencia have asked the government to bring back curfews.
* Canada has not received a request to approve a booster shot of the Pfizer-BioNTech vaccine, and it is currently studying the vaccine's duration of protection.
* Pfizer and partner BioNTech plan to ask US and European regulators within weeks to authorize a booster dose of its vaccine.
* Britain's post-lockdown economic rebound slowed sharply in May despite a relaxation of social-distancing rules, data showed.
* The UAE will ban entry for travelers coming from Indonesia and Afghanistan as of July 11, except for transit flights heading to both countries, the official news agency WAM reported on Saturday.
* Construction of a new plant in Senegal to manufacture COVID-19 vaccines is expected to begin later this year, and the facility should produce 25 million doses per month by the end of 2022, the financiers of the project said.
Xinhua,Reuters
TAG: