World News in Brief: June 30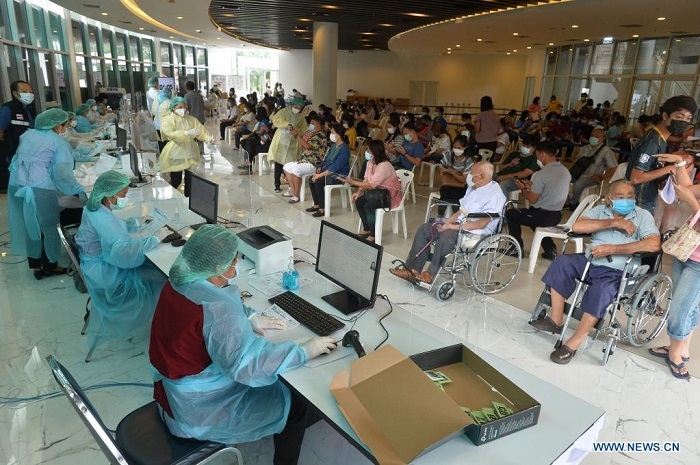 Citizens wait to receive COVID-19 vaccines in Bangkok, Thailand, June 26, 2021. Thailand has been accelerating its vaccine rollout as it plans to reopen borders to foreign travelers as early as October. (Photo: Xinhua)   
Malaysia's king on Wednesday asked parliament to hold a special sitting before Aug. 1, according to a report by national newswire Bernama. The speakers of parliament and the senate said they have submitted their proposal to the prime minister to hold a special sitting as requested by King Al-Sultan Abdullah, the report said.
* Emergency social restrictions are being finalised amid a spike in coronavirus cases in Indonesia, its President Joko Widodo said on Wednesday.
* Moderna's COVID-19 vaccine showed promise against the Delta variant first identified in India in a lab study, while Indian drugmaker Cipla received regulatory approval to distribute the shot in the country.
* French pharmaceutical giant Sanofi on Tuesday announced a EUR400-million (US$476 million) annual investment plan to bolster "end-to-end" research and development of next generation mRNA (messenger ribonucleic acid) vaccines and produce at least six vaccine candidates by 2025.
* More than 1.22 billion doses of COVID-19 vaccines have been administered in China as of Tuesday, the National Health Commission said on Wednesday.
* Commercial international flights to and from India shall remain suspended until July 31, aviation officials said Wednesday.
* Public health officials in Los Angeles County, the most populous county in the United States, on Tuesday strongly recommended that local residents wear masks indoors in public places due to increased circulation of the highly transmissible Delta variant of the coronavirus across the country.
* Cambodia on Wednesday reported the highest-ever daily COVID-19 cases and deaths since the pandemic hit the kingdom in January last year, the Ministry of Health (MoH) said in a statement.
* The Philippines' Department of Health (DOH) reported on Wednesday 4,509 new COVID-19 infections, bringing the total number of cases in the Southeast Asian country to 1,412,559. The death toll climbed to 24,662 after 105 more patients died from the viral disease, the DOH said, adding that six laboratories failed to submit data.
* S&P Global Ratings said Wednesday that Malaysian banks' path to normalization is likely to be protracted due to the flare-up of new COVID-19 waves and the inevitable disruptions in near-term economic prospects. They will continue to be an Asian outlier in their recovery path, according to the statement of the rating agency.
* Myanmar is negotiating to buy seven million doses of Russia's Sputnik COVID-19 vaccine, the head of its junta said, as authorities in the Southeast Asian country try to tackle a new wave of coronavirus infections.
* Australian officials extended lockdown and social distancing measures to more of the country on Wednesday, with four major cities already under a hard lockdown in a race to contain an outbreak of the highly contagious Delta coronavirus variant.
* Greece will allow people fully vaccinated against the coronavirus inside restaurants without masks, the government said, as part of measures to boost inoculation rates.
* Asian shares rose and a gauge of global equities hovered near record highs on Wednesday after rising consumer confidence in economic recovery boosted the Nasdaq index to its highest-ever closing level.
* France is likely to have a fourth wave of the COVID-19 virus, due to a resurgence of cases caused by the Delta variant first found in India, said the French government's leading scientific adviser Professor Jean-François Delfraissy.
* President of Maldives Ibrahim Solih has said that his country will reopen borders to arrivals from South Asian countries, subject to an assessment of the COVID-19 situation in each country on July 15, local media reported Wednesday.
* The Tunisian government on Tuesday extended the hours of night curfew in an effort to stop the rapid spread of COVID-19, as the North Africa country reached a daily record of cases since the start of the pandemic last year.
* Zimbabwe's President Emmerson Mnangagwa on Tuesday imposed a dusk to dawn curfew, banned inter-city travel and cut business hours with immediate effect in response to increasing coronavirus infections.
* Boeing and United Airlines on Tuesday announced the carrier will expand its 737 order book by purchasing an additional 200 737 MAX jets. The new purchase, including 150 737-10 and 50 737-8, positions United's fleet for growth and accelerating demand for air travel, the announcement said.
* The foreign ministers of Poland and Estonia, Zbigniew Rau and Eva-Maria Liimets, met on Tuesday to discuss the economic ties between the two countries.
* German unemployment fell further in June as more workers joined the labour market in light of a strong recovery in Europe's largest economy helped by falling coronavirus infections and an easing of containment measures, data showed on Wednesday.
* Rescue crews toiling into a seventh day on Wednesday combed through shattered ruins of a collapsed Miami-area condominium tower where 12 people were confirmed dead as hope faded for 149 people missing and believed trapped in the rubble.
Xinhua, Reuters
TAG: