World News in Brief: June 13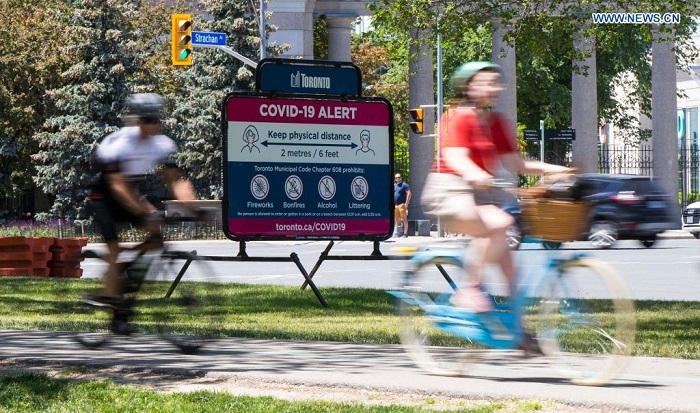 Cyclists pass a billboard reminding people to practice physical distancing in Toronto, Canada, on June 12, 2021. Canada reported 1,115 new daily cases of COVID-19 on Saturday, bringing the cumulative total to 1,400,827, including 25,910 deaths, according to CTV. (Photo: Xinhua)   
Israeli Prime Minister Benjamin Netanyahu's record 12-year hold on power was set to end on Sunday when parliament votes on a new government, ushering in an administration that has pledged to heal a nation bitterly divided over his departure.
* China is expected to see 8.6 million train trips Sunday amid the Dragon Boat Festival tourism boom, according to China Railway. China is expected to see around 100 million trips during the three-day holiday that started Saturday, a report by online travel booking platform Ctrip said.
* Germany's health ministry on Sunday said Johnson & Johnson must deliver 6.5 million COVID-19 vaccine doses to Germany in July to make up for a shortfall expected in June after the US Food & Drug Administration (FDA) told the company to dispose of millions of doses because contamination concerns.
* US Secretary of State Antony Blinken and the Republic of Korean Foreign Minister Chung Eui-Yong reaffirmed a commitment between their countries and Japan to work closely toward the "denuclearization of the Korean Peninsula," the State Department said.
* Mainland China reported 34 new COVID-19 cases on June 12, down from 35 cases a day earlier, the country's national health authority said on Sunday. The total number of confirmed COVID-19 cases in mainland China now stands at 91,428, while the death toll remains unchanged at 4,636.
* Cuba on Saturday reported the highest number of cases of COVID-19 in the last four weeks, with 1,372 infections and 10 deaths recorded. The Cuban Ministry of Public Health stated that these new figures bring the total number of infections to 156,238 and the death toll to 1,075.
* Brazil registered 2,037 deaths from COVID-19, bringing the death toll in the country to 486,272, the Ministry of Health reported on Saturday. As of Friday, 77.4 million people had been vaccinated against COVID-19 in Brazil.
* Due to the surging increase of COVID-19 cases since the past several days in the country, Indonesia resorted to boosting the vaccination program against the lingering coronavirus disease. The Indonesian Health Ministry on Thursday recorded the highest daily hike in the COVID-19 cases of 8,892 infections since late February.
* The Philippines' Department of Health (DOH) reported on Sunday 7,302 new COVID-19 infections, bringing the total number of confirmed cases in the Southeast Asian country to 1,315,639. The death toll climbed to 22,788 after 137 more patients died from the viral disease, the DOH said.
* Singapore's Ministry of Health (MOH) reported 18 new confirmed cases of COVID-19 on Saturday, including nine locally transmitted and nine imported, bringing the total tally to 62,263. All of the local cases are in the community. Among them, four were linked to previous cases.
* Russia on Sunday reported 14,723 new COVID-19 cases, including 7,704 in Moscow, the largest one-day national caseload since Feb. 13. The number of new infections in Moscow was the most reported in one day since Dec. 24. The city's mayor told residents on Saturday to stay off work this coming week to curb the spread of the virus.
* The European Union aims to export 700 million doses of COVID-19 vaccines by the end of 2021, the bloc's chief executive said on Saturday. European Commission President Ursula von der Leyen said the bloc had so far contributed 3 billion euros to COVAX - a vehicle backed by the World Health Organization to secure doses for lower-income countries - and exported 350 million shots, half of its production.
* The number of confirmed coronavirus cases in Germany increased by 1,489 to 3,714,969 , data from the Robert Koch Institute (RKI) for infectious diseases showed on Sunday. The reported death toll rose by 18 to 89,834 the tally showed.
* France has administered a first dose of COVID-19 vaccine to 30.14 million people, health authorities said on Saturday, hitting the government's target for mid-June.
* Poland will further ease COVID-19 restrictions from Sunday as infections are dropping across the country.
* Argentina reported 18,057 new COVID-19 infections and 447 more deaths in the past 24 hours, bringing the accumulated total caseload and deaths to 4,111,147 and 85,075, respectively, on Saturday. Meanwhile, 16.23 million vaccine doses against COVID-19 have been administered in the South American country to date.
* The World Bank approved a loan of US$100-million to Morocco to strengthen its capacity of responding to environmental disasters, official news agency MAP reported on Saturday.
Xinhua,Reuters
TAG: