World News in Brief: June 1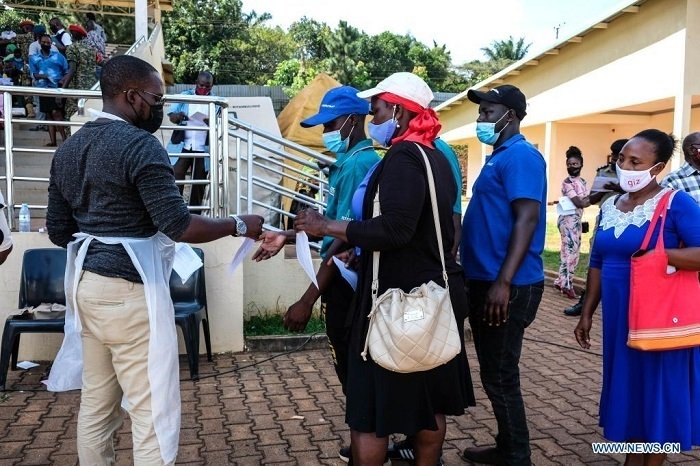 People line up to get their consent forms before receiving COVID-19 vaccine at Kololo Ceremonial Grounds in Kampala, Uganda, May 31, 2021. (Photo: Xinhua)   
The head of the World Health Organization has called for launching negotiations this year on an international treaty to boost pandemic preparedness, as part of sweeping reforms envisioned by member states.
* China administered about 22.3 million doses of COVID-19 vaccines on May 31, bringing the total number of doses administered to 661.47 million, data from the National Health Commission said on Tuesday.
* India's COVID-19 tally rose to 28,175,044 on Tuesday with 127,510 new cases reported in the past 24 hours, said the federal health ministry. The daily spike of new cases has been falling over the past couple of weeks. The cases registered in a day have fallen to the lowest level in nearly two months.
* Malaysia reported 7,105 new coronavirus cases on Tuesday, bringing the total number of infections recorded in the country to 579,462.
* Japan plans to start vaccination at workplaces and universities on June 21 to speed up the country's inoculation drive.
* With half the country at least partially protected against the coronavirus, Americans escaped their pandemic doldrums over the Memorial Day holiday weekend.
* Italy's daily coronavirus tally on Monday dropped to its lowest level since last fall, when a second wave resulted in new rounds of quarantine and travel restrictions.
* Australia's Victoria state authorities said it was still unclear whether a snap one-week lockdown to contain a fresh COVID-19 outbreak would end as planned on Thursday night.
* Spain is considering easing rules on wearing face masks outdoors, as early as in mid-June.
* Chile's public health regulator has approved the use of Pfizer and BioNTech's COVID-19 vaccine for teenagers.
* Peru has almost tripled its official COVID-19 death toll to 180,764, making it the country with the worst death rate per capita, according to Johns Hopkins University data.
* A Wuhan-based affiliate of China's Sinopharm said the start of operations at a new factory will raise the annual production capacity of its COVID-19 vaccine to at least 1 billion doses.
* Euro zone manufacturing activity expanded at a record pace in May, according to a survey on Tuesday which suggested growth would have been even faster without supply bottlenecks that have led to an unprecedented rise in input costs.
* The number of foreign tourists visiting Spain rose to 630,657 in April, up from virtually zero who came in April 2020 as the country was under a strict lockdown, statistics department INE said on Tuesday.
* Republic of Korea's export growth hit the highest in over 32 years in May amid the recovering global demand from the COVID-19 pandemic shock, government data showed Tuesday.
* Russia's Security Council Secretary Nikolai Patrushev said on Monday that the country's national security strategy is being renewed in light of the changing nature of security threats.
* European countries demanded the United States and Denmark for an explanation as soon as possible on reports that the US intelligence agency had used Danish infrastructure to spy on senior European officials, including German Chancellor Angela Merkel.
* The head of the Central Reserve Bank of Italy said Monday that the country's economy could start to see a "robust" recovery in the second half (H2) of this year, though he cautioned government support for workers will be necessary well into next year.
* President of Tajikistan Emomali Rahmon will pay a two-day visit to Pakistan starting on Wednesday to discuss bilateral relations and cooperation, Pakistan's Ministry of Foreign Affairs said on Tuesday.
* Italy and Libya will work together on illegal immigration and renewable energies, Prime Minister Mario Draghi and Libyan Prime Minister Abdul Hamid Dbeibah told reporters at a joint press conference after meeting in Roma on Monday.
* Israel and the United Arab Emirates (UAE) have signed their first tax treaty, the Israeli Ministry of Finance announced in a statement on Monday.
* Nearly 500 illegal immigrants were rescued off the Libyan coast during the past week, the International Organization for Migration (IOM) said Monday.
* Coronavirus variants with clunky, alphanumeric names have now been assigned the letters of the Greek alphabet in a bid to simplify discussion and pronunciation while avoiding stigma.
Xinhua,Reuters
TAG: