World News in Brief: May 31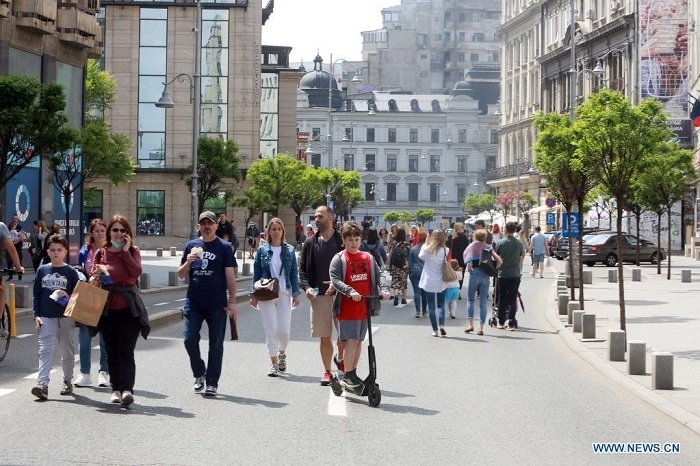 People walk on Victoriei Avenue, which is newly opened for pedestrians during the weekend amid COVID-19 easing in Bucharest, Romania, on May 30, 2021. (Photo: Xinhua)   
The global economic outlook is improving as vaccine rollouts allow businesses to resume operations and as the United States pumps trillions of dollars into the world's largest economy, the OECD said on Monday, nudging its forecasts higher.
* The World Trade Organisation (WTO) agreed to a request from Kuala Lumpur to establish a panel examining a European Union law that restricts the use of palm oil-based biofuels, Malaysia's government and a Geneva-based trade source said on Monday.
* The Chinese mainland on Sunday reported 20 new locally transmitted COVID-19 cases in Guangdong Province, the National Health Commission said in its daily report on Monday. The total number of confirmed COVID-19 cases on the mainland reached 91,099 by Sunday, including 328 patients still receiving treatment, six of whom were in severe condition.
* Brazil on Sunday reported 874 more deaths from COVID-19, raising the national count to 461,931, the Ministry of Health said. A total of 43,520 more infections were detected, raising the nationwide tally to 16,515,120, the ministry said.
* Indian government said the country would have nearly 120 million doses of vaccines available for domestic use in June.
* Russia on Monday reported 8,475 COVID-19 cases, including 2,614 in Moscow, pushing the national infection tally to 5,071,917 since the pandemic began. The government coronavirus task force said that 339 people had died of coronavirus-related causes in the last 24 hours. That pushed the death toll to 121,501.
* Malaysia, which is imposing a strict lockdown from Tuesday, plans to set up more mega vaccination centres and get private doctors to join immunisation efforts, after five consecutive days of record daily infections.
* Singapore should be able to relax recently imposed restrictions on social gatherings if the local COVID-19 situation continues to improve, its prime minister said on Monday.
* The Philippines' Department of Health (DOH) reported 6,684 new COVID-19 infections on Monday, bringing the total number of confirmed cases in the Southeast Asian country to 1,230,301. The death toll rose to 20,966 after 107 more patients died from the viral disease, the DOH said.
* Bangkok will ease bans on venues such as massage shops, clinics and parks applied to stop the spread of COVID-19, but schools, cinemas, gyms and zoos will remain closed, the Thai capital said in a statement on Monday.
* The decision to lift final lockdown measures in England on June 21 will be made after data on infection, hospitalisation, vaccination and new variants are assessed, Vaccines Minister Nadhim Zahawi said on Sunday. Britain plans to drop COVID-19 passports as a legal requirement for large events, The Daily Telegraph reported.
* Republic of Korea on Monday reported its first case of rare blood clotting linked to AstraZeneca's coronavirus vaccine. Around 3.27 million people in the ROK have received at least one does of the AstraZeneca vaccine so far.
* South Africa has extended its nightly curfew and limited the number of people at gatherings as positive cases surge.
* Egypt will lift restrictions, including easing the early closure of shops and restaurants, from Tuesday.
* Burkina Faso, one of several countries in Africa that has yet to launch a COVID-19 vaccination campaign, received its first shipment under the global vaccine-sharing scheme COVAX on Sunday, the health ministry said.
* Turkish and Russian auto industry representatives have agreed to boost trade despite the COVID-19 pandemic.
* Iran and six world powers have made significant progress in talks to revive their 2015 nuclear deal but important issues still need to be resolved, the Iranian Foreign Ministry spokesman said on Monday.
* Downpours and floods that forecasters said could be "one-in-a-hundred-year" continued to hit New Zealand's South Island on Monday after a whole day and night's persistent and heavy rain that started on Sunday. The heavy rain caused severe floods, evacuations of more than 240 homes, power cuts and rising rivers. Several bridges were seen broken amid the floods.
* The leaders of the Economic Community of West African States (ECOWAS) suspended Mali from the sub-regional bloc until the restoration of democratic rule in that country, an official said late Sunday.
* The death toll from a boat that capsized last week in River Niger in northern Nigeria has risen to 81, a state governor said Sunday. The boat carrying over 170 people was believed to be overloaded. The passengers were on their way to a market in Kebbi from a village in the neighboring Niger state.
Xinhua,Reuters
TAG: