World News in Brief: May 28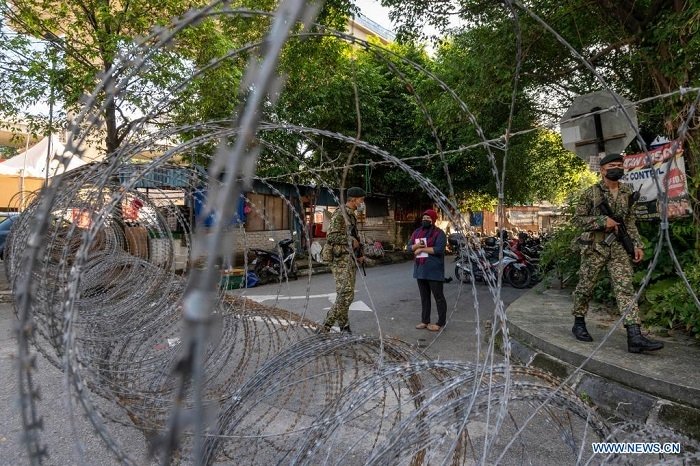 Armed soldiers patrol at a residential area which is under the enhanced movement control order (EMCO) due to the outbreak of COVID-19 cases in Cheras on the outskirt of Kuala Lumpur, Malaysia, May 28, 2021. The Malaysian government on Friday announced a two-week "total lockdown" to halt all economic and social activities from June 1 in a bid to contain the COVID-19 pandemic. The announcement came as Malaysia reported a record high of 8,290 new COVID-19 cases on Friday, bringing the national total to 549,514. (Photo: Xinhua)   
Azerbaijan said on Friday that one of its soldiers had been wounded when Azeri positions came under fire overnight from Armenian forces, accusations that Armenia denied. On Thursday, Azerbaijan captured six Armenian servicemen, the latest twist in a simmering border dispute.
* Malaysia is set to escalate a trade dispute with the European Union and two member states for restricting palm oil-based biofuels, WTO filings showed ahead of a meeting of its dispute settlement body on Friday.
* Nearly 584.4 million doses of COVID-19 vaccines had been administered across China as of Thursday, the National Health Commission said Friday.
* India reported on Friday 186,364 new coronavirus infections during the previous 24 hours, its lowest daily rise since April 14, while deaths rose by 3,660.
* Cuba registered 1,102 new COVID-19 infections and nine more deaths in the last 24 hours, for a total of 137,730 cases and 921 deaths, the Public Health Ministry said on Thursday.
* Russia reported 9,252 new COVID-19 cases on Friday, including 3,274 in Moscow, taking the official national tally since the pandemic began to 5,044,459. The government coronavirus task force said 404 people had died of coronavirus-linked causes in the past 24 hours, pushing the national death toll to 120,406.
* A Japanese health ministry panel approved the use of Pfizer Inc's COVID-19 vaccine for those aged 12 and above, a ministry official said on Friday.
* The Philippines reported 8,748 new coronavirus infections on Friday, its highest single-day increase this month. Deaths rose by 187 on Friday to 20,566 overall. The Philippines has recorded 1.2 million coronavirus cases.
* Thailand's food and drug regulator on Friday approved the emergency use of coronavirus vaccine developed by China's Sinopharm.
* The US Food and Drug Administration and Johnson & Johnson are expected to announce that contamination problems at a vaccine plant in Baltimore are resolved and that production can resume, the Wall Street Journal reported.
* Russia has signed an agreement to supply the U.N. children's fund UNICEF with enough doses of its Sputnik V vaccine for 110 million people.
* Britain has seen a total of nearly 7,000 cases of the B.1.617.2 coronavirus variant of concern first identified in India, more than double the previous total, Public Health England said on Thursday.
* Sweden will ease some of its COVID-19 restrictions from June 1 as new cases have fallen sharply in recent weeks, the government said, as it presented a roadmap to open up society.
* The first group of foreign tourists in more than a year touched down in Israel after the government began opening its borders following a steep drop in COVID-19 infections.
* Ireland plans to adopt a COVID-19 certificate to help citizens move more freely across the European Union from mid-July, but is not in a position "just yet" to allow unencumbered travel from neighbouring Britain, senior ministers said on Friday.
* California, the most populous US state, announced Thursday a decision to offer US$116.5 million in prize money to stimulate residents to get vaccinated against COVID-19, as it prepares to fully reopen on June 15.
Xinhua,Reuters
TAG: