World News in Brief: May 25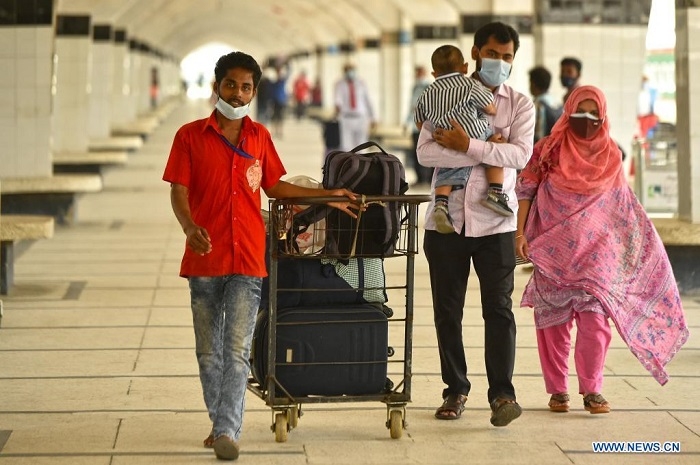 Passengers are seen at a railway station in Dhaka, Bangladesh on May 24, 2021. After a nearly seven-week suspension amid the COVID-19 lockdown, long-route bus, train and ferry services in Bangladesh resumed operations on Monday as the government eased pandemic restrictions. (Photo: Xinhua)   
India on Tuesday posted 196,427 new coronavirus cases over the last 24 hours, its lowest daily rise in infections since April 14, while deaths from COVID-19 rose by 3,511.
* China administered about 16.4 million COVID-19 vaccine doses on May 24, bringing the total number of doses administered to 527.25 million, according to data released by the National Health Commission on Tuesday.
* Cuba once again surpassed 1,000 new COVID-19 infections in one day, reporting 1,155 in the last 24 hours, for a total of 134,208 cases, as well as 13 more deaths, to a total of 890, the Ministry of Public Health said on Monday.
* US Secretary of State Antony Blinken began a Middle East visit in Israel on Tuesday, hoping to bolster its ceasefire with Gaza's ruling Hamas militants and help speed humanitarian aid to the devastated Palestinian enclave.
* Singapore's economy expanded more than first thought in the first quarter and the government maintained its growth forecast for the year, but struck a cautious note about recovery due to uncertainties from the pandemic.
* Malaysia on Tuesday reported 7,289 new coronavirus infections, a record number of new daily cases The new infections bring the total number of cases in the Southeast Asian nation to 525,889.
* The Indonesian government has extended the micro-scale COVID-19 restrictions from May 31 to June 14, and expand the measure to four more provinces, an official said on Monday. Meanwhile, the government is anticipating a spike in COVID-19 cases after the Eid al-Fitr homecoming season, which was estimated to last for the next four to five weeks.
* Latvia on Monday expelled Belarusian diplomats in response to actions taken by Belarus.
* Russian Security Council Secretary Nikolai Patrushev met with US National Security Advisor Jake Sullivan on Monday in Geneva where the two discussed strategic stability issues, the Russian Security Council said.
* The death toll from the Israeli airstrikes on the Gaza Strip that ended on Friday has reached 253, medics said on Monday.
* The Local Transition Monitoring Committee in Mali demanded on Monday "the immediate and unconditional release" of Mali's transitional President Bah N'Daw and Prime Minister Moctar Ouane.
* The International Organization for Migration (IOM) on Monday said that nearly 1,500 illegal migrants were rescued off the Libyan coast over the past week.
* Iran is still enriching uranium at the purity of 60, 20 and 5 percent, and it has already accumulated over 90 kg of 20-percent enriched uranium, head of the Atomic Energy Organization of Iran (AEOI) Ali Akbar Salehi said on Monday.
* Malta has vaccinated 70% of its adult population with at least one shot, becoming the first European Union country to achieve so-called herd immunity, Health Minister Chris Fearne said.
* New York City and Los Angeles, the two largest US public school districts, announced plans to fully reopen schools amid a sustained decline in infections and rise in vaccinations.
* Canada is preparing to deploy a number of healthcare resources for the province of Manitoba that is reeling under a third wave.
* Fully vaccinated Chileans will be allowed to move more freely within the country, although the nation's borders will remain closed through mid-June to tamp down a fresh spike in infections.
* Residential property markets in major economies will soar this year on huge monetary and fiscal support and amid a recovery from the pandemic, according to Reuters polls, which showed risks for prices skewed to the upside.
* New Zealand will end next month the temporary foreign investment rules it adopted last year to prevent fire sales of distressed corporate assets during the pandemic.
* Ireland is expected to adopt a COVID-19 certificate to help citizens move more freely across the European Union from mid-July, the Irish Times reported on Tuesday, quoting people involved in discussions in government.
* The number of confirmed coronavirus cases in Germany increased by 1,911 to 3,653,551, data from the Robert Koch Institute (RKI) for infectious diseases showed on Tuesday. The reported death toll rose by 33 to 87,456, the tally showed.
* The United Arab Emirates will offer China's Sinopharm vaccine to Chinese nationals visiting the regional tourism and business hub.
* Pfizer said it began testing fully vaccinated adults over 65 in a new study.
* Mexico Foreign Minister Marcel Ebrard said the country will soon begin phase three trials for vaccines by France's Sanofi and China's Walvax.
* The Asian Infrastructure Investment Bank (AIIB) has approved a US$260-million loan to Bangladesh for the construction of the country's first arch steel bridge.
* The Afghan government is committed to ensuring safety and security of foreign organizations and diplomatic missions, the Afghan Foreign Ministry said Tuesday following Australia's closure of its embassy in Kabul.
Xinhua, Reuters
TAG: