World News in Brief: May 23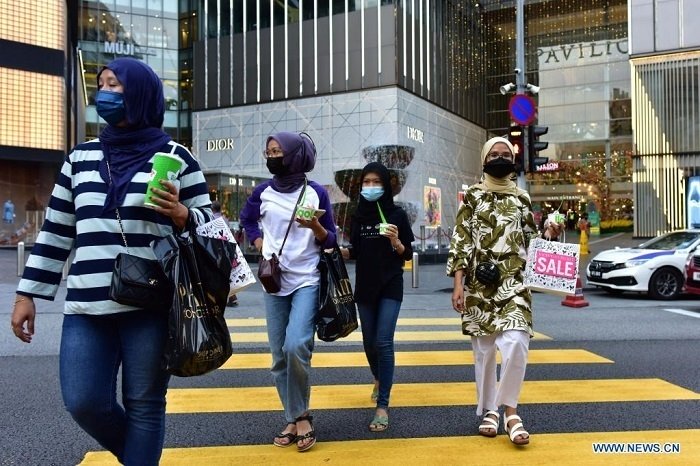 People wearing face masks walk across a street in Kuala Lumpur, Malaysia, May 22, 2021. (Photo: Xinhua)   
Egypt sent 130 truckloads of aid supplies to the bordering Gaza Strip late Friday, including foodstuffs, medicines, clothes and household essentials, the Egyptian presidency said.
* Iran's parliament speaker said on Sunday that a three-month monitoring deal between Tehran and the U.N. nuclear watchdog had expired as of Saturday, Iran's state TV reported, adding that the agency would no longer access images of nuclear sites.
* US President Joe Biden and visiting Republic of Korean President Moon Jae-in on Friday expressed a shared willingness to engage with Pyongyang, reaffirming the goal to denuclearize the Korean Peninsula.
* India's COVID-19 tally rose to 26,530,132 with 240,842 new cases registered in the past 24 hours, said the federal Ministry of Health and Family Welfare on Sunday. Besides, as many as 3,741 deaths since Saturday morning took the death toll to 299,266. After two days, the number of daily deaths has once again fell below-4,000 mark.
* More than 497.27 million doses of COVID-19 vaccines had been administered across China as of Saturday, the National Health Commission said Sunday.
* Malaysia announced further tightening restrictions on Saturday under its nationwide movement control order (MCO) as the country's accumulative COVID-19 cases topped 500,000.
* Thai border controls will tighten after the discovery of three local cases of the South African COVID-19 variant stemming from illegal border crossings, authorities said on Sunday, as the country grapples to contain its worst coronavirus outbreak yet.
* Brunei's Authority for Info-communications Technology Industry (AITI) is working on a new law to protect individuals' personal data, which will apply to the private sector in the sultanate, covering both commercial and non-commercial organizations.
* Variant cases of COVID-19 continued to be identified in Los Angeles County, the most populous county in the United States, public health officials said Saturday. The Los Angeles County Department of Public Health reported 265 new cases of COVID-19 and 14 new deaths on Saturday, bringing its cumulative cases up to over 1.23 million with 24,166 related deaths.
* Russia reported 8,951 new COVID-19 cases on Sunday, including 2,924 in Moscow, taking the official national tally since the pandemic began to 5,001,505.
* Republic of Korea reported 585 more cases of COVID-19 as of midnight Saturday compared to 24 hours ago, raising the total number of infections to 135,929. The daily caseload was down from 666 in the prior day due to fewer virus tests over the weekend. The daily average caseload for the past week was 608.
* About 50.08 percent of Canada's population were administered with the first dose of COVID-19 vaccine and 4.3 percent with second dose as of Saturday afternoon, according to CTV. The country, with a population of 38 million, has administered more than 20 million vaccine doses.
* The number of confirmed coronavirus cases in Germany increased by 6,714 to 3,648,958, data from the Robert Koch Institute (RKI) for infectious diseases showed on Sunday. The reported death toll rose by 82 to 87,380, the tally showed.
* Mexico reported 2,586 new confirmed coronavirus cases and 341 additional fatalities on Saturday, according to health ministry data, bringing the total number of cases to 2,395,330 and the overall death toll to 221,597.
* The total number of confirmed COVID-19 cases in Pakistan increased to 900,552 after 3,084 more people tested positive during the last 24 hours, the National Command and Operation Center (NCOC) said Sunday morning. According to the NCOC, 74 people died across the country during the last 24 hours, taking the death toll to 20,251.
* Lava from a volcanic eruption approached the airport of eastern Democratic Republic of Congo's main city of Goma late on Saturday, and the government urged residents to evacuate.
Xinhua,Reuters
TAG: