World News in Brief: May 22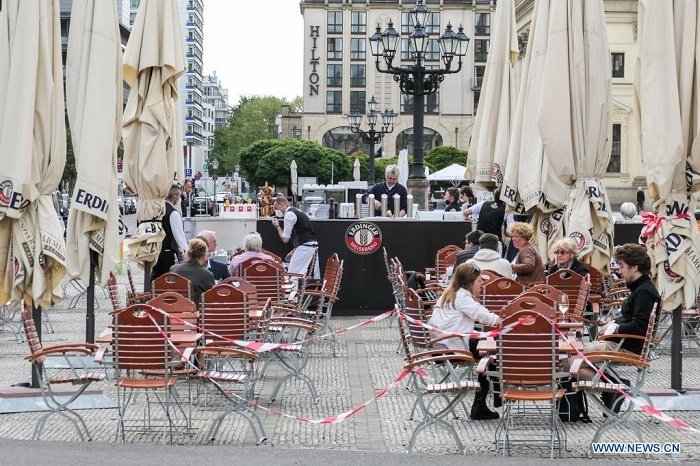 Guests are seen at the outdoor area of a restaurant in Berlin, capital of Germany, May 21, 2021. Restaurants in Berlin are allowed to serve guests outdoors from Friday. (Photo: Xinhua)   
A ceasefire between Israel and Hamas-led Palestinian militants in the Gaza Strip held into Saturday as officials said Egyptian mediators conferred with the sides on securing longer-term calm.
* Chinese President Xi Jinping on Friday pledged to provide more COVID-19 vaccines to the best of China's ability to the world, calling for rejection of vaccine nationalism to make vaccines more accessible and affordable in developing countries. Xi made the remarks via video at the Global Health Summit, which was co-hosted by Italy, which currently holds the G20 presidency, and the European Commission.
* Nepali President Bidya Devi Bhandari dissolved the House of Representatives early Saturday for fresh elections on Nov. 12 and 19 after the prospect of forming a new government has ended.
* Euro zone business growth accelerated at its fastest pace in over three years in May, as a strong resurgence in the bloc's reopening service industry added to the impetus from an already-booming manufacturing sector, a survey showed.
* The ministers of the Group of Seven (G7) have agreed to transform their economies to promote sustainable development, deliver decent green jobs and build resilience, according to a communique released on Friday. The document was released after the G7 ministers responsible for climate and environment met virtually on May 20 to 21.
* The International Monetary Fund (IMF) on Friday proposed US$50 billion to speed up vaccinations, boost testing and tracing, and maintain adequate stocks of therapeutics, urging coordinated global action to end the COVID-19 pandemic.
* India on Saturday reported 257,299 new coronavirus infections over the last 24 hours, while deaths rose by 4,194. Total infections in the country stood at 26.3 million while the country's total death toll was at 295,525, according to data from the health ministry.
* Over 483.3 million doses of COVID-19 vaccines had been administered in China as of Friday, the National Health Commission said on Saturday.
* Brazil on Friday reported 2,215 more deaths from COVID-19, raising the national count to 446,309, the Ministry of Health said. The ministry said that 76,855 more infections were detected, raising the nationwide tally to 15,970,949. According to the ministry, Brazil now has a death rate of 212.4 deaths per 100,000 inhabitants.
* Russia reported 8,709 new COVID-19 cases on Saturday, including 2,653 in Moscow, taking the official national tally since the pandemic began to 4,992,554. The government coronavirus task force said 386 people had died of coronavirus-linked causes in the past 24 hours, pushing the national death toll to 118,125.
* Japan expanded a state of emergency to cover the southern island of Okinawa on Friday, as authorities approved two more coronavirus vaccines to speed its inoculation campaign.
* Thailand registered 3,052 new COVID-19 cases on Saturday, official statistics showed, as the country struggles to contain its worst outbreak since the start of the pandemic last year.
* 48.6 per cent of the American population has received at least one dose of the vaccine, while 38.5 per cent are fully vaccinated, the US Centers for Disease Control and Prevention (CDC) reported.
* As of the evening of May 21, Canada has vaccinated 49.3 per cent of the population with one dose, according to COVID Tracker Canada. Just slightly over four per cent of Canadians are fully vaccinated, according to Our World in Data.
* The White House said on Friday it has no plans to require foreign visitors to the United States to be vaccinated for COVID-19, even as the European Union plans to allow Americans who have received their shots to travel in the bloc.
* The second shot of the AstraZeneca COVID-19 vaccine must not be given to anyone who has had blood clots with low blood platelets after receiving the first, Europe's medicines regulator said.
* Italy's government revived hopes of producing the country's own COVID-19 vaccine when it said it was ready to finance the ReiThera project despite a court ruling rejecting a plan to pump public funds into the local biotech company.
* The European Union intends to invest EUR1 billion (US$1.2 billion) to build vaccine manufacturing hubs in Africa and to donate at least 100 million doses of COVID-19 vaccines to poorer nations by the end of this year, the president of the European Commission Ursula von der Leyen said.
* The number of confirmed coronavirus cases in Germany increased by 7,082 to 3,642,244, data from the Robert Koch Institute (RKI) for infectious diseases showed on Saturday. The reported death toll rose by 170 to 87,298, the tally showed.
* Mexico reported 2,604 new confirmed cases of COVID-19 in the country and 176 more fatalities, bringing the total to 2,392,744 infections and 221,256 deaths, according to health ministry data released on Friday.
* France has committed to share at least 30 million doses of different COVID-19 vaccines by the end of the year, French President Emmanuel Macron said on Friday at a G20 summit.
* Canada announced on Friday to extend the restrictions against foreigners and flights from India and Pakistan into the country another month to June 21.
* Another 2,829 people in Britain have tested positive for COVID-19, bringing the total number of coronavirus cases in the country to 4,457,923, according to official figures released Friday.
* The number of confirmed COVID-19 cases in Africa has reached 4,732,150 cases as of Friday evening, the Africa Centers for Disease Control and Prevention (Africa CDC) said.
* Chile registered more than 7,000 new daily cases of COVID-19 for the second day in a row on Friday, after tests detected 7,614 infections in 24 hours, Health Minister Enrique Paris said.
* Argentina will tighten lockdown measures to combat a severe second wave, as daily cases and deaths have broken records over the last week.
* The European Union's drug regulator said a COVID-19 antibody treatment developed by GlaxoSmithKline and Vir Biotechnology can be used to treat patients who are at risk of severe disease and do not need supplemental oxygen.
* Arab League (AL) Secretary-General Ahmed Aboul-Gheit on Friday welcomed the cease-fire between Israel and Hamas in the Gaza Strip, according to the AL's statement.
* The European Union (EU)'s COVID-19 certificate will be up and running from July 1, European Commissioner for Justice Didier Reynders said Friday. The announcement came a day after negotiators from EU member states, the European Parliament and the European Commission agreed on the regulations that will govern this COVID-19 travel document.
* A 6.4-magnitude earthquake jolted Yangbi Yi Autonomous County in Dali Bai Autonomous Prefecture, southwest China's Yunnan Province at 9:48 p.m. on Friday, killing at least 3 people as of 6 a.m. Saturday.
* The European Medicines Agency recommended extending conditional marketing approval by a year for Gilead Sciences' COVID-19 treatment, remdesivir, the only drug so far that has been authorized for use in the region.
* The GAVI Vaccine Alliance said it has agreed to buy 200 million doses of Johnson & Johnson's COVID-19 vaccine, as it seeks to fill a big shortfall in the COVAX vaccine-sharing programme caused by India suspending exports.
Xinhua,Reuters
TAG: