World News in Brief: May 21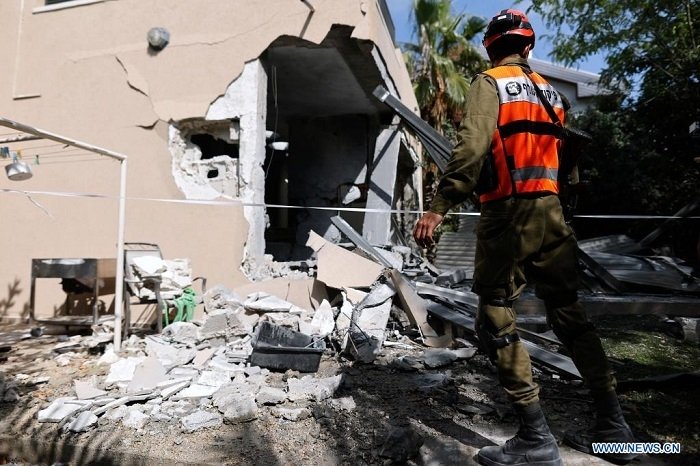 An Israeli rescue team member works at a site hit by a rocket fired from the Gaza Strip, in Ashkelon, southern Israel, on May 20, 2021. An Egyptian-mediated truce between Israel and Hamas took hold on Friday after the worst violence in years, with US President Joe Biden pledging to salvage the devastated Gaza Strip and the United Nations urging renewed Israeli-Palestinian dialogue. (Photo: JINI via Xinhua)    
United Nations (UN) Secretary-General Antonio Guterres on Thursday welcomed the ceasefire agreement reached between Israel and Palestinian militant group Hamas which rules the Gaza Strip, following 11 days of escalating tension between the two sides.
* Nearly 466.7 million doses of COVID-19 vaccines had been administered in China as of Thursday, the National Health Commission said on Friday.
* Brazil on Thursday reported 2,403 more deaths from COVID-19, raising the national death toll to 444,094, the Ministry of Health said. A total of 82,039 more infections were detected, raising the nationwide tally to 15,894,094, the ministry said.
* India's COVID-19 tally surpassed the 26 million mark on Friday, at 26,031,991, with 259,551 new confirmed cases reported in the past 24 hours, said the federal Ministry of Health. Meanwhile, 4,209 more deaths from the coronavirus epidemic were recorded, bringing the death toll to 291,331.
* Cuba expects to receive nearly 2.2 million tourists by the end of the year, the country's Minister of Economy and Planning Alejandro Gil said Thursday.
* US President Joe Biden on Thursday afternoon signed a legislation to curb anti-Asian hate crimes that have skyrocketed during the COVID-19 pandemic in the United States.
* World Health Organization (WHO) Regional Director for Europe Hans Kluge on Thursday urged caution despite a considerable 60 percent decrease in COVID-19 cases and deaths in recent weeks in the region.
* Japan is set to expand a state of emergency to cover the southern island of Okinawa on Friday, just as it approved two more novel coronavirus vaccines to speed up its inoculation campaign.
* Republic of Korea approved Moderna's vaccine, as the country attempts to speed up its inoculation efforts, drug safety minister Kim Gang-lip told a news conference.
* Malaysia on Friday reported 6,493 new coronavirus cases amid a recent surge in infections, bringing the total to 498,795. The number of new cases was not too far from the record high of 6,806 reported on Thursday, when Malaysia also saw its highest daily toll of 59 deaths.
* Thailand has detected its first 15 domestically transmitted cases of the highly infectious COVID-19 variant first found in India, the country's coronavirus taskforce said on Friday.
* Russian Foreign Minister Sergei Lavrov said Thursday he addressed Washington's plans to deploy rotational troops in Poland during his meeting with US Secretary of State Antony Blinken the previous day on the sidelines of an Arctic Council meeting in Reykjavik, Iceland.
* US President Joe Biden on Thursday welcomed the ceasefire between Israel and Hamas, expressing "sincere gratitude" to Egypt for its role in brokering the deal.
* Ursula von der Leyen, the president of the European Commission, on Friday welcomed a ceasefire deal between Israel and Hamas and urged both sides to build on it.
* Ukrainian President Volodymyr Zelensky believes a meeting with Russian President Vladimir Putin would help to put an end to the seven-year-conflict in Donbass, the Ukrainian president's press service reported on Thursday. At a press conference devoted to his two years in office, Zelensky expressed his expectation of a meeting with Putin.
* Canadian Prime Minister Justin Trudeau announced on Thursday that the Canada-US border agreement against non-essential travel is extended another month to stem the spread of COVID-19.
* If 70 percent of American adults get at least one dose of the coronavirus vaccine by July 4, the United States could avoid a case surge later in the year, said Anthony Fauci, Director of the National Institute of Allergy and Infectious Diseases (NIAID), on Thursday. Currently, some 47.9 percent of Americans have received at least one dose of COVID-19 vaccine, according to official figures.
* The Serbian and Russian armies are holding joint training in the Serbian region of Deliblato Sands, the Serbian Defense Ministry said Thursday.
* More than 6,500 migrants out of the approximately 8,000 who had entered Spain's North African enclave of Ceuta earlier this week have been sent back to Morocco, Spanish Interior Minister Fernando Grande-Marlaska said on Friday.
* The European Union (EU) and the United States are working to reach an agreement on their long-standing dispute on aircraft subsidies by the July 11 deadline, European Commission Executive Vice-President and trade chief Valdis Dombrovskis said on Thursday.
* Hungary will lift most remaining curbs as soon as the number of those vaccinated reaches a milestone of 5 million this weekend.
* Latin America is poised to receive millions of US-made vaccines in the coming weeks as the United States emerges as a top exporter of the shots, according to two people familiar with the matter.
* BioNTech Chief Executive Officer Ugur Sahin said the COVID-19 vaccine it developed with Pfizer is expected to be 70% to 75% effective in protecting against infections caused by the coronavirus variant first detected in India.
* Britain's economy will grow much faster than expected this year as a fast-moving vaccine programme allows businesses to re-open and lifts confidence, a Reuters poll found.
* Nearly 1.2 million doses of AstraZeneca's COVID-19 shot arrived in Mexico from the United States on Thursday, Mexican Foreign Minister Marcelo Ebrard said.
* Medical experts have warned Australians over 50 not to delay getting their coronavirus vaccines despite blood clot fears.
* The Italian government on Thursday approved a EUR40-billion (US$48.9 billion) relief package to support the country's businesses and workers affected by the COVID-19 restrictions.
* Argentina will tighten lockdown measures to combat a severe second wave, as daily cases and deaths have broken records over the last week.
* Australia has invited proposals from pharmaceutical firms to establish domestic manufacturing of mRNA vaccines.
* Egypt will extend measures, including early closing hours for shops, until the end of May.
* Kenya's health ministry said it is in talks with vaccine manufacturers such as Johnson and Johnson as it seeks alternatives to the AstraZeneca shot after shipment delays of the drug from India.
Xinhua,Reuters
TAG: