World News in Brief: May 16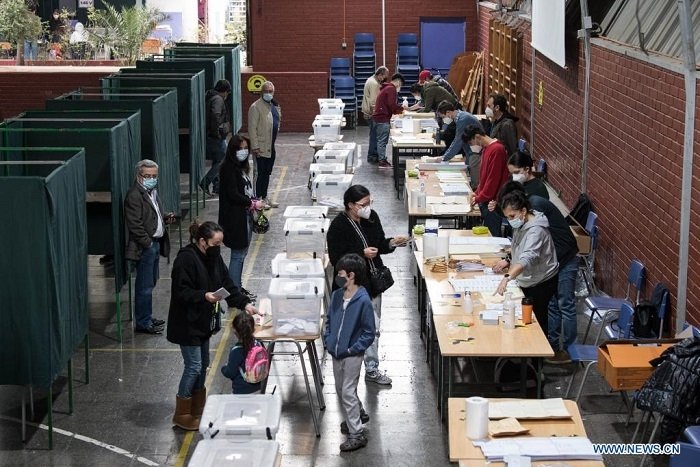 Voters register to cast their ballots at a voting center in Santiago, Chile, on May 15, 2021. Chile on Saturday began historic elections, in which, for the first time, a Constitution Convention comprised of 155 members will be elected to draft the country's new constitution. The 14.9 million Chilean voters will also choose mayors, councilors and other officials in the elections. (Photo: Xinhua)   
India is preparing to evacuate thousands of people from low-lying areas along its western coast as a powerful cyclone is expected to make landfall on Tuesday morning in the state of Gujarat. Cyclone Tauktae, which formed in the Arabian sea, is expected to cross Gujarat with wind gusts of up to 175 kmph (109 mph) and is expected to make landfall in the state the following morning.
* UN Secretary-General Antonio Guterres on Saturday voiced concern over civilian casualties and the destruction of media offices in Gaza by Israel, said his spokesman Stephane Dujarric.
* Mainland China reported 18 new COVID-19 infections on May 15, up from 14 a day earlier, the national health authority said on Sunday. The total number of confirmed COVID-19 cases in mainland China now stands at 90,847, while the death toll remained at 4,636. China carried out about 12.4 million vaccinations on Saturday, taking the total to 392.99 million, the authority said.
* Brazil recorded 67,009 additional confirmed cases of coronavirus in the past 24 hours, along with 2,087 deaths from COVID-19, the Health Ministry said on Saturday. Brazil has registered nearly 15.6 million cases since the pandemic began, and the official death toll now stands at 434,715, according to ministry data.
* India reported a smaller rise in daily coronavirus infections for a third straight day on Sunday, as the government said it was working to boost vaccine supplies to avert deaths beyond the pandemic toll of more than 270,000.
* Russia reported 8,554 new coronavirus cases on Sunday, bringing the national tally of infections since the pandemic began to 4,940,245. The government coronavirus crisis centre said that 391 more deaths of coronavirus patients had been confirmed in the past 24 hours, which pushed the Russian COVID-19 death toll to 115,871.
* Singapore's health ministry on Sunday preliminarily confirmed 38 locally transmitted COVID-19 cases, the highest daily number since mid-September, as the city-state returned to the strictest curbs on gatherings since a coronavirus lockdown last year.
* Thailand's tally of COVID-19 cases has surpassed 100,000 with 2,302 cases confirmed on Sunday, according to the Center for COVID-19 Situation Administration (CCSA). The country also reported 24 new deaths, raising the death toll to 589.
* The Philippines' Department of Health (DOH) reported on Sunday 5,790 new COVID-19 infections, bringing the total number of confirmed cases in the Southeast Asian country to 1,143,963. The death toll climbed to 19,191 after 140 more patients died from the viral disease, the DOH said.
* Schools in the United States should continue to use masks for the 2020-2021 academic year as all students will not be fully vaccinated, the US Centers for Disease Control and Prevention (CDC) said on Saturday. The recommendation comes after the agency on Thursday said fully vaccinated people do not need to wear masks outdoors and can avoid wearing them indoors in most places.
* Ministers will make a decision on June 14 about whether or not to proceed with the final phase of lockdown easing in England, health minister Matt Hancock said on Sunday, describing the pandemic as "under control".
* France has administered the first doses of COVID-19 vaccines to 20 million people, reaching its target days ahead of the reopening of catering businesses and cultural venues, French Prime Minister Jean Castex said on Saturday.
* Australia is sticking to plans to start re-opening to the rest of the world only from the middle of next year, officials said on Sunday, resisting mounting pressure to end the closure of international borders.
* Turkey will start easing its strict coronavirus lockdown on Monday by allowing movement during the day while keeping overnight and weekend curfews in place, the Interior Ministry said in a directive on Sunday.
* Greece has extended a lockdown on the island of Kalymnos for a week on Saturday as coronavirus infections there remained high, authorities said.
* An explosion inside a mosque on the outskirts of the Afghan capital Kabul killed at least 12 people during Friday prayers as worshippers gathered for the Eid al-Fitr holiday during a ceasefire. Islamic State claimed responsibility for the attack on Saturday through its Nasheer news agency on Telegram.
Xinhua,Reuters
TAG: