World News in Brief: May 15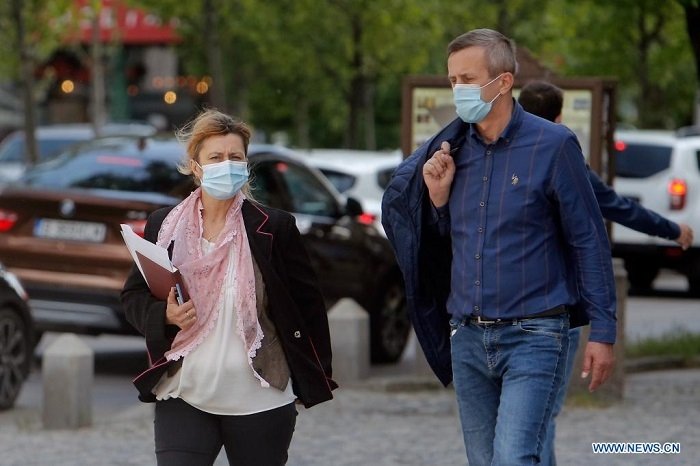 People wearing face masks walk on a street in Bucharest, Romania, on May 14, 2021. Romanian Prime Minister Florin Citu said the government made a decision on Friday to gradually ease the country's coronavirus-related restrictions starting from Saturday. (Photo: Xinhua)   
The World Health Organization urged rich countries to reconsider plans to vaccinate children and instead donate COVID-19 shots to the COVAX scheme for poorer countries, and said it was in touch with the United States about sharing its vaccines.
* UN Secretary-General Antonio Guterres on Friday called for a unified Security Council over the Israeli-Palestinian conflict and regretted the lack of multilateralism.
* The lander carrying China's first Mars rover has touched down on the red planet, the China National Space Administration (CNSA) confirmed on Saturday morning. It is the first time China has landed a probe on a planet other than Earth.
* The World Health Organization on Friday said local conditions needed to be taken into account if a country is planning to allow vaccinated people not to wear masks in public.
* Prime Minister Narendra Modi sounded the alarm over COVID-19's rapid spread of through India's vast countryside, as 4,000 people died from the virus for the third straight day and total infections crossed 24 million.
* Brazil recorded 85,536 additional confirmed cases of coronavirus in the past 24 hours, along with 2,211 deaths from COVID-19, the Health Ministry said on Friday. Brazil has registered more than 15.5 million cases since the pandemic began, while the official death toll has risen to 432,628, according to ministry data.
* Russia reported 8,790 new coronavirus cases on Saturday, the day after the number of daily infections climbed to 9,462, the highest number of new cases since the end of March.
* Japan has declared a state of emergency in three more prefectures hit hard by COVID-19.
* Thailand plans to allow restaurants to resume dine-in services in capital Bangkok, a senior official said on Saturday, but opening hours and the number of diners will be limited as the country grapples a third wave of coronavirus infections.
* Singapore announced the strictest curbs on social gatherings and public activities since easing its lockdown last year.
* The Philippines' Department of Health (DOH) reported on Saturday 6,739 new COVID-19 infections, bringing the total number of confirmed cases in the Southeast Asian country to 1,138,187. The death toll climbed to 19,051 after 93 more patients died from the viral disease, the DOH said.
* Prime Minister Boris Johnson said on Friday Britain would accelerate its COVID-19 vaccination programme, to try to contain a fast-spreading variant first identified in India that could knock a re-opening of the economy off track.
* Germany classified Britain as a coronavirus risk area due to the emergence there of a highly infectious variant first detected in India.
* Ireland's health service operator shut down all its IT systems to protect them from a ransomware attack, crippling diagnostic services, disrupting COVID-19 testing and forcing hospitals to cancel appointments.
* The number of confirmed coronavirus cases in Germany increased by 7,894 to 3,584,934, data from the Robert Koch Institute (RKI) for infectious diseases showed on Saturday. The reported death toll rose by 177 to 86,025, the tally showed.
* Mexico registered 2,880 new coronavirus cases and 258 additional fatalities on Friday, according to health ministry data, bringing the overall tallies to 2,377,995 infections and 220,159 deaths.
* France reported that 4,352 people were in COVID-19 intensive care on Friday, 90 fewer than on Thursday, marking the 11th consecutive day that this key metric has fallen. The French health ministry also said that the number of people hospitalised fell by 250 to 23,406. Some 173 people died in hospitals, down from 226 last Friday, but there were no new deaths in retirement care homes.
* Britain will not increase the small number of countries that people can visit without quarantining on their return very rapidly because of the risk of new variants, Prime Minister Boris Johnson said on Friday.
* The global economic outlook has improved in recent months, but uncertainty remains very high, Angel Gurria, secretary-general of the Organization for Economic Co-operation and Development (OECD), told a forum in Athens, Greece, on Friday.
* Brazil began a mass vaccination program on Friday for athletes, coaches, staff and journalists heading to the Olympic Games in Tokyo in July.
* US Seattle Mayor Jenny Durkan on Friday hailed Washington Governor Jay Inslee's announcement of statewide reopening on June 30. According to Inslee, the full reopening could happen earlier than June 30 if 70 percent or more of Washingtonians over the age of 16 initiate vaccination.
* Israel pummelled Gaza with air strikes and Palestinian militants launched rocket barrages at Israel on Saturday, with no sign yet of an end to the worst escalation in years after six days of conflict and amid a rising death toll.
* Morocco's King Mohammed VI on Friday ordered 40 tonnes of aid for Palestinians to be shipped to the West Bank and Gaza following recent violence.
* Two tornadoes ripped through China's central city of Wuhan and a town in the eastern province of Jiangsu, killing 12 people and injuring hundreds while destroying homes and property, the official Xinhua news agency said on Saturday.
* Britain and Ireland on Friday agreed to work together to "maintain smooth trade" between Great Britain, Northern Ireland and the Republic of Ireland after Brexit. The agreement came during a meeting between British Prime Minister Boris Johnson and his Irish counterpart Micheal Martin at Chequers, the country house of the British prime minister, on Friday afternoon.
* Taliban and Afghan government negotiators met in Qatar on Friday, the second day of a three-day ceasefire announced by the Taliban for the Muslim holiday of Eid al-Fitr, both sides said after a long pause in peace talks between the two.
* Turkey will ease cautiously out of a full lockdown next week and lift restrictions more significantly in June, President Tayyip Erdogan said, as cases have come down sharply from the peak of a fierce second wave.
* The chief executive of Pfizer said he had "very good reason" to believe in the success of an oral COVID-19 antiviral therapy by the drugmaker now in an early-stage US trial.
Xinhua,Reuters
TAG: