World News in Brief: May 13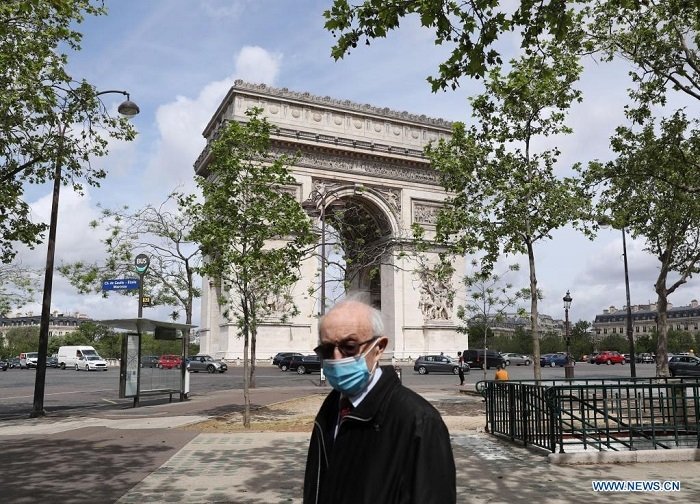 A man wearing a mask walks near the Arc de Triomphe in Paris, France, May 12, 2021. France is on its way to coming out of the health crisis as COVID-19 indicators continue the downward trend and vaccine rollout is speeding up, according to French Prime Minister Jean Castex. (Photo: Xinhua)   
A meeting of the Middle East Quartet amid increased tensions in East Jerusalem is urgently needed, Russian Foreign Minister Sergei Lavrov said Wednesday. The international quartet is composed of the United Nations, Russia, the European Union and the United States.
* China's Commerce Ministry spokesman Gao Feng said on Thursday that Beijing supports a proposal by the World Trade Organization for an intellectual property protection waiver on COVID-19 vaccines to enter the consultation stage.
* Cuba on Wednesday began a mass vaccination campaign against COVID-19 in the country's capital of Havana as part of an intervention study of homemade vaccine candidates.
* Brazil registered 2,494 more deaths from COVID-19 in the last 24 hours, bringing the total death toll to 428,034, the Ministry of Health said Wednesday. The ministry said that tests detected 76,692 new cases, raising the national count to 15,359,397.
* India had 362,727 new COVID-19 infections over the last 24 hours while deaths climbed by 4,120, taking the toll to 258,317, health ministry data showed.
* Thailand on Thursday set a new record for the daily number of COVID-19 cases following new prison clusters, according to the Center for COVID-19 Situation Administration (CCSA). The country reported 4,887 new infections in the last 24 hours, of which 2,835 were discovered in the prison system, and 32 additional fatalities, according to the CCSA.
* Singapore's health ministry on Thursday reported 24 locally transmitted COVID-19 cases, the highest daily number since mid-September, with 17 of the fresh cases linked to a cluster at Changi Airport.
* Russia has recorded its first cases of the variant of COVID-19 first found in India, Kommersant newspaper reported on Thursday, citing authorities in the Ulyanovsk region.
* Nearly 40% of all global deaths from COVID-19 reported last week happened in the Americas, and nearly 80% of the region's intensive care units are filled with COVID-19 patients, the Pan American Health Organization said.
* China's Ministry of Commerce on Thursday stressed that China and the United States should address each other's reasonable concerns through dialogue and consultation on the basis of mutual respect and equality.
* Prime Minister Boris Johnson announced an inquiry next year into the handling of the COVID-19 pandemic that is likely to focus on why the United Kingdom suffered Europe's worst death toll and was so slow initially to impose a lockdown.
* The US Centers for Disease Control and Prevention said it had found more cases of potentially life-threatening blood clotting among people who received the Johnson & Johnson COVID-19 vaccine and sees a "plausible causal association."
* Israel's security cabinet decided on Wednesday to escalate the military campaign against Gaza's ruler Hamas, amid the heaviest fighting between the two sides since 2014.
* US President Joe Biden on Wednesday expected the ongoing clashes between Israelis and Palestinians would be "closing down sooner than later," while urging for restoring a sustainable calm.
* British Airways cancelled its flights to and from Tel Aviv on Thursday, the latest international carrier to avoid flying to Israel amid an escalating conflict there.
* The Drugs Controller General of India (DCGI) has cleared phase II and III clinical trials of Covaxin COVID-19 vaccine for children from two and 18 years, officials said Thursday.
* US President Joe Biden urged parents to get their children vaccinated after a government advisory panel authorized the Pfizer COVID-19 vaccine for children aged 12 to 15.
* Malawi President Lazarus Chakwera said that economic growth was projected at 3.8% in 2021, down from an earlier estimate of 6.1%, owing to the impact of COVID-19 on multiple sectors of the economy.
* More clinical and real-world data is needed on how well and for how long COVID-19 vaccines are protective before any decisions should be made on offering third or booster doses, Europe's drug regulators said.
* Australia is in "active talks" with COVID-19 vaccine maker Moderna Inc to establish a domestic manufacturing facility for shots, Health Minister Greg Hunt said, a day after securing 25 million doses from the company.
* The European Commission on Wednesday unveiled an action plan to reduce pollution to levels that are no longer harmful to human health and natural ecosystems by 2050, when the EU aims to become climate neutral.
* Spain's Minister for Industry, Trade and Tourism Maria Reyes Maroto said on Wednesday that she hopes the country will be able to welcome over 45 million foreign tourists in 2021.
* The German government eased entry restrictions for travelers on Wednesday, allowing people who have been fully vaccinated or have recovered from the coronavirus to enter the country without any quarantine obligation. From now on, vaccinated and/or recovered travelers will be "treated the same way as those who have been tested," according to the government.
* The economy of the 27-member European Union (EU) will grow by 4.2 percent in 2021 and 4.4 percent in 2022, higher than previous estimates, the European Commission said Wednesday in its Spring Forecast. The higher economic forecasts come as the vaccination rollout speeds up across the EU, resulting in a more ambitious easing of restrictions on business operations, it said.
* The AstraZeneca COVID-19 vaccines will cease to be part of Norway's mass vaccination program, Prime Minister Erna Solberg told a press conference on Wednesday evening. The controversial vaccine had been under suspension in Norway since March 11 after reports of blood clots in vaccinated people.
* Malta has become the first European Union (EU) member state to offer COVID-19 vaccines to youngsters from the age of 16, Health Minister Chris Fearne announced on Wednesday.
Xinhua,Reuters
TAG: