Ship swings back across Suez Canal before next tugging attempt, witness and source say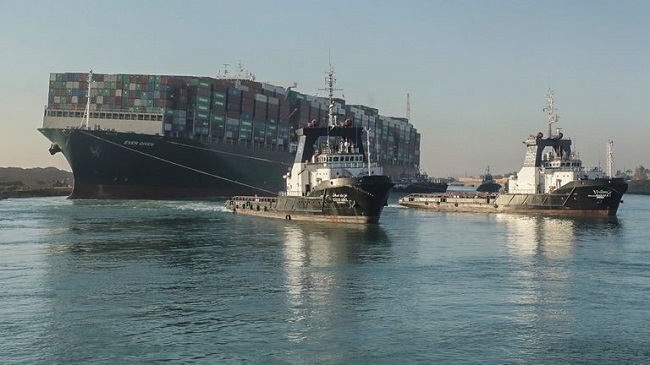 A giant container ship that was jammed across the Suez Canal and has been partially refloated swung back across channel amid high wind on Monday ahead of the next attempt to fully dislodge it, a Reuters witness and a canal source said.
The source said the ship's bow was afloat in the water despite its change of position, and that the vessel had not become regrounded.
The 400-metre (430-yard) long Ever Given got wedged diagonally across the canal in high winds early last Tuesday, blocking the path for hundreds of vessels waiting to transit the shortest shipping route between Europe and Asia.
This event will reduce global reinsurers' earnings but should not materially affect their credit profiles, while prices for marine reinsurance will rise further, the credit rating agency said.
Shipping rates for oil product tankers nearly doubled after the ship got jammed, and the blockage has disrupted global supply chains, threatening costly delays for companies already dealing with COVID-19 restrictions.
Reuters
TAG: