World News in Brief: March 28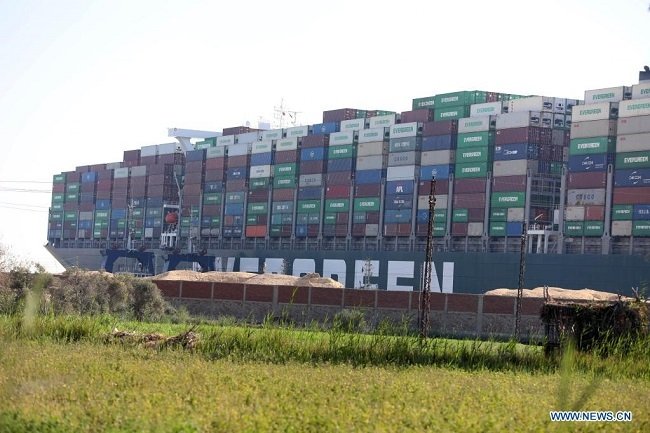 Photo taken on March 27, 2021 shows the stuck container ship Ever Given on the Suez Canal, Egypt. At least 321 vessels are currently jammed around the Suez Canal awaiting salvage of the giant container ship Ever Given that has been stuck and blocking the vital waterway since Tuesday, Osama Rabie, chairman of the Suez Canal Authority (SCA), said Saturday. (Photo: Xinhua)   
India's COVID-19 tally reached 11,971,624 on Sunday as 62,714 new cases were reported from across the country, according to the latest figures released by the federal health ministry. Besides, 312 deaths since Saturday morning took the death toll to 161,552. The number of new cases and deaths recorded in the past 24 hours is the highest this year so far.
* China reported 8 new COVID-19 cases on March 27, compared with 12 new infections the previous day, the country's national health authority said on Sunday. The total number of confirmed COVID-19 cases in mainland China now stands at 90,167 while the death toll remained unchanged at 4,636.
* Russia has registered 9,088 new COVID-19 cases over the past 24 hours, bringing the national tally to 4,519,832, the country's COVID-19 response center said Sunday. Meanwhile, as Russia reported 336 more deaths and 8,630 new recoveries, the respective total stood at 97,740 and 4,139,128, the center said.
* Cambodia on Sunday reported 86 new local COVID-19 cases and one new death, the country's Ministry of Health (MoH) said in a statement. Of the new infections, 25 were found in capital Phnom Penh.
* Mexico on Saturday reported 4,922 new confirmed cases of COVID-19 and 567 more fatalities, bringing the country's total to 2,224,767 infections and 201,429 deaths, according to health ministry data.
* Britain recorded 4,715 new COVID-19 cases on Saturday, down from 6,187 the day before, with 58 more deaths within 28 days of a positive coronavirus test result. Official statistics showed that 29.7 million people had received a first dose of COVID-19 vaccine.
* The number of confirmed coronavirus cases in Germany increased by 17,176 to 2,772,401, data from the Robert Koch Institute (RKI) for infectious diseases showed on Sunday. The reported death toll rose by 90 to 75,870 , the tally showed.
* Pakistani Foreign Minister Shah Mahmood Qureshi is scheduled to visit Tajikistan and lead the Pakistani delegation at the 9th Heart of Asia-Istanbul Process ministerial conference to be held in Dushanbe, the capital of Tajikistan, the Foreign Ministry of Pakistan said on Sunday.
* New Zealand reported one new case of COVID-19 on Sunday, said the Ministry of Health in a statement. The total number of active cases of COVID-19 in New Zealand on Sunday was 75, and the total number of confirmed cases of COVID-19 in the country reached 2,126.
* Iran reported 8,751 new COVID-19 cases on Sunday, raising its nationwide caseload to 1,855,674. The pandemic has so far claimed 62,397 lives in Iran, up by 89 in the past 24 hours.
* The active coronavirus cases in Israel dropped by 717 on Sunday morning to 9,996, the lowest since Nov. 29, 2020, the state's Ministry of Health said. The new figure reflects a sharp decline in active cases since Feb. 5, when 84,784 active cases were registered.
* Argentina on Saturday surpassed 2.3 million COVID-19 cases, the Ministry of Health reported. According to the ministry, 10,338 new cases were reported, bringing the total to 2,301,389, with 173,793 cases in the active stage.
* Summer holidays and visits to restaurants to be possible from the end of June, supported by the mass rollout of vaccines against the coronavirus, German Deputy Economy Minister Thomas Bareiss told a German newspaper.
* Malta limited the number of people who can meet in public spaces to two on Sunday as it seeks to prevent a surge of COVID-19 cases over Easter.
* A record number of Ukrainians were taken to hospital with COVID-19 over the past 24 hours, health ministry data showed on Sunday as the country grapples with a surge in infections. Ukraine also reported 11,932 new infections in the past 24 hours and 203 coronavirus related deaths.
* Daily coronavirus cases in Saudi Arabia have risen above 500 for the first time since October and the health ministry on Saturday blamed the increase on gatherings and laxity in complying with preventive measures such as social distancing.
* Turkey has recorded 30,021 new coronavirus cases in the space of 24 hours, the highest number this year, health ministry data showed on Saturday. Measures to curb the pandemic in Turkey were eased this month.
* The Saudi-led coalition battling Yemen's Houthi forces has destroyed two explosive-laden boats that the Iran-aligned group planned to use in an "imminent" attack launched from the Red Sea port of Hodeidah, Saudi state media reported on Sunday.
Xinhua,Reuters
TAG: