World News in Brief: January 24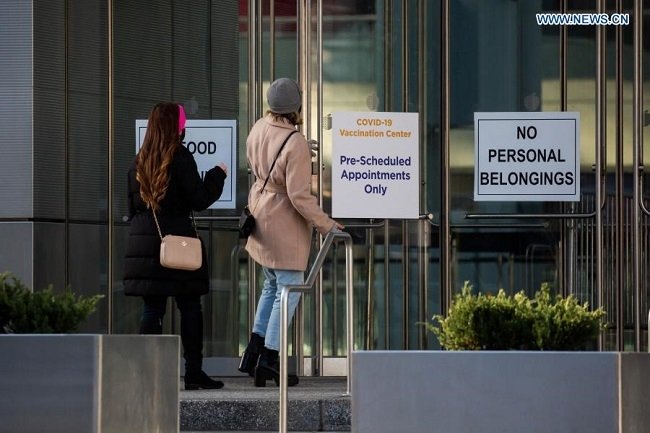 People enter a COVID-19 vaccination center at the Jacob K. Javits Convention Center in New York, the United States, Jan. 23, 2021. The total number of confirmed COVID-19 cases in the United States topped 24.99 million, according to the data released by Johns Hopkins University on Saturday. (Photo: Xinhua)   
India said it will administer homegrown coronavirus vaccine COVAXIN in seven more states from Monday as it seeks to inoculate 30 million healthcare workers across the country.
* The European Union will make pharmaceutical companies respect contracts they have signed for the supply of COVID-19 vaccines, European Council President Charles Michel said on Sunday.
* Mainland China reported 80 new COVID-19 cases on Jan. 23, down from 107 cases a day earlier, the country's national health authority said on Sunday.
* Russia reported 21,127 new coronavirus cases in the preceding 24 hours on Sunday, including 3,069 in Moscow, taking the national tally to 3,719,400. Authorities also reported an additional 491 deaths, raising the total count to 69,462.
* British Health Secretary Matt Hancock said on Sunday that 77 cases of the South African variant of COVID-19 had been found in the United Kingdom, all of them connected to travel from South Africa and under close observation.
* The COVID-19 cases in Indonesia rose by 11,788 within one day to 989,262, with the death toll adding by 171 to 27,835, the Health Ministry said on Sunday.
* The Department of Health (DOH) of the Philippines reported 1,949 new COVID-19 cases on Sunday, bringing the total number of confirmed cases in the Southeast Asian country to 513,619. The death toll climbed to 10,242 after 53 more patients died from the viral disease, the DOH said.
* Malaysia reported 3,346 new COVID-19 infections, the health ministry said on Sunday, bringing the national total to 183,801. Another 11 deaths have been reported, pushing the death toll to 678.
* Thailand on Sunday reported 198 new coronavirus cases, taking its total number of confirmed infections to 13,500.
* Mexico's Health Ministry on Saturday reported 20,057 new confirmed cases of coronavirus infection and 1,470 additional fatalities, bringing the country's total to 1,752,347 cases and 149,084 deaths.
* Australia recorded no new local coronavirus cases on Sunday, maintaining a recent run of success in keeping the virus at bay, but nevertheless is keen to press on with its vaccination campaign from next month, government officials said.
* The number of confirmed coronavirus cases in Germany increased by 12,257 to 2,134,936, data from the Robert Koch Institute (RKI) for infectious diseases showed on Sunday. The reported death toll rose by 349 to 51,870, the tally showed.
* Stringent and consistent efforts are needed to sustain a downward trend in new COVID-19 cases across Canada, Theresa Tam, Canada's chief public health officer said on Saturday.
* Masked, socially distanced and each given their own pen to avoid spreading germs, Portugal headed to the polls on Sunday to vote for the largely ceremonial post of president even as coronavirus cases reach record levels.
* Chinese rescuers pulled 11 gold miners to safety on Sunday with most of them in good condition after 14 days trapped underground after an explosion, but 10 colleagues were still unaccounted for, state media reported.
* After a five-year hiatus marked by grievances over their rival claims to Mediterranean waters, Turkey resumes talks with Greece on Monday in the first test of its hopes to reverse deteriorating relations with the European Union.
* The Saudi-led coalition battling Yemen's Houthi movement said it had thwarted an attack towards the Saudi Arabian capital Riyadh on Saturday, Saudi state television reported, but the Iran-aligned group denied any involvement.
* Kuwait's emir has reappointed Sheikh Sabah al-Khalid al-Sabah as prime minister, after the cabinet resigned last week in a standoff with parliament over its vote to question the premier, the state news agency KUNA reported on Sunday.
* Yemen's Houthi group and Saudi-backed government who have been at war for almost six years began fresh U.N.-backed negotiations on a prisoner exchange on Sunday, United Nations and Yemeni officials said.
Reuters, Xinhua
TAG: